Democracies launch $600B Partnership for Global Infrastructure to compete with Beijing. But critics say it is a rehash of existing schemes which have made little progress during the past year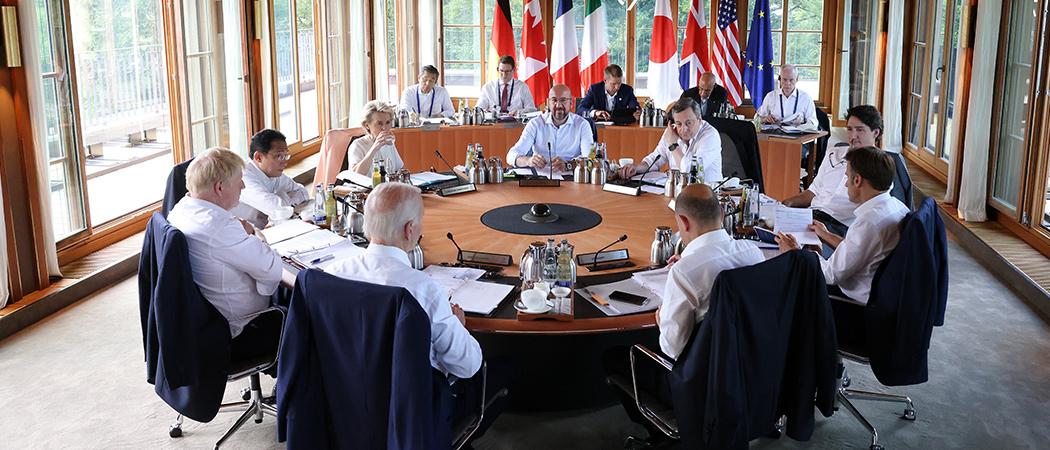 The G7 group of democracies has promised support for a range of science and technology projects across the world, hoping to win back countries swayed by decades of Chinese infrastructure largesse.
At their meeting in Bavaria, G7 leaders said they would help fund everything from vaccine manufacturing in Senegal to solar grids in Angola and modular nuclear reactors in Romania.
These R&D efforts are part of a broader package of infrastructure development, including health and digital projects, that G7 leaders hope will offer a more transparent and greener alternative to Beijing's Belt and Road Initiative, and which will not land recipient countries with unsustainable debts.
But the $600 billion so-called Partnership for Global Infrastructure and Investment is actually a relaunch of several previous initiatives from the US, EU and others. Critics say these have conspicuously failed to generate traction since they were first announced last year.
"It's a bit frustrating to see a reannouncement but not much movement in terms of new thinking and new commitments," said Cynthia Liao, an expert on China's Belt and Road Initiative at the UK-based think tank Chatham House.
The partnership encompasses the EU's Global Gateway initiative, which aims to raise €300 billion by 2027 from public and private sources.
Last week, as part of the initiative, Brussels said it would exchange scientists and transfer technology with Latin America so that the continent can better produce its own vaccines, for example. Under the Global Gateway, the EU will also fund the Great Green Wall, a pan-African project to restore land in the Sahel region. 
The US is also stumping up $200 billion for the partnership, in effect rebranding its "Build Back Better World initiative" announced at last year's G7 summit. President Joe Biden's domestic Build Back Better infrastructure act has stalled after opposition from lawmakers – arguably tarnishing the name.
Along with European allies, Washington will fund the expansion of the Pasteur Institute in Dakar so that Senegal can develop its own vaccines, potentially including mRNA technology.
It also wants to fund "safe and secure labs" in developing countries as part of pandemic prevention efforts, possibly a nod to fears that a proliferation of high security biological labs around the world could risk a deadly lab leak.
The US will also contribute $2 billion to create a massive solar project in Angola.
Washington's support isn't only focused on developing countries. As part of the initiative, the US will provide $14 million to roll out an experimental small modular nuclear reactor in Romania, built by the Oregon-based company NuScale Power.
R&D diplomacy
Investing in science and innovation like vaccine development can be a really effective way for democracies to support developing countries, said Charles Kenny, a senior fellow at the Center for Global Development, a Washington DC-based think tank.
"I'm definitely in favour of more support for local research capacity," he said. For example, M-Pesa, a mobile-based banking service that originated in Kenya and now has more than 50 million customers, was initially backed by a £1 million grant from the UK's government aid agency, says one of the center's reports.
Kenny has argued that the US shouldn't try to rival Beijing by building big infrastructure projects, as American construction firms are not competitive with their Chinese rivals.
Instead, the US should play to its strengths and make it easier for future leaders and scientists from abroad to attend its universities, by cutting visa waiting times and supporting scholarships, he thinks.  
"There is a considerable amount of literature suggesting that migration of researchers benefits both host and sending countries in terms of technology diffusion and broader development," he said.
But if Europe and the US hope to woo African countries through joint R&D projects, China has got there already.
Beijing is helping the Africa Centres for Disease Control and Prevention build a new headquarters and more labs, said Liao. It has also established a network of demonstration centres to transfer agricultural technology. And particularly in North Africa, China has partnered to manufacture vaccines, particularly its home grown Sinovac.
"I do think China does a lot in supporting R&D on the African continent," said Liao. However, the country is offering African countries homegrown Chinese technology, she pointed out. Sinovac is seen as a less effective vaccine than western mRNA-based products, for example. "Is that always the state of the art? Can China compete with the west? That remains to be seen," she said.
Slow progress
Still, western rivals to China's Belt and Road Initiative have failed to take off since they were launched last year, according to a recent report, 'The role of the G7 in mobilizing for a global recovery', co-authored by Liao and Theo Beal, also a researcher at Chatham House.
Government experts and academic researchers privately say they have "little understanding of the policy strategy or delivery mechanisms" for initiatives like the US's Build Back Better World, now rebranded as part of the Partnership for Global Infrastructure and Investment, the report says.
"One of the key things the Belt and Road Initiative has over western countries is the pace of delivery," said Beal. Western alternatives, like the EU's Global Gateway, have been "slow", with little concrete progress in the last year.
"Do we think any of this is going to happen?" he asked of the G7's recent announcements.
Patent disputes
And despite the EU's pledges to help Africa and Latin America develop their own vaccine manufacturing capabilities, Brussels has resisted Indian and South African demands to temporarily lift intellectual property restrictions over COVID-19 vaccine patents, data and technology, say campaigners.
"The EU has been successful in maintaining a near status quo," said Dimitri Eynikel, an EU policy adviser at Médecins Sans Frontières.
At World Trade Organisation talks earlier this month, a deal was struck that would ease some IP restrictions, but which stops well short of Indian and South African demands. It makes it easier to export vaccines made in Africa, said Eynikel, but won't provide access to production knowhow and still restricts re-exportation, making distribution around the continent difficult.
"What we are getting is completely half baked and it will not allow us to make any vaccines," said India's commerce minister Shri Piyush Goya in a statement responding to the WTO decision.
On 23 June, the German pharmaceuticals firm BioNTech started construction on an mRNA vaccine manufacturing site in Kigali, Rwanda, one of three sites it plans to set up in Africa.
But BioNTech's plans for "modular" plants, housed in shipping containers, has attracted criticism, as it is unclear to what extent the company will transfer its intellectual property and knowhow to locals.
Meanwhile, the EU is ploughing €40 million into a vaccines hub based in Cape Town. But the scheme has been marred by fears that western pharmaceutical companies could pull the rug out from under it by enforcing their patent rights and preventing large scale vaccine production.
Although COVID-19 vaccines are now less urgent than they were last year, perceived obstruction by Brussels to technology transfer during the pandemic has soured relations with Africa, said Liao. "The attitude towards systematic technology transfer […] isn't really there," she said.
G7 announcements
The G7 summit, which wraps up today, also produced a few other R&D related announcements. In their statement on bolstering democracy, the G7 countries - Canada, France, Germany, Italy, Japan, the UK and the US – said they would promote academic freedom and strengthen the role of scientific evidence and research in democratic debate.
UK prime minister Boris Johnson also publicly invited disaffected Russian scientists to come to the UK, saying that "they should feel free to apply to come to the UK and work in a country that values openness, freedom and the pursuit of knowledge."
The US Biden administration was working on a scheme to poach Russian researchers earlier in the year, but it was thwarted by lawmakers.
The UK also announced it would quadruple the size of its "researchers at risk" programme that has relocated Ukrainian academics to the UK. So far, more than 130 researchers have been brought to the country.