East European country set to become a testing bed for a technology that could be at odds with EU's decarbonisation strategy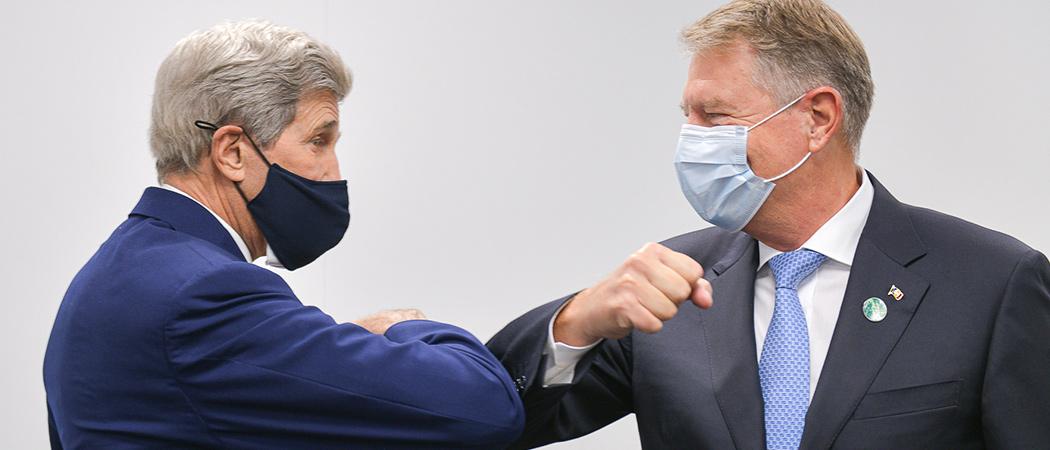 US presidential envoy for climate John Kerry has announced Romania will be the first country to build a next-generation nuclear power station using US-designed small modular reactor (SMR) technology.
The SMR technology is as yet unproven, and the plan is being promoted as a test of its contribution to climate mitigation. The White House said Romania will be taking a "huge technological" leap in the race to secure non-fossil energy supplies in eastern Europe, with the new nuclear reactor helping to decarbonising country's electricity supply, which is currently dependent on seven coal fired power stations.
SMRs have been in development around the world for several years, and in 2014 the US Energy Department stepped up funding to move the technology faster. The reactors are a tenth to a fourth the size of conventional models, and can be mass-produced in a factory rather than assembled on-site. That means they could be used not just in big central electricity plants, but also as power sources in other factories or industrial installations.
Advocates of the technology say it will be safer than conventional fission reactors. The US Nuclear Regulatory Commission recently gave a green light to the basic design, but it isn't clear yet whether local communities in the US or Romania would accept the installations.
Meanwhile, the political future of nuclear energy – large or small – in Europe is still uncertain. EU member states are debating whether nuclear energy and gas should be part of the bloc's transition to a low carbon economy over the next decades. While Germany has given up on its nuclear power plants, other countries such as France and Belgium rely heavily on electricity produced via nuclear fission. Last month, French President Emmanual Macron unveiled plans to build small-scale nuclear plants, which are also part of the UK plan to reach net zero.
The Romanian plant will use six small reactor modules designed by NuScale Power, the Portland, Oregon company pioneering their design. The White House claims the project will create 3,700 American and Romanian jobs, and could scale up to a larger industry. For the US, building a plant in Romania has an added geopolitical bonus of reducing Europe's dependence on Russian oil and gas.
A previous attempt by the US to invest an energy project in Romania failed after green activists blocked a fracking plant planned by Chevron at a site in Pungești. The US energy giant argued the project would help Romania become less dependent on gas imports from Russia, but was forced to abandon it after three years of protests.
Out goes China, in comes the US
If fracking didn't work out back in 2015, the US government is now trying its luck with nuclear energy.
Romania has one old-style nuclear power plant built near the Black Sea coast in 1982 by Nicolae Ceaușescu's communist regime. The Cernavodă nuclear plant currently produces one fifth of the country's electricity, but only two out of its four reactors have been completed and are operational.
In 2015, the government began negotiations with China's General Nuclear Power Group to finish installing the other two reactors, but talks over the €6.5 billion deal were suspended last year in June. Back then, economy minister Virgil Popescu said the Chinese deal fell through because Romania had to protect its "strategic partnership" with the US.
A few months later, Popescu and former US Energy Secretary Dan Brouillette announced a draft agreement to work together to complete the two reactors. Commentators said at the time the all-out trade war started by former US President Donald Trump with China forced the hand of the Romanian government to prioritise its partnership with the US over anything else.
A potential deal on the SMR plants first came to light in January: eight days before Trump was replaced by Joe Biden, the US Trade and Development Agency (USTDA) announced a $1.28 million grant to Nuclearelectrica SA, the state-owned company that runs the nuclear plant in Cernavodă, to cover the costs of finding additional sites that could be suitable for SMR reactors.
In a statement explaining the move, former USTDA chief operating officer Todd Abrajano said a partnership with the US could help Romania develop cutting-edge nuclear technology to cover its energy needs. "Our assistance will build stronger ties between our respective industries and create new business opportunities for US industry in an important market," said Abrajano.
Presciently, SMR plants were included in Romania's 2020 energy strategy. The government argued the small, modular nuclear reactors could help boost the country's electricity output while reducing carbon emissions.
Meanwhile, US and Romanian nuclear researchers have also been forging links. In 2019, Romania's largest research infrastructure, the Extreme Light Infrastructure – Nuclear Physics (ELI-NP) signed a €42 million contract with California-based Lyncean Technologies for a gamma beam, after it had cancelled a contract with a European consortium for a similar piece of equipment, a decision which tested the foundations of the EU's largest research project in eastern Europe.
Shortly after the Lyncean deal was announced, former director of ELI-NP Nicolae Zamfir went to Washington DC to speak at a meeting organised by the Romanian ambassador to the US and held at the conservative think tank, the Hudson Institute.
At the time, Zamfir told Science|Business researchers from the US departments of energy and defence showed an interest in doing experiments for civilian applications in Bucharest. In 2019, 22 US government scientists visited Romania for a variety projects, including research on nuclear security at Cernavodă.