After saying European consortium had failed to deliver, ELI has looked elsewhere. The contract is a sign of strengthening scientific cooperation between Romania and the US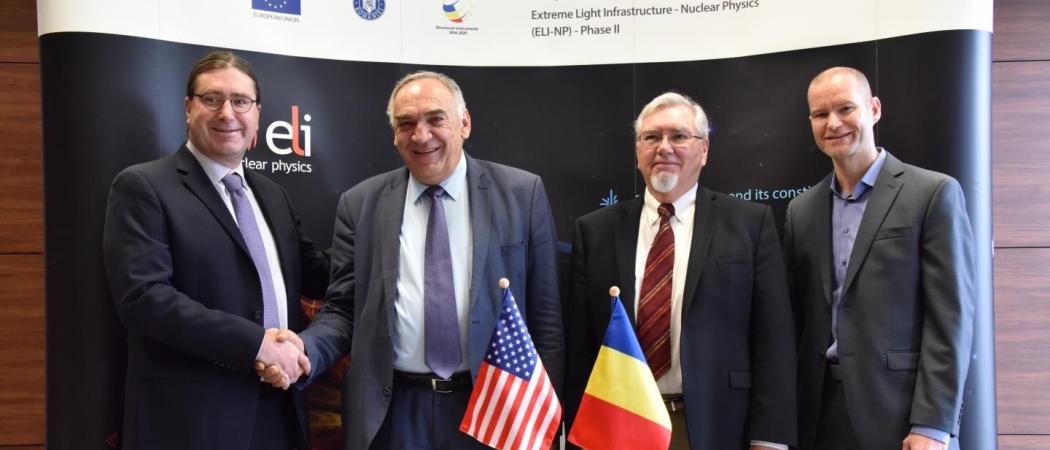 The largest research infrastructure in central and eastern Europe, Romania's Extreme Light Infrastructure – Nuclear Physics (ELI - NP) is to get a US-built gamma beam, after terminating a €67 million contract with the European consortium EuroGammaS, saying it failed to deliver.
Following a new tender process, California-based Lyncean Technologies is to build the Variable Energy Gamma-ray (VEGA) system for €42 million, with delivery due in by 2023. Lyncean also signed a contract worth an additional €7 million for technical assistance for three years after the installation is complete.
"Europe does not have a single company that is able to deliver the equipment," ELI-NP director Nicolae Zamfir told Science|Business.   
Romania's national institute for nuclear physics and engineering, the institution managing the ELI-NP facility, cancelled the contract with EuroGammaS a year ago, in a row over delays in the construction and installation of the gamma beam. The delays were caused after ELI-NP refused to make some changes EuroGammaS requested to its building, arguing the building "complies with the conditions and parameters that were assumed when the contract was signed." Shortly after the contract was cancelled, ELI-NP started looking for alternative suppliers in Europe, but also in Japan and the US.
The winning bid came from Lyncean Technologies. European research institutes and companies were interested but were unable to set up a viable consortium, while Japanese candidates were not able to agree on certain contractual terms imposed by ELI-NP.
If it can be completed by 2023, the year when the current EU budgetary cycle ends, ELI-NP will not have to worry about losing EU financing from structural funds, as former EU commissioner for regional policy Corina Crețu has warned.
The Italian Institute of Nuclear Physics, which is leading the EuroGammaS consortium, did not respond to a request for comment.
A 'messy story'
For one company in the EuroGammaS consortium, the legal wrangle came with significant financial losses.
Swedish technology company ScandiNova built a microwave generator needed for the gamma system, worth €9 million. After ELI-NP cancelled the EuroGammaS contract, ScandiNova's bank withdrew its loans and the company was very close to being closed down. "It slowed us down in many places," Mikael Lindholm, ScandiNova's senior vice president for sales and marketing told Science|Business. "It is a very messy story," he said.
ScandiNova and Lyncean Technologies have worked together in the past and Lindholm hopes they will be successful, but he laments that a contract funded by the EU has ended up in the US. "The EU should support European businesses," he said.
According to Lindholm, the system developed by EuroGammaS is 94 per cent completed, but it is very likely that it will never be used. "We are throwing away this very expensive equipment," said Lindholm.
Evolved technology
Zamfir said VEGA is cheaper than the EuroGammaS system, partly because that deal included "a substantial R&D component," but also because Lyncean can build the system more efficiently. In addition, Zamfir argues VEGA is more advanced than the system EuroGammaS was planning to build. "Technology evolved since 2013," he said.
Of the €67 million contract with EuroGammaS, ELI-NP had already paid €30 million, Zamfir said. It has since recovered about €10 million in penalties and a guarantee of good execution. The remaining €20 million are under dispute in a court in Bucharest. According to Zamfir, if recovered, the full amount should go back to the European Commission.
Some of the equipment developed by EuroGammaS is still in Bucharest, despite a Romanian court ordering the consortium to move it off ELI-NP premises.
The facility in Bucharest is costing a little more than €300 million, with most of the money coming from EU structural funds. Zamfir said the contract with Lyncean will not require new financing. "We didn't ask [to] increase[e] the budget," he said. "There is money left."
Together with sister facilities in Hungary and the Czech Republic, ELI-NP is one of the first large research infrastructures in central and eastern Europe, and the first time an EU member state has set up a large research infrastructure using structural funds.
Earlier this year, engineers and researchers at the Bucharest facility tested the main laser at its record-breaking capacity of 10 petawatts.
Geopolitical coincidence
ELI's public tender for a new gamma system ended on 12 August and the winner was announced on 3 October. Shortly after that, the project suddenly became interesting to the US government.
At the end of October, Zamfir went to a meeting in Washington DC organised by the Romanian ambassador to the US, George Maior, and held at the conservative think tank, the Hudson Institute, where he presented the project to scientists and policy makers.
Researchers from the US departments of energy and defence showed an interest in doing experiments for civilian applications in Bucharest. Zamfir said the sudden attention is a coincidence, adding, "It is in our interest that American colleagues come [to ELI-NP]."
Speaking at the meeting, Maior said ELI-NP will boost the "strategic partnership" between Romania and US.
Hans Klemm, US ambassador to Bucharest said he has been trying to find opportunities to advance Romanian-US scientific cooperation over the past four years. The Lyncean deal "is a very important milestone," he said.
Over the past six months, 22 US government scientists have visited Romania for a variety projects, including research on nuclear security at Romania's nuclear power station in Cernavodă, and vaccination training to help address Romania's measles crisis.
Earlier this year, Zamfir was named chair of the educational and cultural exchange programme between Romania and the US, the Romanian-U.S. Fulbright Commission, based in Bucharest.