Industry welcomes declaration of intent to work together on research and stimulate international trade in hydrogen. And the agreement is seen as helping to re-establish research cooperation that was undermined by Brexit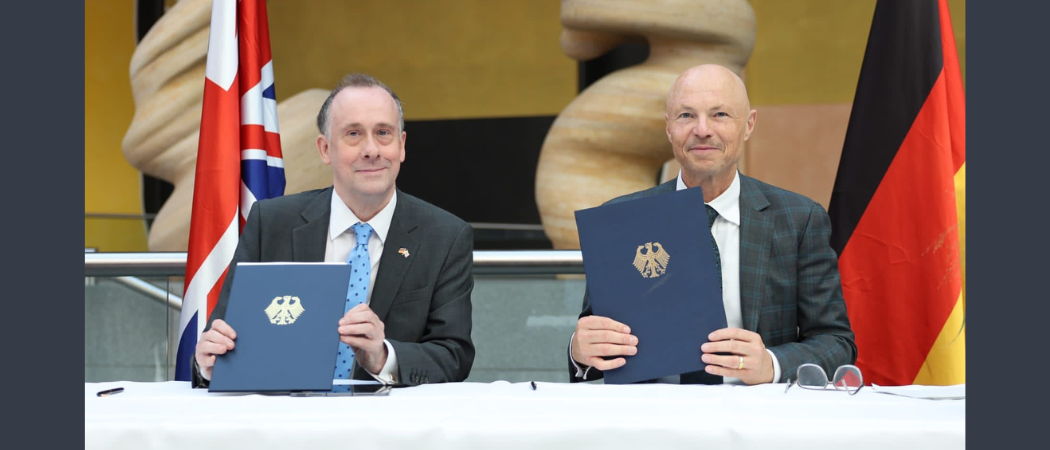 The UK and Germany announced a partnership to collaborate on the development of hydrogen as a net-zero fuel and to accelerate the deployment of hydrogen projects for industry and consumers.
This will include taking a lead in setting safety standards and regulations, supporting research and innovation from production to end use, promoting trade, and carrying out joint market analysis.
"Our cooperation will not just involve trading of hydrogen and its derivates, but also cooperation on technologies and innovation in this field," said Philip Nimmermann, Germany's state secretary for energy.
The two countries are "natural partners" in developing low-carbon hydrogen, said Martin Callanan, UK minister for energy efficiency and green finance. "This agreement will underpin the development of this new fuel not just for our respective countries but also for an international trade that could be transformative in our work towards achieving net zero emissions by 2050," Callanan said.
UK company ITM Power is in the process of expanding its electrolyser capacity for projects in Germany, noted Dennis Schulz, CEO. "As the UK's only commercial electrolyser manufacturer, we welcome this cross-border collaboration agreement. An effective hydrogen economy can only take shape if countries form alliances like this one."
Jorgo Chatzimarkakis, CEO of industry association Hydrogen Europe, believes the UK-Germany agreement will help to reestablish collaboration, which has become more difficult following Brexit.
"Especially in Scotland and also Wales, there are enormous capacities for green, wind-based hydrogen. They also have good connections via pipelines, and the infrastructure is very favourable," he said.
The EU has set a target of producing 10 million tonnes of renewable hydrogen per year in Europe by 2030, and importing 10 million tonnes by the same date. But currently companies face a number of challenges including a lack of demand. As things stand, 96% of the hydrogen consumed in Europe is produced by splitting natural gas, meaning it emits vast amounts of CO2.
"If you look at the EU's modelling of how we could get to two times 10 million tonnes, and more so how to become energy autonomous and also have nearshoring capacities - as it's always risky to find your import partners far away or in unstable political environments - France and Spain will have a tremendous role with nuclear and renewable energy. So will the UK and Norway," Chatzimarkakis. "They are so close and connected that hydrogen might be an important step to get closer collaboration. This German-British agreement paves the way."
While Germany's desire to import hydrogen to secure its energy supply following the Russian invasion of Ukraine is a main driver behind the partnership, Chatzimarkakis believes the benefits will be more wide-reaching, particularly for research and innovation. He cited developments in solid oxide electrolysis as an example of where UK companies are particularly active and collaboration could be fruitful.
The operational details of the Anglo-German partnership are still yet to be decided, but the agreement will see the two governments forming a joint working group, which will identify collaboration opportunities, decide on specific actions and conduct annual reviews of the partnership's activities.
Reaching net zero
Hydrogen is an important part of the EU's strategy for reaching net zero, as it does not emit CO2 and can be stored, providing energy systems with more flexibility. It is hoped green hydrogen, generated using electricity from renewable sources, could help decarbonise energy-intensive industries such as steel, chemicals and transport.
In support of this, the EU is funding the €2 billion Clean Hydrogen research partnership with industry, while in 2020 the Commission set up the European Clean Hydrogen Alliance to support the creation of a European hydrogen industry.
The Commission has also approved 'important projects of common European interest' which are eligible for state aid. One includes 41 projects in 15 EU countries, a second 35 projects in 13 countries. Together they will receive more than €10 billion in public investment.
Alongside the Europe-wide initiatives, Germany has signed bilateral agreements to cooperate with countries including India, Australia and Ireland.