After a two-year stand-off, followed by a wave of optimism when the stalemate over Northern Ireland trading arrangements finally ended back in March, a deal on UK association seems to be getting closer. So what took so long?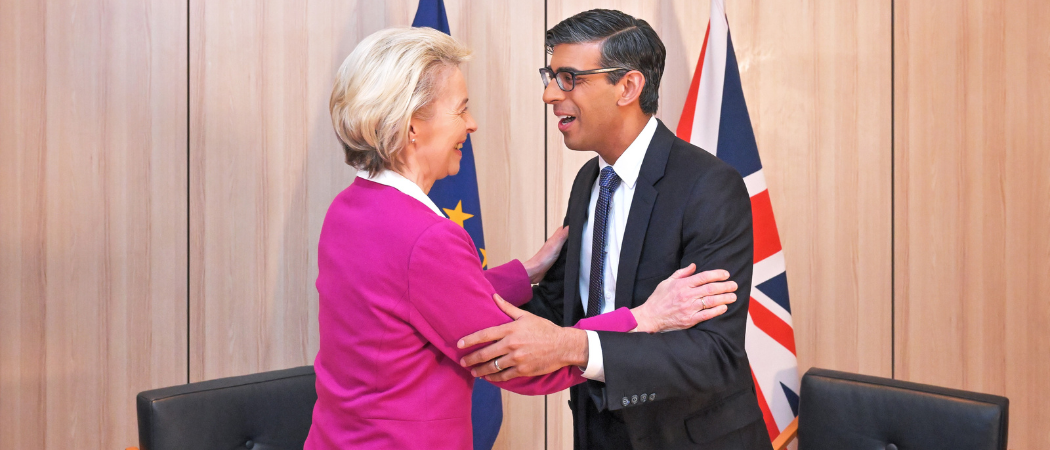 It's been a dramatic 24 hours in EU-UK scientific relations. Reports emerged on 5 July, first from Politico, that a long-awaited deal that would finally allow the UK to join Horizon Europe had been struck.
Multiple Brussels sources have told Science|Business, that a deal isn't yet quite done, but it's clear that progress is being made. The BBC reported that UK prime minister Rishi Sunak will be presented with two possible Horizon deals, which he will weigh against going it alone and launching a UK alternative to Horizon, the so-called Pioneer programme.
But two and a half years after Horizon Europe launched, why are London and Brussels still haggling over terms and conditions? And why might Sunak still end up rejecting such an established programme in favour of an untested UK alternative?
At the very end of 2020, Brussels and London agreed the Trade and Cooperation Agreement (TCA), setting out the terms of post-Brexit relations, which included a commitment that the UK would join Horizon Europe, and the details of association.
UK scientists breathed a sigh of relief that Horizon association had been saved – or so they thought.
But by the autumn of the following year, British officials in Brussels were starting to get nervous. Ratifying association required barely more than the stroke of a pen from both sides, but the Commission had not yet agreed to sign on the dotted line.
After some prodding, the then research commissioner Mariya Gabriel publicly acknowledged the Commission was refusing to sign off on association because of UK threats to override the Northern Ireland Protocol, a key part of the Brexit settlement designed to avoid introducing customs checks on the island of Ireland.
Horizon association entered a holding pattern as scientists bit their nails and waited for wider political progress to unlock talks. Meanwhile, the London government started to draw up Plan B, a domestic alternative, now called Pioneer, in case it was forced to wait for too long.  
This impasse was broken in February by the Windsor Framework, which resolved many of the sticking points over Northern Ireland, paving the way for Horizon association.
Once again, scientists cheered – but it proved to be another false dawn.
Terms and conditions
Since then, Brussels and London have been haggling over the exact financial terms and conditions of association. The problem is that back in 2020 when the TCA was inked, no one quite expected it would take this long for association to be agreed.
And because of the delay, UK participation in Horizon has fallen sharply, leaving the UK side wondering how much money it will actually get out of the framework programme, and whether it can recoup any of its contribution if receipts disappoint.
"The fact that the correction mechanism as set out in the TCA doesn't provide for a reduction in the UK contribution if UK receipts fall substantially below the contribution is an issue," said Peter Mason, who leads global research and innovation policy at Universities UK.
The TCA – on page 392, to be exact – provides for an "automatic correction" if, over the course of two consecutive years, the UK gets more than 8% out of Horizon Europe than it puts in. In other words, if the UK does particularly well out of association, it has to pay up to compensate the Commission.
But there's no equivalent protection for the UK if it does badly. Instead – as outlined on page 397 - if the UK gets 12% less out than it puts in, it can ask a joint EU-UK committee that oversees UK participation in EU programmes to work up a report "proposing appropriate measures to address performance related issues."
If the gap between income and expenditure on Horizon widens to 16%, the UK has more options. It is allowed to quit the framework programme entirely, or again ask the joint committee to "adopt further measures" including "adjusting future financial contributions".
No clarity
For the British side, the problem is that this legalese is just too vague – it gives no real guarantees, only promises of reports and unspecified mitigating measures.
"As it stands there isn't anything stopping there being a significant gap initially, although the Commission argues that UK participation rates will bounce back quickly to close this," said one UK research funder source who wanted to remain anonymous because of the sensitivity of the talks.
Other associated countries – Israel for example – have an automatic correction mechanism that works both ways, not just in the EU's favour.
However, the EU might argue that the UK agreed to the TCA in its entirely, and will have got something else in return for this lack of protection. There's no desire on either side to reopen the actual text of the TCA, but it's unclear exactly how the two sides might fashion any side agreement to give the UK more guarantees.
How big is the loss?
Guarantees are important because without them, the UK risks spending far more on Horizon than it gets out, at least initially.
The UK's contribution to Horizon would be based on the size of its GDP, and in 2017, before it left, the UK accounted for 15% of the EU economy.  London has set aside £6.9 billion for the programme up until the end of 2025.
Only a crystal ball can know for sure how much the UK would get back, because it depends on the rates of application and success from the country's scientists.
But so far, the signs are that non-association has hit participation hard, despite a UK guarantee scheme that pays for participation in collaborative, pillar 2 projects.
In January, Science|Business calculated that the UK accounted for just 4.9% of participants in pillar 2, the largest chunk of the programme, and the one that the UK can still take part in. This participation share is well short of the UK's likely GDP-based contribution, and a drop of half compared to the predecessor programme, Horizon 2020.
Participation numbers don't necessarily equal money received, and if association was agreed, there could be a resurgence of UK interest in the scheme that should bump up participation. "We are confident that UK participation will rebound if association is confirmed," said Mason.
Even so, without a mechanism to recoup any of the money, based on these rough preliminary figures, the UK risks losing the best part of a billion pounds a year if it joins, sector sources estimated to Science|Business, at least until participation rates recover.
"It'd be hard to convince the Treasury to leave open the possibility of a £1 billion net contribution in the first year without stronger safeguards," said the UK sector source.
This, then, is the choice Sunak will have to make. Joining Horizon would mean continuing UK membership in European scientific networks built up over decades and retaining access to grants from the prized European Research Council.
But it could come at a painful net cost at least for a few years - subject to any deal London and Brussels can hash out to mitigate UK losses.