In wide-ranging interview, the research commissioner outlines issues standing in the way of the UK and Switzerland taking part in Horizon Europe. There is also an update on the European Research Area and a call for one and all to back the research missions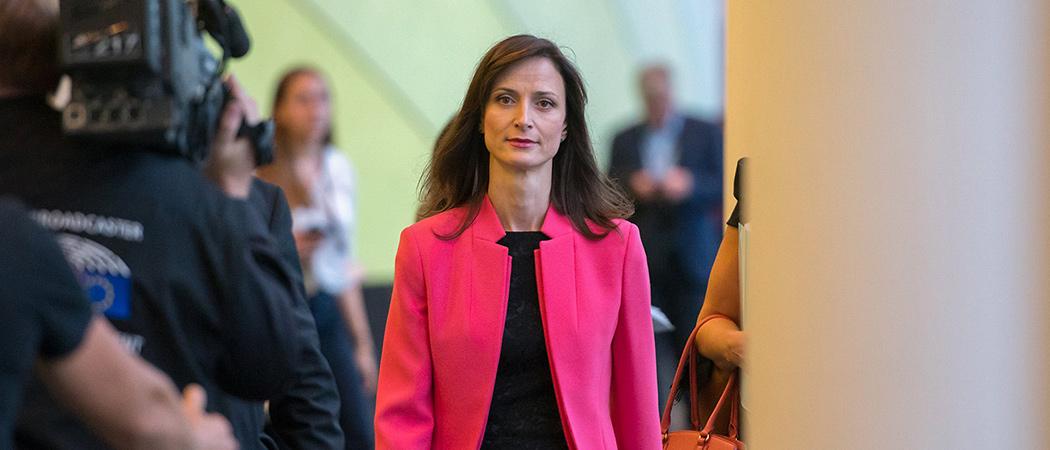 It's no surprise: further diplomatic efforts are needed to clear political disagreements before the UK and Switzerland can finalise Horizon Europe association.
The European Commission is waiting for "transversal" political issues to be resolved before it moves forward with association talks, Mariya Gabriel, research commissioner told Science|Business.
"Association is a thematic subject, and I am confident that we are ready to tackle it as soon as possible, but transversal issues need to be tackled first," Gabriel said.
Gabriel first raised the possibility UK association to the €95.5 billion research programme could get embroiled in the stand off over the Northern Ireland Protocol at a meeting in the European Parliament last month.
Since then, member states and research stakeholders, including UK and EU universities, have grown anxious about the delay. "I really hope [researchers] will keep their passion and patience," Gabriel said.
Commission vice-president Maroš Šefčovič put forward a plan for easing checks on goods moving between Great Britain and Northern Ireland on Wednesday. However, he stopped short of removing the oversight of the European Court of Justice on any dispute arising over the operation of the protocol, a red line for the UK government, which wants a system of independent governance.
The Northern Ireland Protocol, keeping the province in the EU's single market after Brexit, was drawn up in order to prevent a hard customs border on the island of Ireland that would have disrupted free movement of goods and people, and to safeguard the Good Friday Agreement, the 1998 treaty that ended political and religious violence.
The UK government now argues that the protocol is damaging trade between Northern Ireland and Great Britain. Government officials have threatened to trigger Article 16 of the Northern Ireland Protocol and temporarily suspend parts of the deal.
In a speech delivered on Tuesday at the British Embassy in Lisbon, UK Brexit minister David Frost blamed the EU for the tensions. "Viewed from our perspective, we look at the EU and see an organisation that doesn't seem to want to get back to constructive working together," Frost said, citing rows over the export of COVID-19 vaccines earlier this year and, "a block on our entry to Horizon [Europe] (and of course earlier a refusal to allow us into Galileo), amongst other issues."
Gabriel said the UK can only be associated in Horizon Europe once other political disputes are sorted. "I think that it is important on our side to confirm our opinion to advance on association, but only after the framework is agreed by both sides," she said.
The case of Switzerland
Scientific cooperation between the EU and Switzerland is also in limbo, after the Swiss government ditched talks on a new treaty to upgrade bilateral relations, and moves to make overdue payments to EU cohesion programmes got stuck in the Swiss Parliament. As a consequence, the Commission barred Swiss researchers from applying for Horizon Europe grants and association talks have been suspended.
Earlier this month, Switzerland hinted it wants to come back to the negotiating table, after its parliament voted to pay its contribution to the cohesion fund. Gabriel said that is a positive signal but needs to be transformed into action before the Commission can restart association talks with the Swiss government.
"There are three stages: payments for the cohesion funds, a global accord, and concrete ways of participation [in Horizon Europe]," said Gabriel. "It's an ongoing process which, for now, remains suspended."
Gabriel said there haven't been official contacts between the Swiss government and the Commission on association, but the two parties have managed to preserve "the right tone".
The EU has a long-standing tradition of scientific cooperation with Switzerland, which came under severe stress in 2014 when the Commission suspended Swiss researchers from the previous research programme, Horizon 2020. The crisis was resolved to some extent after six months with an agreement on partial association, while full association was reinstated only in 2017.
It's unclear whether this time around the impasse will be as drawn out, but the Commission wants Switzerland to come forward with a plan. "We expect something concrete, something official, so we can remain ready to act," said Gabriel.
The Horizon Europe programme was initially designed to be "open to the world" but a change in global political tides and the coronavirus pandemic have led the EU to take a more cautious view on international research cooperation.
At the same time as being in a stand-off with close neighbours, the Commission is in talks with Australia, Canada, Japan, New Zealand, Singapore, and South Korea. So far, only Canada has made an official request to be associated. "At the moment, it's true that talks are most advanced with Canada," said Gabriel. The other countries are pondering whether the costs of joining Horizon Europe are worth the effort of complying with a growing list of expectations the EU has for international research partners.
In its new global approach to research cooperation, the Commission has set out a number of principles that partners are expected to follow. Those include academic freedom, clear and effective protections for intellectual property, and reciprocal funding opportunities.
No association, no ERA
Since taking office, Gabriel has also been on a quest to revamp the single European Research Area (ERA), a 20-year old plan to coordinate national R&D policy and research agendas and increase public and private investments.
The Commission has put together a proposal which is now being debated by member states. By the end of November, EU capitals have to reach an agreement on which countries should take part in the governance of ERA and which stakeholder associations should be involved in setting up that governance structure.
Some member states want third countries, such as Switzerland, to be included, while others think only countries fully associated in Horizon Europe should play a role. When asked whether Switzerland and the UK can be a part of ERA governance before becoming associated to Horizon Europe, Gabriel said that is something that needs to be discussed.
"If there is no progress on association, that would obviously influence discussions on ERA participation," she said.
On stakeholder participation, Gabriel is of the opinion member states should ensure that universities and research associations are represented in the ERA governance in a meaningful way. "They should not have to be there just to make up the numbers," she said.  
But the ball is in the European Council's court, says Gabriel. Member states are now in the process of reaching an agreement on the future governance of ERA and in a conference scheduled for 26 October in Slovenia, EU research ministers will discuss how to coordinate national research policy agendas under the ERA framework.
"We are entering a phase where I would say it would be important to see how member states are capable of backing up their words with action," said Gabriel.
Within the ERA plan, the Commission wants member states to sign up to a target of investing 3% of GDP in research. This would help countries with less well-endowed research and innovation systems catch up with richer counterparts and spread scientific and technological excellence more evenly across the EU.
Gabriel acknowledged this target will be difficult for some countries to reach, but she hopes governments will use money from the EU's pandemic recovery fund as a launch pad for future increases in R&D investment. The 3% figure was first set 20 years ago, but fallout from the 2008 financial crisis depleted national budgets and R&D investments remain below the target in most member states.
Gabriel hopes it will not take another 20 years to make progress on R&D investment. "We have more chances than before [to reach the 3% target]," she said.
For this to happen, ERA needs to remain high up on the policy agenda when France takes over the rotating presidency of the Council of the EU in January 2022. "If there is no follow up next year, I don't see how we are going to seize the moment with the recovery fund and the new instruments that we have at our disposal," said Gabriel.
New innovation agenda
The Commission is planning to launch a new innovation agenda and an action plan to transform EU's scientific excellence to economic gain, whilst at the same time reducing Europe's dependence on foreign supplies of critical technologies.
The plan could be ready for launch in the beginning of 2022, although Gabriel doesn't have a clear timeline for it yet. In addition, it is not clear whether the innovation strategy would have to go through a legislative process in Parliament and the Council.
Gabriel has received input from grassroots organisations on what the EU could do to boost investments in deep tech companies, increase the number of start-ups that scale up to market valuations of €1 billion and over, and to increase the number of women innovators.
While the EU already has two dedicated programmes supporting innovative start-ups through the European Innovation Council (EIC) and the European Institute for Innovation and Technology (EIT), Gabriel admits they have a limited scope. "We can't say they will be able to help every start-up in Europe grow," she said.
The new innovation agenda would ensure the model of EIT and EIC extends to all member states and regions, with a better coordinated use of structural funds. "If we want this to spread, we need to create synergies with cohesion and regional funds," said Gabriel.
Research missions
Another task is convincing member states and regions to help the Commission implement its five research missions on fighting cancer, adapting to climate change, protecting seas and rivers, promoting 100 carbon neutral cities and fostering soil health.
The Commission has officially launched the research missions, but Gabriel said more work needs to be done before the projects are up and running and start delivering results.
A big challenge ahead will be to get member states and regions on board and convince them to support investment in projects that are aligned with the goals of the missions.
"That is why we have this exploratory phase. After that, we can convince through examples," Gabriel said.
Editor's note: This article was updated 17 October. UK government officials have threatened to trigger Article 16 of the Northern Ireland Protocol, NOT Article 16 of the Good Friday Agreement