German minister calls for countries to be more "alert" when dealing with China and other autocracies. Scientific collaboration, at least rhetorically, is increasingly a question of values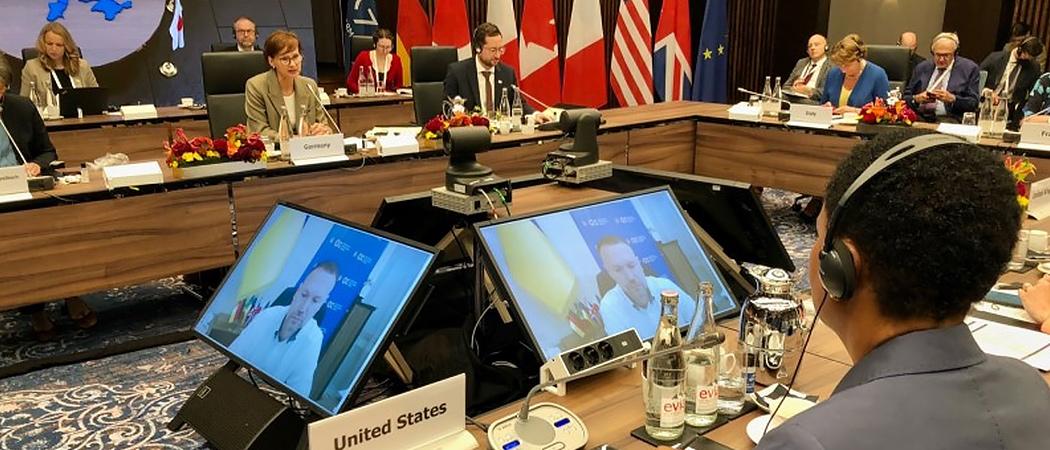 The G7 group of countries have emphasised that freedom and democracy are the basis for scientific exchange, in the latest sign that they are looking to cooperate with likeminded countries and dial down partnerships with autocracies like China.
The declaration, made after G7 science ministers met in Frankfurt in the run up to the summit of G7 leaders in late June, mirrors rhetoric from the EU, which is seeking to bring other democracies including Japan, New Zealand, Canada and South Korea into its Horizon Europe research programme.
"We must not only maintain but strengthen cooperation with countries that share our values: democracy, human rights and trust in science," said Bettina Stark-Watzinger, Germany's education and research minister.
"We must all be more alert in our engagement with authoritarian states like China," and "critically check" research links with such countries, she said at a press conference following the meeting yesterday.
Promoting academic freedom, integrity and security is top of a list of three priorities agreed by G7 ministers.
"We stand together in unity and acknowledge that respecting freedom in scientific research is an indispensable cornerstone of democracy and a common core value for trustful and open science cooperation with international partners," the ministers said in a joint statement.
What this means in practice is the creation of a toolkit and "virtual academy" to advance research freedom, scientific integrity and security among academics in the G7. This is being led by a G7 working group.
There are growing attempts by governments to interfere with science, and to "misuse the open science ecosystem for their own ends," warned Stark-Watzinger.
Despite the minister's comments, China remains a key scientific partner for both the EU and US, and there are no plans for the G7 democracies – Canada, France, Germany, Italy, Japan, the UK and US – to cut it out of research collaboration.
However, there is some evidence that joint papers between China and the US have dropped off since 2016, due to geopolitical tensions, the controversial US prosecutions of Chinese scientists, and the pandemic, although links with Europe have remained strong.
In Europe, Brussels and member states have cooled on China as a scientific partner as Beijing is increasingly seen as a rival that does not share scientific knowledge equally.
The invasion of Ukraine triggered an unprecedented wave of scientific sanctions against Russia from Europe, with institutional ties severed. More recently, after months of debate, the US announced it would "wind down" government-to-government research collaboration with Russia, although universities are free to make their own decisions.
The war has also spurred the EU to accelerate the association of Canada, Japan, New Zealand and South Korea to Horizon Europe. The Commission has declared that likeminded countries need to stick together in the aftermath of the war.
Despite this talk of democratic unity on research, there was no breakthrough in Frankfurt yesterday in talks between London and Brussels on UK association to Horizon. Association has been blocked by the Commission because of wider dissatisfaction with the UK over London's move to unilaterally scrap parts of the Northern Ireland Protocol.
Research Commissioner Mariya Gabriel yesterday met UK science minister George Freeman at the summit in Frankfurt, and tweeted that, "We recognise the mutual benefit in cooperation in science, R&I, nuclear research or space" – but stressed that the EU wanted a "secure", "stable" and "constructive" relationship with the UK.
The prospects for UK association dropped even further today after the UK published legislation that would override elements of the Northern Ireland Protocol agreed as part of the Brexit deal in 2020. "Unilateral action is damaging to mutual trust," responded the EU's chief Brexit negotiator Maroš Šefčovič in a statement.
Carbon removal and long Covid
Apart from academic freedom and research security, the G7 also wants a renewed focus on technologies that can suck greenhouse gases out of the atmosphere – a feat that is increasingly recognised as essential to limit climate change as efforts to cut emissions fall short.
"We need more research on carbon dioxide removal and storage, in order to counterbalance hard-to-abate residual emissions," the G7 ministers' statement said.
The ministers committed to an exchange on what research is needed to explore the feasibility and effectiveness of carbon removal technology, plus lifecycle analysis of its impact over the short and long term.
Such technologies play a role in the US's own carbon neutrality plan, although they are acknowledged as untested and immature.
The health of the oceans is another G7 priority. The ministers said they might create training and fellowship programmes to create more scientific capacity in ocean observation. There was also a promise to promote and support foundational climate and ocean ecosystem science.
The final G7 priority is research into Long Covid, the persistent health effects suffered by some of those who have contracted COVID-19.
"There is a great need for scientific research on the long-term effects of infections to contribute to appropriate therapy and health care strategies and to reduce the burden of disease across population groups," the ministers said. They want more collection and sharing of data on patients who have had COVID-19.
However, despite pushing these research priorities, the G7 won't be setting up any new bodies or funding to support them. Speaking to ScienceBusiness last week in Washington DC, Stark-Watzinger said it was important not to create more bureaucracy, and to spend as much money as possible on the actual research.