Setting a separate target for deployment of novel renewable technologies could open up markets for start-ups, but there are also other barriers that need to be lifted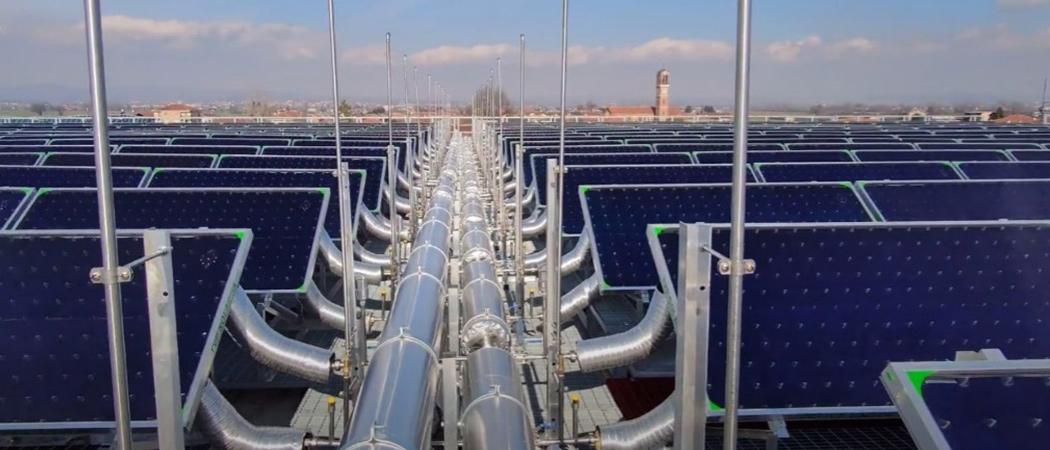 MEPs will vote this week on a proposal aimed at increasing the uptake of innovative renewable energy technologies, by setting a specific target in the EU Renewable Energy Directive to spur their development and deployment. Start-ups working on technologies that are likely to benefit are broadly supportive, but have plenty of other suggestions of how policymakers can really help.
The setting a target for new types of renewables is the idea of the Parliament's industry, research and energy committee, ITRE. In its report on revision of the EU Renewable Energy Directive, due to be voted on this week, ITRE has increased the broad target for renewables in the Commission's proposal from 40% to 45% of total consumption by 2030. It has then added an "indicative" sub-target that says 5% of new renewable energy capacity installed in each member state should involve an innovative technology.
For Patrik Möller, chief executive and co-founder of CorPower Oceans, the sub-target is a necessary addition to European policy on renewables, providing an incentive for innovation and support for the initial deployment of new technologies. "Initial market deployment is how innovative new technology scales up and reduces costs, and the sub-target will support national governments in their creation of these markets," he said.
Guglielmo Cioni, vice president for business development at solar thermal system producer TVP Solar, also thinks the sub-target is a positive development, but he has reservations about the way it has been framed. One issue is that the 5% figure is hard to pin down, since it depends on the total capacity in renewables to be installed by 2030. "This 5% is like an indicative, goodwill gesture from the legislator. Converting that into real numbers is a bit difficult," he said.
But others think that tinkering with the market is no substitute for direct investment in innovative renewables. "Setting that kind of number is the wrong way to go about it," says Henrik Båge, chief executive of Phoenix BioPower. "It's better to invest in the development of innovative technology, to bring it up to technology readiness level 8 or so, and then let it sail. Or, if it is still not commercial, you decide to subsidise it."
The massive amounts of money now being mobilised to carry consumers through the energy crisis should put this investment into perspective. "I can give you a commercial technology with our platform by 2030, tried and tested, and build our first plant, but I've got to have €300 million euros to make it happen," Båge said. "If you compare that to the billions we are now spending as a band aid in this energy crisis […] does that sound like a lot of money?"
Defining innovation
Another area of uncertainty is ITRE's definition of innovative renewable energy which it says should involve "a renewable energy generation technology that improves in at least one way on comparable state-of-the-art renewable energy technologies, or makes exploitable a largely untapped renewable energy resource and involves a clear degree of risk, in technological, market or financial terms, which is higher than the risk generally,"
Möller is confident that CorPower's wave energy systems will fit within the definition, but he wonders what else will qualify. "What is almost on the market, but maybe less innovative, that could still fall within that definition and take up a big portion of the 5%, squeezing out the most innovative technologies that can have larger impact on the energy transition once scaled up."
Solar thermal energy has been around for a while but is still seen as a novel technology and a risky investment in certain business sectors. For example, TVP Solar is part of a Horizon 2020 project SHIP2FAIR, which aims to demonstrate solar thermal's potential in the agri-food sector. "So our technology is certainly innovative, but is it going to be innovative enough?" Cioni said. "That remains to be seen."
The contradiction in the target is that while the technologies need to be innovative, they also have to be advanced enough to make a substantial contribution by 2030. "That is basically tomorrow, so there is not much space to play around with ideas in this formulation," Cioni said. "Even the 5% target means gigawatts, and that requires a well-established, high volume production system, and we have that."
TVP Solar was established in 2008 to apply high vacuum knowhow from CERN's Large Hadron Collider to the design of solar thermal collectors. The result is a flat-plate solar thermal panel that can deliver industrial grade heating in places with relatively low levels of sunlight. Since setting up, the company has raised around €100 million, mainly in private investment, and now employs around 80 people at its Geneva headquarters and production facility in Avellino, southern Italy.
The challenge of selling energy systems directly to users, rather than building power plants to feed the grid, points to some of the other initiatives Cioni would like to see from policy-makers. "If you want to build a solar PV plant, you have access to different sources of debt and equity funding. We don't have that yet," he said. "So, the first thing would be to facilitate infrastructure investment with risk-sharing facilities and with lending instruments, targeted to particular kinds of user."
This carrot also requires a stick to motivate energy users to make the necessary changes, for example linked to present energy crisis aid initiatives. "So, you will get support if you equip yourself for local energy generation. If you don't, you won't get support." It would also help if European and national targets were passed down to industry. "At the individual level, every company should do its best to implement energy efficiency and local renewable generation, to make them as independent as possible," Cioni said.
Wave energy
CorPower was founded in 2012 to commercialise wave energy systems inspired by the pumping of the human heart. It has done this by drawing on technologies developed at the Norwegian University of Science and Technology in Trondheim, and the KTH Royal Institute of Technology in Stockholm. The company has raised €65 million in funding to date, and in June this year it unveiled its first commercial scale products. A grid-connected demonstration wave farm is currently under construction off the coast of Portugal.
The ocean energy sector already has targets, set under the EU Strategy on Offshore Renewable Energy, of 100 megawatts by 2025, then 1 gigawatt by 2030. And while Möller thinks the policy push is admirable, financial support has not kept up. So far, there are only two 5 megawatt ocean energy projects supported by upcoming Horizon Europe calls, leaving 90 megawatts to be built out in a very short time. This is unlikely to happen, he thinks, without co-investment from the EU to make the projects viable for private investors.  
"We have 6-12 months remaining to have financial closure on those projects, to meet the 100 megawatt target by 2025," Möller said. "Unless specific instruments are made available, such as adjusting the criteria for the Innovation Fund, using structural funds or other existing instruments, it won't happen."
The problem with the EU Innovation Fund is that is assesses demonstration projects according to the cost per tonne of CO2 abated or avoided by the demonstrator itself, not the potential once the technology is brought to the market. "When you are in the early stages with very innovative technologies, each step of demonstration might be quite small, and also quite costly per tonne of CO2 or megawatt hour of energy production that you install – that is the nature of being early stage and innovative. Just measuring the cost-efficiency of that initial demonstration phase is fundamentally wrong, as it misses the big step-change innovations."
Another bugbear is the time and effort it takes to get permits to build demonstration projects, which often involves the same level of detail and bureaucracy demanded of a gigawatt-scale installation. Möller suggests a one-year maximum for a permit decision.
He would also like to see more coordination between the EU and national governments, to make best use of available EU funds, and a longer term perspective in the 27 National Energy and Climate Plans. "These are very focused on meeting 2030 targets, rather than developing the technologies that are needed post-2030," he said. "The plans are going to be reviewed in 2023, and that is the perfect opportunity to give market visibility to ocean energy and set ambitious national goals."
Biomass power
Phoenix BioPower's technology converts biomass, such as agricultural and forestry wastes, into a combustible gas that drives a gas turbine to generate electricity. This promises to be twice as efficient as conventional approaches, which burn biomass to boil water and so drive a steam turbine. Developing heavy engineering solutions like this takes time and money, and can be risky in the early years, so venture capital can be hard to convince. "EU support has got to come in, because there is a market failure in the first part of the development roadmap," Båge said.
Founded in 2016, Phoenix BioPower has made progress with a mixture of public and private funding. In 2021 it raised €2.2 million selling shares directly to the public, an exercise it plans to repeat in October this year, with a target of raising a further €2.5 million. Headquartered in Stockholm, it currently has a team of 18 people, topped up to around 25 with academic collaborators and consultants.
Beyond investment, Båge wants to see technology neutrality applied in all schemes to support renewables, rather than policies that attempt to pick winners, and a reality check on the total costs of energy production. For example, offshore wind farms generally don't pay for the cables that connect them to the grid, while a biomass power plant will have to shoulder the cost itself. "Just because it is on land, and another type of technology, why should it not be subject to the same conditions as the other technologies?" Båge asks.
Meanwhile he wants to see recognition for the services some energy sources provide to the network, such as security of supply when variable renewables such as wind and solar drop out, and maintaining 'grid inertia', an aspect of network stability produced by heavy mechanical power generation. "There are no market or other mechanisms to compensate for that service," he said. "It's given away for free by big generators, regardless of the fuel source, and variable renewables are piggybacking on that."
Elsewhere in the Ecosystem…
A Horizon Europe project exploring collaborative approaches to innovation in procurement has begun, and is looking for customers and innovators to take part, particularly start-ups supported by the European Innovation Council. InnoBuyer will support the co-creation of solutions to common challenges proposed by customers in the public and private sectors, then their adoption by customers and commercialisation by suppliers. The aim is to run 15 pilots during the project, from a fund of €1.5 million.
BoobyBiome, a start-up linked to University College London that is developing a biotherapeutic product mirroring the microbiome in breast milk, has raised £1.3 million in equity and grant funding. The pre-seed equity round was led by Venrex Management, and includes Discovery Park Ventures and angel investor Simon Galbraith of Cade Hill Investments. The grant funding consists of £564,063 for product development from the Innovate UK Biomedical Catalyst programme, and research council doctoral fellowships for two of the three female co-founders.
Qli5 Therapeutics, a German-Korean joint venture developing a new class of proteasome inhibitors, has closed a €10 million series A financing round with an international consortium of investors. The company was founded in 2019 by Korean biopharmaceutical company Qurient and the Max Planck Society's Lead Discovery Centre, with the aim of commercialising research by Robert Huber, emeritus director of the Max Planck Institute for Biochemistry. The money will be used to further develop the company's pipeline and prepare clinical trials in cancer, inflammation and autoimmune diseases.