Academics and university lobbyists are celebrating after Commission president said Windsor framework is 'good news for scientists and researchers'. But there's no clarity on how long association will now take.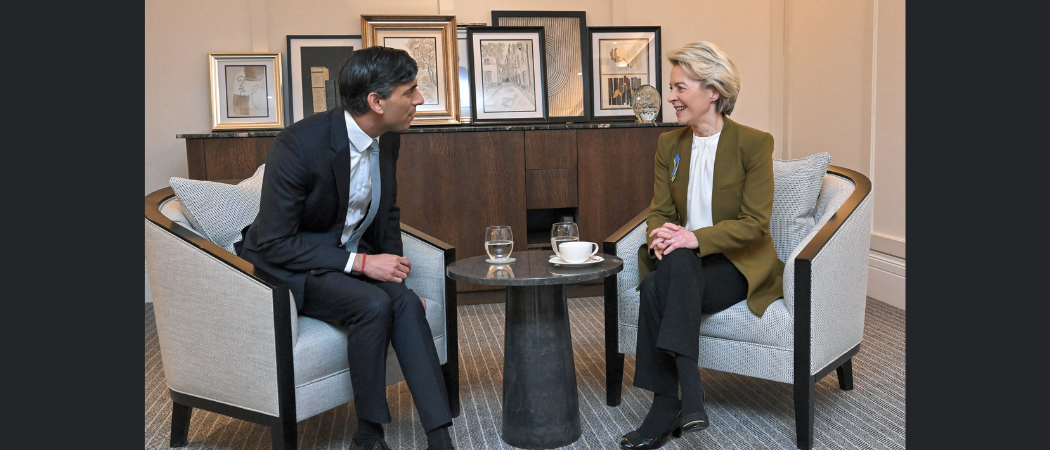 Commission president Ursula von der Leyen has said that work on associating the UK to the EU's Horizon Europe research and innovation programme will start "immediately" once the wider deal between Brussels and London agreed on Monday is implemented.
The deal, dubbed the Windsor framework, was welcomed by von der Leyen as "good news for scientists and researchers in the EU and in the UK".
When the agreement is implemented – right now, it's still an agreement in principle, she stressed – von der Leyen said she was "happy to start immediately, right now, the work on an association agreement which is the precondition to join Horizon Europe."
"So good news for all those who are working in research and science," she said at a press conference on Monday alongside UK prime minister Rishi Sunak.
After 18 months of limbo, academics, lobbyists and politicians are breathing cautious sighs of relief as it looks like the major hurdle to the UK joining Horizon Europe has fallen – and are now urging the two sides to seal association as soon as possible.
"Oh my goodness. It could actually happen," said Martin Smith, head of the policy lab at the UK medical research charity Wellcome Trust.
"Policy-makers must now bring UK Association over the line," Jan Palmowski, secretary general of the Guild of European Research Intensive Universities.
"And if we can reach agreement after such acrimony - surely it will be possible for Switzerland and the EU to come together also, for the sake of Europe!" Switzerland, like the UK, has also been blocked from associating because of a wider political impasse.
MEP Christian Ehler, who was a rapporteur for Horizon Europe in the European Parliament, said the Windsor framework was "important progress" in EU-UK relations.
"If a solid majority in Westminster approves this deal, the UK is back on track to being a reliable partner for the EU and then we need to finalise UK association to Horizon Europe without further delay," he said.
"With the Northern Ireland protocol impasse resolved, we need to swiftly secure access to the EU's international research programmes," said Adrian Smith, president of the UK's Royal Society. "We welcome Ursula von der Leyen's commitment to progressing association as soon as the Windsor Framework is implemented."
Despite agreeing association in the original 2020 Brexit deal, the Commission blocked the UK from joining Horizon Europe because of threats from London to tear up the Northern Ireland Protocol, a key element of the deal designed to prevent a hard border on the island of Ireland.
This has left UK-based researchers locked out of some parts of the framework programme, like the European Research Council, and unable to coordinate industrial and global challenges consortia.
The UK government set up a guarantee scheme to ensure UK partners had the money to join partnerships, but UK participation in Horizon Europe has taken a serious tumble in the first two years.
Now, with the Windsor agreement seeming to resolve the Northern Ireland Protocol stumbling block, the way should be clear to agree association.
However, there could still be other hurdles remaining. Sunak must sell the deal to unionists in Northern Ireland, who objected to the original protocol because they feared it created a quasi-border between Northern Ireland and the rest of the UK.
He also needs to placate arch-Brexiteers in his own party, who may reject any compromise with Brussels. Both groups are currently scrutinising the details of the deal. Waiting in the wings is former prime minister Boris Johnson, who could use the compromise as an opportunity to try to bring down Sunak.
At the press conference, Sunak said MPs would get a vote in parliament on the deal. But the opposition leader, Kier Starmer, has already said Labour will support the deal, so there is no chance of a defeat – just the risk of an embarrassing Conservative rebellion.
Even if accepted by UK MPs, the UK also wants to haggle over the size of its Horizon Europe fee, having been locked out for two years.
In addition, the Commission might want to pass on some administration costs from the past two years to the UK. The European Research Council has been judging UK applicants, even if it currently is not able to award them money.
Hetan Shah, chief executive of the British Academy, said he felt reports that an actual association deal would take 6-9 months to agree was "plausible".
Stephanie Smith, head of policy at the Russell Group of large research universities, said that the UK would likely have to extend its Horizon Europe funding guarantee to cover the period while an agreement is reached. "It'll take longer than a month," she said.
"There are details on Horizon Europe to work out," said Andrew Mackenzie, associate director of strategy at the Physiological Society.
The UK "won't want to pay for the years it has been locked out and EU will want admin costs covered," he said. "But both sides are raring to go. UK scientists will be keen to move fast after such a long delay and avoid months longer in limbo."
Despite the euphoria that association might finally be near, some UK-based scientists are still ruing the months and years of uncertainty.
Dozens of UK-based winners of ERC grants were put in an almost impossible position, as they had to choose whether to leave for the EU to take up their awards, or stay in the UK and make do with a domestic equivalent.
One of those who ultimately stayed, Manuel Salmeron-Sanchez, chair of biomedical engineering at Glasgow University, said it was "frustrating that we had to go through all the pain to question whether we wanted to stay in the UK or leave".
After such a long delay, colleagues had started to question whether non-association, and a UK alternative to Horizon Europe instead, might actually be better from a funding perspective, he added.
This article has been updated with more reaction to the Windsor framework deal.