Gabriel will act as understudy to anti-corruption campaigner Nikolay Denkov, a member of the Academy of Sciences, in a government that looks on paper a boon for the country's R&D. But judicial reform will be the priority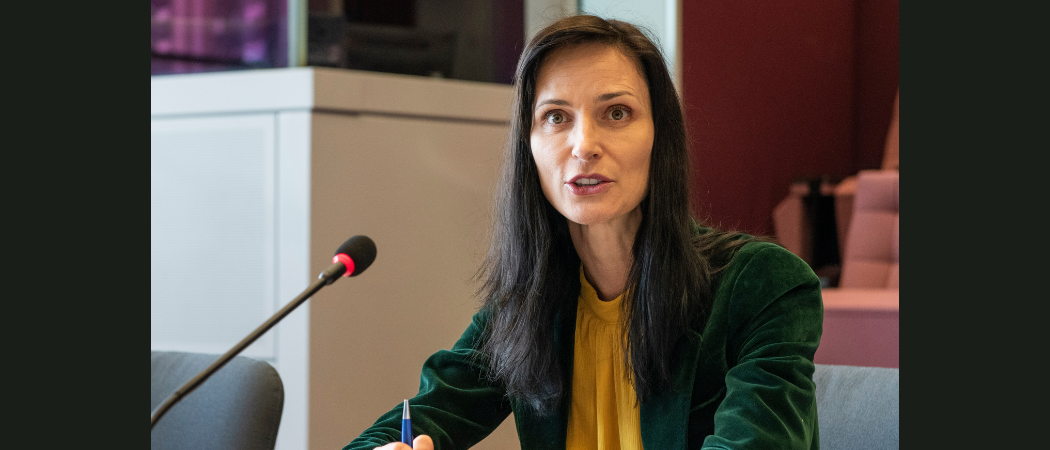 Recently resigned EU research commissioner Mariya Gabriel is to become Bulgaria's prime minister in nine months' time, after first serving as deputy prime minister under Nikolay Denkov, a chemist and member of the country's Academy of Sciences. 
The combination puts Bulgaria in line for its most research-minded government to date, though more pressing issues, notably a tussle over judicial reform, are likely to take centre stage during the 18-month coalition rule.
Gabriel resigned as EU commissioner mid-term after being called up to Sofia from Brussels to help her scandal-ridden GERB party form a government. Following a week of negotiations few believed would bear fruit, GERB managed to convince the two-party anti-corruption alliance We Continue the Change and Democratic Bulgaria (PP-DB), to form an unlikely coalition. 
As a result, until the term of the current national assembly ends in 18 months' time, Bulgaria will be led by two people who have extensive experience in science and research policy. Gabriel's time as head of the Commission's research portfolio saw her oversee a difficult period plagued by successive challenges such as COVID-19, Brexit and the war in Ukraine. Her presence in Brussels will be missed by many in the R&I community. 
Denkov is a doctor of sciences in physical chemistry and member of the country's academy of science who served as education and science minister from 2021 to 2022. His We Continue the Change party previously set out an ambitious plan for R&D, including a spending outline for the post-Covid EU Recovery Fund, according to Ruzha Smilova, a lecturer in political theory at Sofia University.
But despite their strong science policy background, the prime minister and his deputy are unlikely to have much time to dedicate to revamping the country's research and innovation system. 
"Given the dire state of the institutions, after two years without a regular government and without a regularly working parliament, I do not expect this to be a priority in the short term of office expected for the proposed cabinet," Smilova said. 
Bulgaria is one of the EU's weaker performers in terms of research, development and innovation and is classed as an 'emerging performer' by the European Innovation Scoreboard, the lowest of four classifications. 
A central problem is the low level of private and public investment in research, according to the European Commission's 2022 report on Bulgaria. Investment was a lowly 0.85% of GDP in 2020, far below the EU average of 2.3% and the fifth lowest in the EU overall. 
Bulgaria has a target of increasing its public R&D spending to 1% of GDP by 2025 and increasing overall R&D spending to 3% of its GDP by 2030, a feat that will "require a significant and continuous increase in science and innovation spending", according to the Commission report. 
Another issue holding back the country's research system is the high level of fragmentation of science institutes and poor links between research and businesses. 
Zeroing in on corruption
Bulgaria's new coalition government is a peculiar beast, formed of parties that are fundamentally at odds with each other. It has two big tasks to tackle before much attention is given to R&D, of fighting corruption and bringing some semblance of stability to a country where there have been five snap elections in two years.
The alliance of Denkov's party, We Continue the Change, with the Democratic Bulgaria party came about in response to mass protests against GERB after it was elected for a third term in 2021. The main goal of the alliance is to implement judicial reforms in a country plagued by high-level corruption, of which Gabriel's party GERB stands accused.
Although GERB came first in the election in April, with the exception of Gabriel, the coalition government will be formed only of PP-DB ministers. It is intended that after serving as deputy prime minister for nine months, Gabriel steps up to become prime minister for the remaining nine months until the next general election is due. 
Rotating the prime minister is a first for Bulgaria, which is taking lessons from neighbouring Romania, where such an arrangement is currently being trialled. There is scepticism about how well it will work, but "there is a growing sense that the state is in free fall and that government - any government  - is preferable to the status quo," said Smilova.
One of the new coalition government's jobs will be to nominate a replacement for Gabriel in the Commission. While Bulgaria's seat remains empty, vice president Margrethe Vestager has temporarily taken over the innovation and research part of Gabriel's portfolio, while vice president Margaritis Schinas is looking after education, culture and youth.