The portfolio of Mariya Gabriel is split in two, with Margrethe Vestager caretaker of R&I until a replacement is appointed. Some question Vestager's interest in research, while others think her experience in competition policy will be a positive for innovation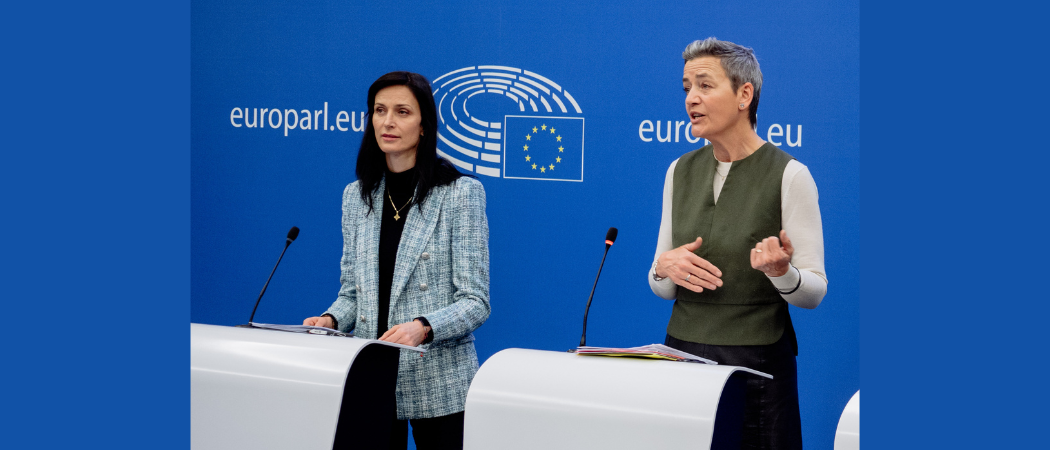 The news that Commission vice president Margrethe Vestager will temporarily take over the innovation and research portfolio following the departure of commissioner Mariya Gabriel has been met with mixed feelings, with one of the leading voices for research Christian Ehler MEP, saying that having Vestager in charge is not "very reassuring"
For Ehler, it was clear during her appearances at the European Parliament's ITRE committee on industry, research and energy that Vestager's focus was on competition policy and not research. "Parliament may yet again have to step in as the most reliable political partner for the R&D community, as it has been for many years," Ehler told Science|Business.
In particular, Gabriel's departure will make it harder to find the political leadership needed to shape the interim evaluation of the EU's €95.5 billion Horizon Europe programme due next year, Ehler said.
After taking unpaid leave a week ago, Gabriel officially resigned yesterday to return to Bulgaria where - after five inconclusive elections in two years - she will try to form a coalition government. Her responsibilities are to be divided in two, with vice president Margaritis Schinas taking on education, culture and youth.
Before there is a permanent replacement for Gabriel, Bulgaria will have to nominate a new commissioner, but this is unlikely to happen until a new government is in place there, leaving Vestager and Schinas to juggle responsibilities. It is possible there will not be a replacement for Gabriel until a new Commission is elected next year.
Dan Andrée, senior adviser for EU R&I policy for the Stockholm Trio university alliance agreed Gabriel will be a hard act to follow. "Always when you have a new commissioner you have some expectations and I must say that Gabriel has done rather well in my view, in particular handling the pandemic and the war [in Ukraine]," he said.
However, his thoughts on Vestager as a temporary replacement are more tempered than Ehler's, saying the appointment is "not bad". But he warned Vestager may view Horizon Europe as more of a political instrument to implement EU policy, rather than as a research programme.
"This is of course partly true, but the Trio has pointed out that research should, again, be put as a priority at EU level and Vestager might not be able to do that," Andrée said.
Safe pair of hands
For others, Vestager's vast experience across various fields, her efficient cabinet and her track record in reforming state aid rules to boost research and innovation investment is seen as positive.
For example, Mattias Björnmalm, secretary general of the university association CESAER, said that Vestager and Schinas will be a safe pair of hands as important work on EU strategies on digitalisation, data and artificial intelligence continue.
"Much work needs to be done quickly in these areas, so it is great we have experienced commissioners and their teams taking over in the interim," he said.
Muriel Attané, secretary general of the European Association of Research and Technology Organisations (EARTO), welcomed the fact the work will be divided among two Commission vice presidents.
"We know Commissioner Vestager well and are very much looking forward to continuing our collaboration with her, adding even more angles and discussions on research and innovation," she said.
Similarly, Joep Roet, deputy director at the Netherlands house for Education and Research, is optimistic that Vestager will do a good job in the caretaker role, saying she has always understood the role R&I plays in Europe's competitiveness.
"I have a lot of trust in her ability to steer European research policy until the [2024 EU] election," he said. "The key issue of course is that she manages many other files at the same time."
Gabriel's legacy
After Gabriel was assigned the R&I policy portfolio in 2019 she almost immediately faced a series of difficult challenges, notably the COVID-19 pandemic and Russia's war in Ukraine. She also had to deal with Brexit and the Commission subsequently blocking the UK's association to Horizon Europe.
At a policy level, Gabriel relaunched the process of creating a common European Research Area after 20 years of limited progress, and outlined a new five-step European Innovation Agenda. Both initiatives, despite a promising start, still have a long way to go see any results.
Another feature of her term was the merging of the research and innovation directorate wit education and culture. "In the coming months and years, we will see how effective this has been and if it will outlast her legacy," said Roet, who pondered whether the Commission will maintain this merged portfolio when a new commissioner is appointed.
For Thomas Jørgensen, director for policy coordination and foresight at the European University Association, it is vital the two remain together.
"We hope that the two cabinets communicate well to maintain the valuable synergies we have seen in having one commissioner spanning education, research and innovation," he said. "Looking ahead to the next Commission, it is important that education and research remain together under one commissioner."