The EU's Bulgarian commissioner officially leaves Brussels, with a mandate for a difficult task: trying to form a coalition government back home in Sofia after close elections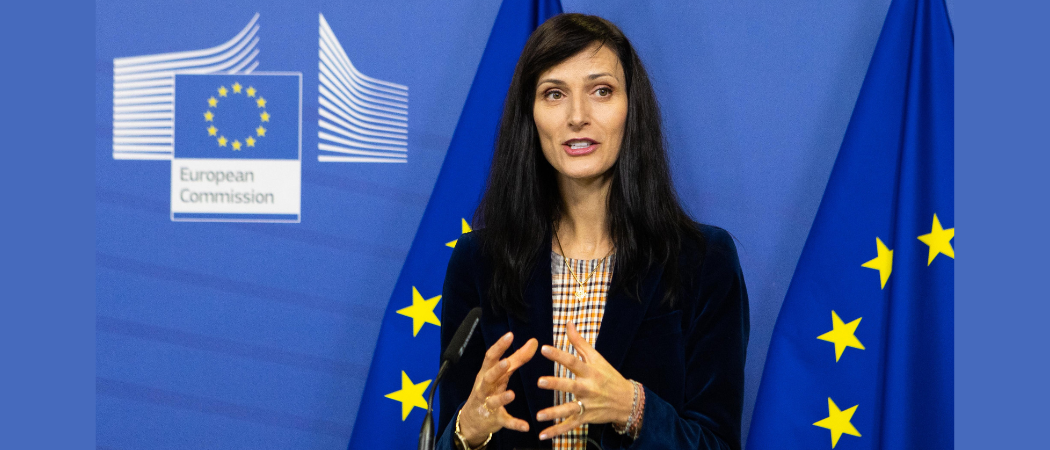 EU Research Commissioner Mariya Gabriel has resigned her Brussels post to focus on trying to form Bulgaria's next coalition government, the European Commission has confirmed.
Gabriel was called up to Sofia last week to help her centre-right party GERB form a governing coalition after it won 26.5% of the vote in a snap election last month. Today, she informed the Commission that she is getting a formal mandate from the Bulgarian President to lead the political negotiations in Sofia.
Commission President Ursula von der Leyen immediately accepted her resignation and thanked her for her service overseeing the EU's €95.5 billion Horizon Europe programme and supporting innovation through the European Innovation Council. "In her three and a half years in this role she has made a great contribution to advancing the Commission priorities in this area," said von der Leyen in a statement.
No direct replacement for Gabriel has so far been named, so Vice President Margrethe Vestager will temporarily take over the innovation and research portfolio, while Vice President Margaritis Schinas will look after education, culture and youth.
Various leaders of the European research community also voiced praise for Gabriel – though there is widespread concern that the move happens at a critical juncture in planning the next EU R&I programme. Though Framework Programme 10 won't start until 2028, the Commission has already been surveying researchers and drafting policies for it. A primary aim of the programme will be ensuring innovation helps Europe meets its climate-neutrality targets.
Kurt Deketelaere, secretary general of the League of European Research Universities (LERU), thanked Gabriel and said "we lose a dynamic commissioner, hands on, knowing her files well, approachable, and open to comments by stakeholders."
Jan Palmowski, secretary general of the Guild of European Research-Intensive Universities, expressed confidence in her replacements, saying that Vestager and Schinas had shown their support for research, innovation and education through their involvement in R&I Days and the European Strategy for Universities. 
A difficult job in Sofia
Gabriel's nomination by the long-time leader of centre-right Bulgarian party GERB, Boyko Borissov, is an attempt to break the political deadlock in Bulgaria. But the odds are not in Gabriel's favour, with Bulgarian politics in turmoil with five elections taking place since 2021.
After being handed a mandate to attempt to form a government earlier today by President Rumen Radev, Gabriel has a week to find coalition partners. A fresh round of talks took place today between GERB and three other parties to sound out whether they would support a Gabriel-led government; but clear commitments are still up in the air. Her resignation from the Commission may be a sign talks are progressing, but Radev warned she will face "many obstacles".
Gabriel has said that her aim is to form an "expert government" that would be united around the goal of the "well-being of Bulgarians and the authority of Bulgaria". She has also set out 10 priorities should she be chosen as the country's next prime minister, with improving science, innovation and education eighth on the list, alongside others such as reforming the justice system, tackling inflation and taking Bulgaria into the Eurozone.
The record as commissioner
Gabriel hasn't spent much time in Bulgaria lately – part of her appeal to those trying to find a compromise among the country's battling parties. But she has been a familiar face in Brussels since 2009 when she was first elected to the European Parliament. She spent eight years there, quickly climbing up the ranks to serve as vice president of the centre-right European People's Party, the Parliament's biggest political fraction, and the head of its Bulgarian delegation.
In 2017, Borissov's government nominated Gabriel to fill the country's then-vacant post in the Commission leading the digital economy and society portfolio, after the previous commissioner, Kristalina Georgieva, left to become the chief executive of the World Bank.
When von der Leyen took up leadership of the Commission in 2019, she assigned Gabriel the R&I policy portfolio – and then three and a half unexpectedly tumultuous years ensued.
The COVID-19 pandemic struck just months after Gabriel took up the new portfolio. But she managed to play a decisive role in steering the Commission's pandemic response and diverting EU research money to vaccine development, and later on to the newly established Health Emergency Preparedness and Response Authority, among other pandemic-related priorities.
Last year, Russia's war in Ukraine shook up the status quo again, prompting immediate reaction from the Commission at all levels. Gabriel was swift to announce the EU would be cutting Russia off from Horizon Europe and Erasmus+ funds, while setting up dedicated funding schemes for Ukrainian researchers and academics.
At times, Gabriel's hands were tied, as she got caught up between politics and science. When the Commission blocked the UK from joining Horizon Europe, Gabriel was the first to confirm the UK association delay was tied to the disagreement over the Northern Ireland protocol – but she could not argue the case for decoupling politics and science.
At policy level, Gabriel relaunched the process of creating a common European Research Area after 20 years of limited progress, and outlined a new five-step European Innovation Agenda. Both initiatives, despite a promising start, still have a long way to go for results.
But after a turbulent few years in office, Gabriel leaves at a particularly unfortunate time with R&I policy in dire need of strategic direction. In the next year, the Commission is expected to publish the strategic plan for the second half of the EU's €95.5 billion Horizon Europe research programme and set the outlines for the next seven-year research and education programmes due to kick off in 2028.
With Gabriel out, according to Commission rules, Bulgaria will be asked to put forward a new commissioner, much like in the beginning of a Commission term. But with the current Commission term ending next year, there's a chance the post will remain vacant until then.