Research commissioner given unpaid leave from Brussels after she was nominated to be Bulgaria's next prime minister. Research lobbyists say the timing is 'particularly unfortunate' as work begins to shape the next decade of R&I policy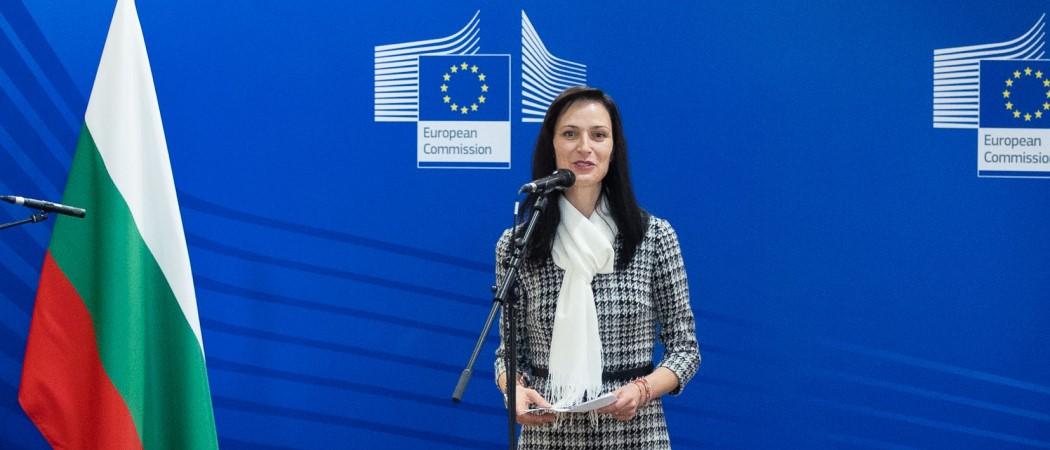 EU research commissioner Mariya Gabriel was called to Sofia on Tuesday to form the next government of Bulgaria, throwing a spanner in the works during a decisive time for EU research and innovation policy.
After a snap election last month – the fifth since 2021 - Gabriel's centre-right party GERB came out ahead, but now needs to form a coalition government. That will be a tough task during a volatile time for Bulgarian politics, but if Gabriel succeeds, she'll be leaving her position overseeing the broad portfolio of innovation, research, culture, education and youth at the European Commission.
For Brussels' research policy, the nomination comes at a "particularly unfortunate" time, says Mattias Björnmalm, secretary general of the university association CESAER.
In the next year, the Commission is expected to draft and publish the strategic plan for the second half of the EU's €95.5 billion Horizon Europe research programme and set the outlines for the next seven-year research and education programmes due to kick off in 2028.
"As 2024 will largely be consumed by European elections, the hope was to lay down some important trajectories for the future already before the end of this year," says Björnmalm. "If the Commissioner now departs before [that], then the pressure will increase on others."
A replacement may be found but with the mandate for the top research and innovation job ending next year, a new commissioner will have little time to take up the reins properly.
At a time when strategic direction is needed, "It will be much harder for any new appointment that will only be there for a little over a year to make an imprint there," says Jan Palmowski, secretary general of the Guild of European Research-Intensive Universities. "And here a vacuum, or a successor who needs a lot of time in getting used to the portfolio, would be my biggest concern."
A new commissioner, or an empty seat, may spell a difficult year for research and innovation policy at a time when its budget and relevance has to be defended from crisis-mode cuts and diversions.
The problem is compounded because DG Research also has a new head, Marc Lemaître, who was appointed to replace Jean-Eric Paquet in February.
"With a new [director general for research] and an absent Commissioner, or a newcomer in the European Commission for this portfolio, we would be heading to a difficult last year of this commission," says Kurt Deketelaere, secretary general of the League of European Research Universities (LERU). "A closer eye by the European Commission vice presidents will be welcome."
If Gabriel leaves, it will be important to find a new commissioner as soon as possible, said Lidia Borrell-Damián, secretary general of Science Europe. "The European Commission and the Bulgarian authorities must act swiftly to identify and appoint a successor to Commissioner Gabriel, as there are several critical research policy processes that require dedicated attention," she says.
Domestic politics
Gabriel's surprise nomination as prime minister comes after her party, GERB, secured 25% of the vote, putting it in pole position to form a government, if it can find coalition partners. However, following the last election in October 2022, when GERB also came out ahead, no party managed to form a coalition.
This time around, Gabriel is being nominated as prime minister to sway the other parties to form a coalition.
Before announcing her name, on Tuesday, long-time GERB party leader and former prime minister Bojko Borisov said the candidate would put order in the chaos and would enable Bulgaria to access EU funds, including the currently blocked COVID-19 recovery money, start the process for adopting the euro and begin judicial reform.
While Gabriel is in Sofia, Commission president Ursula von der Leyen has granted her unpaid leave, with Commission vice presidents Margrethe Vestager and Margaritis Schinas handling her portfolio for the time being.
But the Commission refuses to say whether Gabriel will be replaced and how quickly, if she manages to form a new government in Bulgaria. "We are not going to speculate what comes next and what additional stages would require what action," Commission spokeswoman said.
In theory, according to Commission rules, Bulgaria would be asked to put forward a new commissioner, much like in the beginning of a Commission term.
This would not be the first time a Bulgarian commissioner has left the Commission for another job. In the last Commission, Bulgarian commissioner Kristalina Georgieva left the post three years early in October 2016 to become CEO of the World Bank. Then, it took six months for the Commission to appoint Gabriel as the next Bulgarian commissioner. With a new Commission term due next year, there is a high chance Gabriel's seat could remain empty for some time.
Gabriel as commissioner
Gabriel has served as commissioner since 2017, holding the R&I policy portfolio for the last unexpectedly tumultuous three and a half years.
When COVID-19 struck just months after she took up the new portfolio, Gabriel managed to play a decisive role in steering the Commission's pandemic response and diverting EU research money to vaccine development and later on to the newly established Health Emergency Preparedness and Response Authority, among other pandemic-related priorities.
Last year, Russia's war in Ukraine shook up the status quo again, prompting immediate reaction from the Commission at all levels. Gabriel was swift to announce the EU would be cutting Russia off from Horizon Europe and Erasmus+ funds, while setting up dedicated funding schemes for Ukrainian researchers and academics.
She's fast to act, Deketelaere says, putting new ideas in motion, "to such a speed that often her own administrators could not follow and were taken by surprise."
But at times, Gabriel's hands were tied, as she got caught up between politics and science. When the Commission blocked the UK from joining Horizon Europe, Gabriel was the first to confirm the UK association delay was tied to the disagreement over the Northern Ireland protocol – but she could not argue the case for decoupling politics and science.
At policy level, Gabriel relaunched the process of creating a common European Research Area after 20 years of limited progress, and outlined a new five-step European Innovation Agenda.
In the research community, Gabriel's potential departure is viewed as a loss. "If she would leave that would mean that we lose a very dynamic commissioner, hands on, knowing her files very well, very approachable, and open to comments by stakeholders," says Deketelaere.
Amanda Crowfoot, secretary general of the European University Association (EUA), believes  Gabriel "leaves things in a good place" after more than three years in office.
"We have a new dynamic in higher education and research with the new European Research Area, a successful model of co-creation with stakeholders, and schemes such as the European Universities Initiative. These will very much be her legacy," says Crowfoot.
While the seat is empty – or a new commissioner picks up the brief - the research and education directorates at the Commission will be trusted to press on with the tasks at hand. "At times like this, the good thing is that there is continuity and stability in the Commission," says Palmowski.
In the European Parliament, Gabriel's "competence and a cooperative approach" will be missed, said Maria da Graça Carvalho MEP. "I would say that her nomination for prime minister is good news for Bulgaria but clearly a loss for the EU. Her role will not be easy to fill," says