---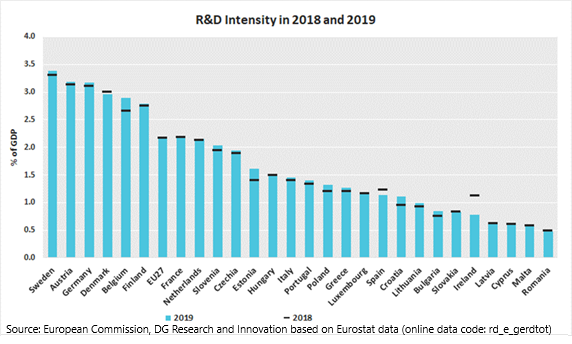 Public and private spending on research increased in seventeen EU member states in 2019, according to the latest Eurostat data.
The biggest increases were in Belgium, where spending on research jumped by 0.22 per cent compared to 2018, and Estonia, which recorded a 0.2 per cent increase. Spending fell in five member states, including Denmark, which invested 2.96 per cent of its GDP in research, after having consistently performed above its 3 per cent of GDP target since 2015.
The EU's overall R&D intensity, a measure of spending on research as a percentage of GDP, is still below the 3 per cent target set out in 2000 as part of the European Research Area (ERA) plans and again earlier this year in European Commission plans to refresh ERA. In 2019, research spending in the EU stood at 2.19 per cent of GDP, slightly up from 2.18 per cent in 2018, with member states spending a total of over €306 billion.
Only Sweden, Austria, and Germany met the 3 per cent target in 2019, the same number as in 2000. When it comes to national targets, only Germany and Cyprus reached their spending goals.
Overall, the private sector invested the most in research, accounting for 66 per cent of spending in 2019, while 22 per cent was spent by universities, 11 per cent by governments, and 1 per cent by the private non-profit sector.
A decade of slow growth
Since 2009 average spending on R&D by member states increased from 1.97 to 2.19 per cent of GDP. If growth continues at the current pace for the next decade, in 2030, research spending would still be significantly below the 3 per cent target.
Some member states are doing better than others. Since 2009, Belgium's research expenditure has grown from 2 to 2.89 per cent of GDP in 2019. Poland and Greece have both more than doubled their spending from around 0.6 to 1.3 per cent of GDP.
At the same time, research spending in Ireland has more than halved from 1.61 to 0.78 per cent of GDP in 2019. Less dramatically, Finland, which invested a record 3.7 per cent of its GDP in research in 2009, more than any other EU country in any given year in the past decade, last year invested 2.79 per cent of its GDP in research. 
Last week EU research ministers discussed reaffirming the 3 per cent spending target as well as setting other targets proposed by the commission, such as raising average public spending on research in the EU to 1.25 per cent of GDP by 2030. While the ministers agreed increasing spending is important, the discussions on targets will continue into 2021, said Germany's research minister Anja Karliczek.