Plan to revive the European Research Area comes at a delicate moment for EU R&D policy, as commission asks EU27 to boost national research spending the day after science ministers agreed to cut Horizon Europe budget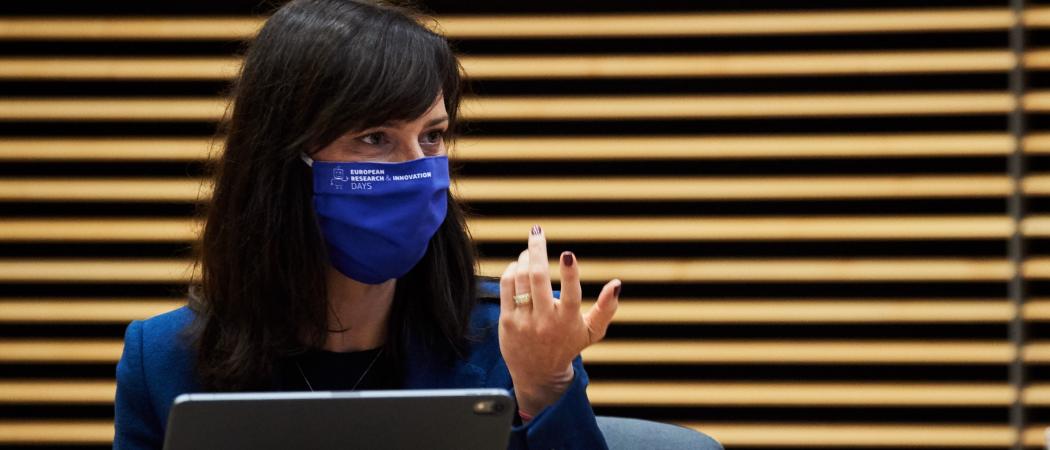 The European Commission has drawn up plans to revamp the European Research Area (ERA), and is calling on member states to boost national R&D spending in support. But the non-binding targets it is setting will be difficult to reach, critics warn.
EU executive vice-presidents Margrethe Vestager and Margaritis Schinas, together with EU commissioner for research and innovation Mariya Gabriel announced a renewed push to coordinate Europe's research and education systems in a "Knowledge Area", to promote the transition to a green and digital economy, and help poorer member states improve their R&D performance.
Next year, the commission will ask member states to sign a non-binding "pact" agreeing to increase public spending on research and innovation from current average level of 0.81 per cent of GDP, to 1.25 per cent. This will help the EU reach a public and private R&D spending level of 3 per cent of GDP, the target set 20 years ago when ERA was first conceived.
"If we want leadership, we need to go further in the amount of money which has been invested in research and innovation," said Gabriel. "The 3 per cent of GDP figure has to be our guiding light."
The targets are "ambitious" but it is not clear how they will be achieved, said Jan Palmowski, secretary general, of the Guild of European Research-Intensive Universities. "This cannot be done all at the EU level, national commitments have a major role to play so we really need to up the pressure on states to deliver," he said.
Gabriel acknowledged the target cannot be mandatory, but urged member states to join the commission in signing a pact for research and innovation in 2021.
ERA is intended to create a single market for research, coordinating national R&D policy and research agendas to generate economies of scale and avoid duplication. It has long been criticised for failing to deliver because its priorities were set out as recommendations, not as mandatory goals. With the notable exception of the establishment of large European research infrastructures, most of the objectives set in 2000 have not been reached. Member states failed to increase R&D investments to 3 per cent of GDP and the EU is nowhere near effectively coordinating national and regional research policies.
The plans to renew ERA comes at delicate moment for EU R&D policy, with the commission asking member states to boost investment in R&D one day after research ministers agreed to cut the budget of Horizon Europe by €13.5 billion.
"The level of ambition of ERA is absolutely not matched with the level of investment," said Stephane Berghmans, director for research and innovation at the European University Association. "It's quite interesting to see the disconnect."
Spreading excellence
In addition to the spending target, the commission wants member states to earmark 5 per cent of public R&D funding for joint programmes and partnerships with other EU member states. Currently, only 1 per cent of total public R&D funding in Europe is spent on joint research and the new target is yet another example of the commission's broader push to spread excellence in research and innovation to all member states.
"There are vast differences in Europe, in terms of investment in quality of research, and that means lost opportunity and lost potential," said Vestager.
The latest EU innovation scoreboard shows that, with the notable exception of Estonia, R&D performance is below the EU average in all member states that joined after 2004. The commission wants to close this gap with targeted programmes funded through Horizon Europe or structural funds.
The commission also wants national governments to pull their weight. "We propose member states [that] are below the EU average increase their total investment in R&D by 50 per cent in the next five years," said Vestager.
For Berghmans, it is unclear how progress in research and innovation excellence will be measured. The commission proposes the blunt metric of the number of high-impact journal papers. "[It] cannot limit performance measurement only to the quality of publications," said Berghmans.
The ERA wish list
The commission hope is that the revamped ERA strategy, together with a new plan for a European Education Area (EEA), will help Europe attract the best talent from Europe and elsewhere.
According to the commission, one in every five young people aged 15 does not have any basic science or mathematics skills. In addition, 40 per cent of adults and 20 per cent of teachers do not have any basic digital skills, while 58 per cent of employers say they have difficulty finding people who have the right skills.
"We need to step up our efforts to show that we have an operational functional European education area because there are figures, which I think we can't accept anymore," said Gabriel.
The commission wants more people to benefit from the prestigious student exchange programme Erasmus. At the moment only 5 per cent of students have access. "Our ambition is, in the years to come, to double this percentage," said Schinas.
Gabriel said the commission will also launch a new exchange programme giving more opportunities for researchers to increase their experience through dedicated mobility schemes between industry and academia.
By the end of 2024, the commission aims to deliver a "toolbox" that includes a Researchers Competence Framework, an ERA4You mobility scheme to support exchange between industry and academia, targeted training under Horizon Europe, and a one-stop shop portal to access these instruments.