Health programme is trying to reach its potential in the face of funding challenges that may be exacerbated by Brexit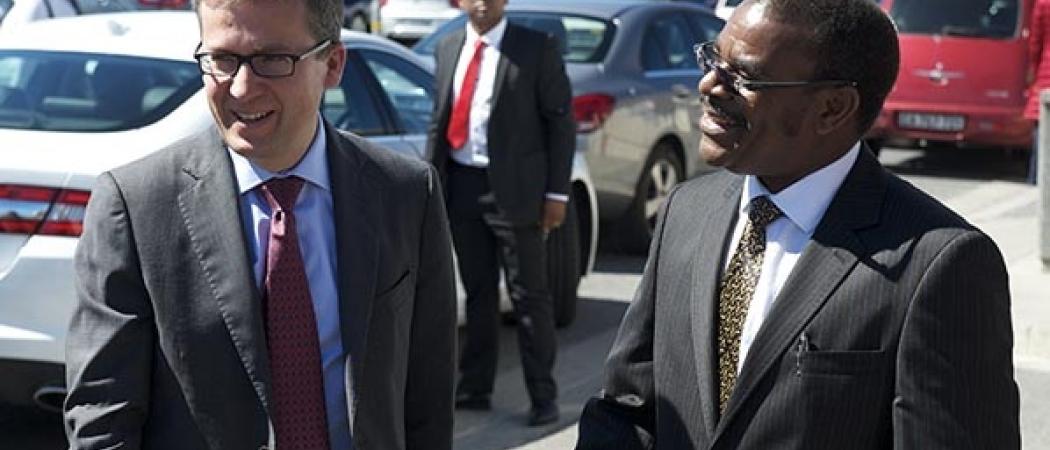 A European Union programme to promote the development of new or improved drugs against HIV, tuberculosis, malaria and other ailments in sub-Saharan Africa is making broad progress in addressing critical health problems, despite funding difficulties.
The multi-million euro programme, the European and Developing Countries Clinical Trials Partnership (EDCTP), has given grants to medical researchers in some 60 countries since it started in 2003. 
That has allowed researchers in sub-Saharan Africa to play a bigger role in clinical research, says EDCTP Executive Director Michael Makanga.
An evaluation of the programme last year found it has so far led to eight improved treatments, in particular for newborns, children and pregnant or breastfeeding women suffering from HIV/AIDS or malaria.
Funding from the project has also allowed a number of African countries to upgrade their clinical research infrastructure, train research staff, and strengthen ethical and regulatory frameworks for clinical trials.
But despite signs that EDCTP is slowly improving lives and conditions in countries including Burkina Faso, Gabon, Mali and Mozambique, and boosting the knowledge of researchers in Europe, Makanga is feeling the pressure to ensure the project fulfils its potential.
The project was renewed for 10 years in 2014 and its mandate extended to include a list of 17 neglected tropical diseases, lower respiratory tract infections, diarrhoeal diseases and infectious diseases with epidemic potential, such as Ebola and yellow fever.
Budget issues
The challenging part is not the added workload, but convincing officials in 14 participating EU states to keep dipping into their budgets.
"So far, in-kind payments surpass cash contributions," says Makanga, who was raised in Uganda and studied at Liverpool University and Liverpool School of Tropical Medicine.  
The programme, which is directed from an office in The Hague, where Makanga is based, and an office in Cape Town, is eligible for up to €683 million from the Commission's Horizon 2020 research programme, but this has to be matched by an equivalent contribution, in cash or in kind, from EU participating states.
Brexit is a major concern. The UK is one of Europe's biggest aid donors, with some of the largest medical research institutions. "My biggest worry is how the UK is going to be involved after 2019," says Makanga. "Their participation almost makes up 40 per cent of the programme. If they're out, filling that void is going to be a big challenge."
In addition, EDCTP aims to raise a further €500 million, again in cash or in-kind, from public and private funders. At least €30 million should be sourced in developing countries. "We are making progress, but have a lot of work to do to get to this target," Makanga says.
If the project continues to attract contributions at the same pace, it will fall far short of reaching this funding goal, according to an evaluation of the project conducted last year.
Boost north-south research
Makanga, who has directed EDCTP since 2016, is trying to do something that has not been achieved before. He wants to build a network of health research specialists across Europe and in some of the poorest parts of the world, which are often desperately short of both cash and health professionals. "We want to realise the strength of north-south collaborations," he says.
Since 2014, the programme has issued 31 research calls, leading to 125 projects, spread out across 54 countries.
The programme is succeeding in targeting neglected areas, Makanga says, while improving researchers' skills. In a ranking of funders, EDCTP is in the top four or five for clinical research in Africa.
"Research institutes [in Europe] get to send their students to do field work in African countries. You can see how this benefits their research. For instance, Finland did not have much involvement in tropical diseases before it participated in our programme," says Makanga. 
Cutting red tape
If EDCTP gets an extension in the next EU research programme – a Commission proposal is expected in May – Makanga would like to see the model become more flexible.
The annual approval of research plans is a slog, usually lasting months. Approval of the 2014 plan, for example, took nine months, while the 2015 and 2016 plans took 17 and 9 months respectively.
Big funders in Africa, such as the Bill & Melinda Gates Foundation and Wellcome Trust, find it hard to coordinate their funding with the scheme, according to the midterm analysis, due to the bureaucracy, lack of funding flexibility and slow decision-making.
When EDCTP plans are eventually sanctioned, management faces a wild dash to administer research competitions during the time left in the year. 
"When you're working on infections and disease, speedy approvals are obviously better," Makanga says.
Editor's note: This article was corrected on 20 March to reflect a more precise description of EDCTP.