Ferguson argues European Innovation Council needs more money, to invest in 'deep tech' and other breakthrough technologies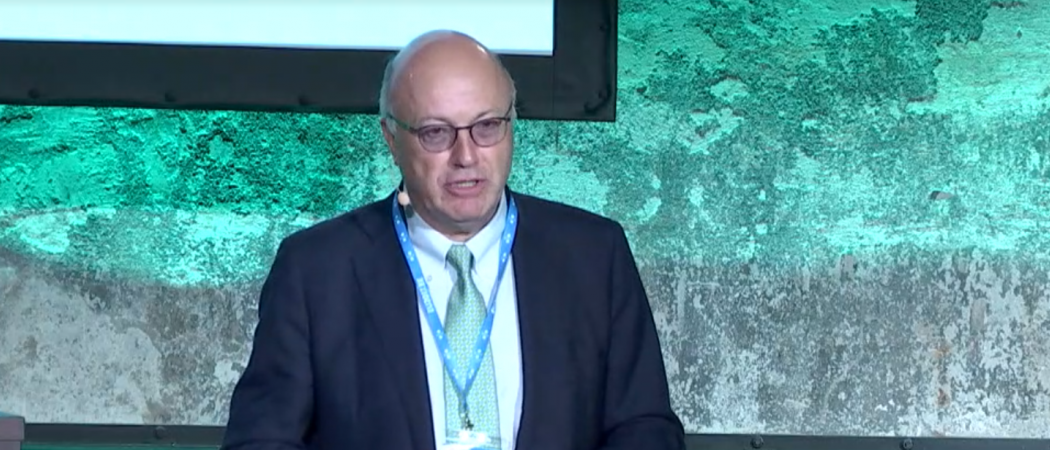 The head of the EU's new tech funding agency, the European Innovation Council, says he'll be pushing for the EIC to get at least the €10.5 billion budget originally planned by the European Commission – if not even more – despite recent cuts to the Horizon Europe research programme that will fund it.
"We had already said that [€10 billion] is unlikely to be sufficient," said Mark Ferguson, chair of the EIC board. He argued that since the €3 billion budget for the EIC's three-year pilot phase could only fund a fraction of  viable projects, €10 billion over seven years wouldn't be enough either. Ferguson said he will ask for that much "or more," though he admits, "I think it's going to be extremely difficult even to maintain the 10 billion."
The EIC aims to grow Europe's tech sector by providing equity investments, something the European Commission, which runs the EIC, hasn't done before. The Commission hopes that having the EIC buy shares in small tech companies will attract private capital by reducing investment risk. At the same time, the EIC wants to push money into new technologies beginning to emerge from the hard sciences, also known as "deep tech."
Make money doing good
"Deep tech is somewhere where there is a profound scientific innovation," said Ferguson, "it encompasses AI, it encompasses ICT, it encompasses biotech, it encompasses batteries, materials — all that kind of stuff." Ferguson spoke to Science|Business in advance of his appearance at an online deep tech conference organised by ATTRACT, a tech funding consortium led by CERN and bankrolled by the EU.
ATTRACT funds early-stage projects in dozens of fields, such as magnetic resonance imaging, communications, and graphene. Specific projects include 3D-printed glass, lighting that can tell when somebody falls, and augmented reality equipment to aid brain surgery.
Ferguson said he believes the biggest opportunities for Europe are in what he calls "green technologies or climate technologies." He said that while there are many ways of reducing harmful emissions, one of them is technology, such as tools for carbon capture and re-use, or technologies for sustainable food production and reducing agricultural emissions, like artificial meat. Food tech has "just undergone a revolution," he said, "Imagine that you could actually dial up the composition of a piece of meat: you could 3D print it, you don't have any supply chain issues."
Such technologies present "a tremendous business opportunity: it's an opportunity to do good for the planet and make money at the same time, " said Ferguson. The opportunity lies in "stuff where Europe has historically a good track record in what you might call traditional technology or engineering," he said. "We probably are not going to be starting a mega digital advertising company," but building dominant European firms out of the digitalisation of the agriculture or energy is "absolutely on the cards."
The problem is, new technologies can't always attract private capital at such early stages because they're very risky investments: only a few of them are likely to take off, and nobody really knows which ones. Ferguson said that's where the EIC comes in. "We are interested in de-risking what you might call high risk investments," though he stresses that there is a difference between "a high risk and a stupid risk": the former shows some promise, the latter does not.
Not robbing Peter to pay Paul
An agreement among EU leaders in July means the EU research budget for 2021-2027 will be less than the Commission hoped for, leaving less money to be divided up among bodies like the EIC, the European Research Council and the European Institute for Innovation and Technology (EIT).
While defending EIC's budget, Ferguson insists he isn't trying to "rob Peter to pay Paul" by cutting other parts of Horizon Europe. "I do not want to put forward the idea that we are trying to do this at the expense of other people," he said, "it's also our collective responsibility to work well together and also to collectively push for the importance of research and innovation."
The EIC doesn't intend to do this alone, however, because the businesses advancing this kind of technology will need different kinds of help at different stages. That's why "the EIC needs to build bridges with things like ATTRACT and the EIT" which, he said, are "absolutely complementary." He said the value of the EIC is bringing business brains to technologies that may have been funded at earlier stages and helping their developers build successful companies.
Eligible projects that the EIC pilot couldn't fund because of budget constraints were awarded the EIC's "Seal of Excellence" to attract other investors and funding bodies. Ferguson said East European startups made up a larger share of those with Seals of Excellence than those with funding, and suggested that EIC-coordinated could lead to a more even geographic distribution, as this may already be on offer in wealthier countries.
Learn more about ATTRACT projects at the upcoming conference.