A new report highlights how the complexity of EU technology-related legislation impacts technology start-ups in the region, with data sharing and privacy laws - and the forthcoming artificial intelligence act - all causing concerns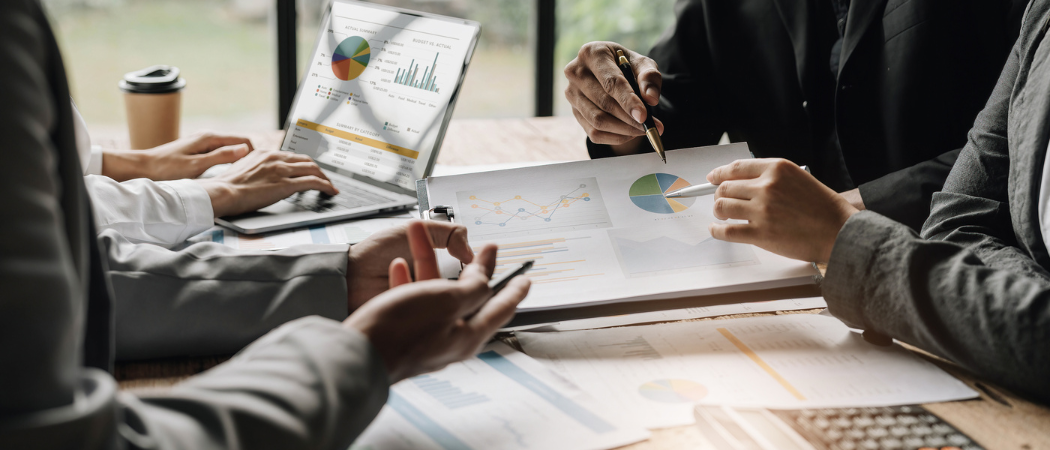 Start-ups in central and eastern European countries are suffering from a lack of understanding of evolving EU regulations, such as the General Data Protection Regulation, the Digital Services Act and the upcoming AI act, according to a new report by Startup Hungary. 
The report, which examines the role the EU, national and regional actors play in shaping central and eastern Europe's start-up environment, is based on 30 interviews with founders, investors and policy experts, as well as information pulled from other reports.  
A key takeaway is the problem that complex EU-level regulations are causing for start-ups. For example, the introduction of the EU's data protection regulation GDPR in 2018 led to start-ups scrambling last-minute to comply, bringing about extra costs from bureaucracy and disproportionately affecting small companies. 
Even after nearly five years of GDPR, companies are still struggling with it, and national authorities still often overlook instances of non-compliance, the report states.
"GDPR has been having a pretty big effect on us because the typical size of a GDPR questionnaire from a bank is 700 questions, which takes a couple of days to fill in, and it's obviously a nuisance," Martin Rehak, Czech CEO and founder of start-up Resistant.AI, is quoted as saying in the report. 
The findings suggest that a lot of the problems with changing and updating EU regulations stem from a lack of awareness among companies of what the rules entail. That ignorance is blamed on poor top-down communication. Up to 16% of European AI startups are considering stopping AI development or relocating outside the EU because of this communication gap, the report claims. 
The graph below shows the low levels of EU legislation awareness among start-ups in Hungary, Estonia, Lithuania and Latvia.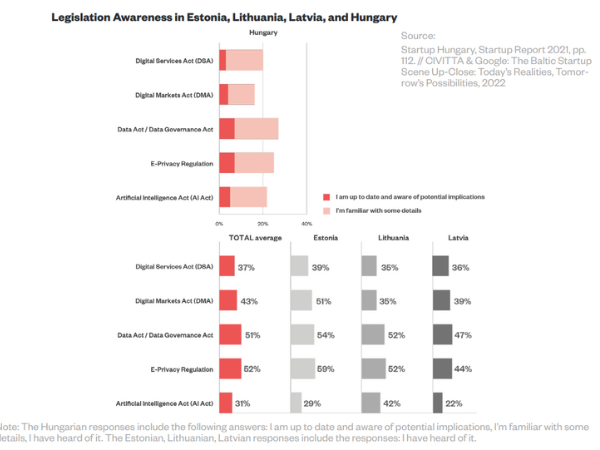 Elsewhere, the report highlights national issues affecting the start-up scene, such as attracting and retaining talent in the region, the governments not prioritising start-up growth enough, a lack of pre-seed funding and business angels, and the lack of private venture capital. 
On the final point, which may seem paradoxical, it found that the proportion of public money going into venture capital in central and eastern Europe far outstrips private VC funding and is rising. This is the opposite of what is happening elsewhere in Europe, where public funding accounts for 6% of venture capital. 
The reason for this could be linked to historical circumstances, with the fall of communist regimes in eastern Europe requiring state actors to step in to support growth, according to the report. 
But it seems that state funding may not make for good outcomes. None of the most valuable companies in Hungary that have scaled up have ever received state-backed money, and the 2021 Hungarian Startup Report found that over half of Hungary's successful start-ups raise money both locally and internationally through private companies. Meanwhile the least successful start-ups only source money locally, from government-backed funds.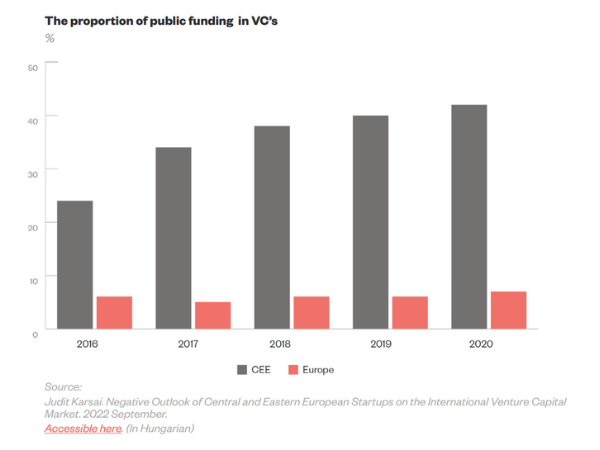 Despite the relatively negative tone of the report, central and eastern Europe's start-up scene is generally healthy. The region is one of the fastest growing in Europe in terms of enterprise value, according to a report co-authored by Google for Startups, Atomico, Credo and Dealroom.co, with start-ups based there now valued at a total of around €190 billion.
That is four times higher than in 2017, while the total value of Europe-wide start-ups is around 3.1 times higher today than in 2017, at €3.4 trillion. In other words, the value of central and eastern European start-ups is rising faster than the European average.