Universities face 'dramatic transformation' after COVID-19. Eindhoven University of Technology president Robert-Jan Smits says the priority post-pandemic will be education and research that is most relevant to the surrounding 'Brainport' region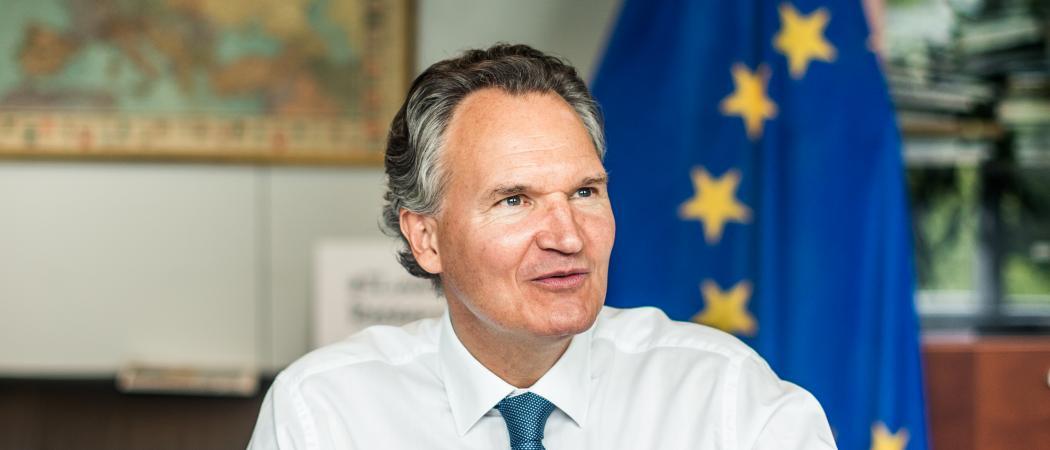 Eindhoven University of Technology in the Netherlands is vowing to redouble its ties with the surrounding region, known as 'the Brainport', after the success of its technology companies in responding to the pandemic, says its president Robert-Jan Smits.
The pandemic has jolted the global education system, and concentrated minds in Smits' university, one of Europe's leading science and technology institutions, on efforts to boost its role as an economic and sustainability driver for the region.
"Universities are in dramatic transformation after COVID-19: this goes beyond online education, and sees many re-thinking their purpose," Smits told Science|Business. TU Eindhoven's pandemic recovery goals are to "reinforce" collaboration with the region's high tech industry and continue to attract global top talent.
"We see the whole debate in Europe around technological sovereignty as this big existentialist question. Companies are shortening supply chains and digitising their platforms," Smits said. "This offers enormous opportunities for a university such as the TU Eindhoven."
Smits said the university will focus on education and research activities that are most relevant, in a post-pandemic world, to the high tech industry in the Eindhoven Brainport .
"We want to be there for our region first and foremost. We were created 65 years ago at the request of companies like DAF and Philips. We owe our livelihood to this city and region and we also exist because of the city and the region," Smits said. This year, the university is celebrating 65 years since its founding by showcasing its "research heroes".
For Smits, one of the most important rankings for TU Eindhoven and its almost 13,000 students is the rate of co-publication of research papers with the high tech industry in the Brainport. With companies like machine manufacturer ASML, Philips, Signify, Research, NXP Semiconductors, and DAF PACCAR Trucks – with a total value of €230 billion – there are many opportunities for cooperation, he said. "We're already number one in the world for this, and we want to consolidate this position."
"Our mission is to work with our companies, and support them in their agenda towards greater competitiveness and sustainability," Smits said.
Companies are asking for completely different things now than they were even 20 years ago. "Take the engineer. Companies need a person that can do problem solving, can communicate, and also is able to work as part of a team. This was not the profile of the engineer of 20 years ago," he said.
This explains the university's recent investment in challenge based learning, where groups of students are put to work on specific projects, often defined by the high tech industry. "The region is asking as well for more artificial intelligence knowledge and skills. That's why we have established an institute for AI," Smits said.
The university has also "very strong ties" with the region's two research hospitals and with other higher education and knowledge institutes, "which often are co-located on the university's campus," Smits said.
The president wants the campus to become more inviting to the people of Eindhoven. "We're going to integrate the campus more with the city. A university is not for the elite. Everyone has to feel they are the owners of it," he said. "We want it to be a place where everyone feels welcome, where people come on weekends for a walk."
Smits says all these moves are "also about getting ahead of policy". He sees a growing movement by governments to get universities to take on more meaningful roles.
"In Bavaria, there's a new education law coming up, which will mean universities have to take valorisation and impact more seriously. There are similar developments in other parts of Europe. Governments want universities to re-think what they offer; what their contribution will be in the post-corona era. Universities need to be prepared to respond to this and the answer cannot be business as usual."
Back to class
Dutch students have not been on campuses since last autumn, when outbreaks forced fresh quarantines and closures.
After the yearlong purgatory of remote learning, Smits is as keen as anyone to see a return to normality,  or something that approximates to it. "Nothing beats physical contact and sitting on campus with your colleagues and friends," he said.
In common with other universities, TU Eindhoven had to set up remote learning options in a hurry last year. Virtual classrooms will continue beyond the pandemic, in some form, "But we will remain an on-campus university," Smits said.
"However, the days of 500 students listening to a professor standing at the top of the room holding chalk – these days are over."
Many institutions are learning the hard way that simply delivering course materials solely through digital platforms is not the best way to teach students. According to Smits, the future will see more "blended learning".
The president says that the pandemic separation has seriously harmed ingenuity. "Hi-tech companies have done very well in sales over the last year. But the creativity needed for new products has gone down the drain. The level of patents filed has dropped rapidly everywhere, because we can't meet at the coffee corner or over a couple of beers and talk about things. Idea generation hasn't been the same," he said. 
University enrolments have been uncertain for many months, but Smits says they'll pick up sooner than people think. "We are still getting a lot of international students," he said, with many coming from Asia. "Many more middle class families in this region can afford a good education now for their children, and they want them to become more international."
Shifting demographics means the number of new Dutch students will drop in the near future. "It makes the case for us to continue to be as internationally attractive as we can," said Smits. "It's a boon for our region too. Over half of the university's international graduates find a job in the region, which is the highest stay-ratio in the Netherlands," Smits noted.
Even as the university battles through the pandemic, there's an eye for planning the institution's long-term future. On-campus expansion continues, with the recently announced building of a new underground quantum lab, where researchers will work on a hybrid quantum computer, the "un-hackable quantum internet", and a workbench-sized synchrotron. Construction of a student village has just started, which is, with some 800 units, the largest current housing construction project in the Netherlands. A research institute focused on renewable energy systems, meanwhile, was launched in 2020.
Smits says he loves the variety of challenges his researchers and students are tackling. "The neighbouring city of Helmond has reserved a plot of land for a smart city so we're going to help develop a smart district. We have a student team that can contribute modern, CO2-neutral houses," he said.
The university has a proud four- year winning streak in the annual Bridgestone World Solar Challenge in Australia, where students and their homemade solar cars compete over 3,000 kilometres. Some of these students started the solar-powered car company called Lightyear in Eindhoven that has just closed a €40 million finance round and will go to the stock market this year, Smits said.
Another part of the university is helping PSV, the local, top-division football team, to use its stadium for purposes beyond football, such as concerts. Another group is using big data to find the most ideal place to build a wind farm in the North Sea.
Changed world
COVID-19 presented an immediate financial crisis for the world, but the economic outlook is not going to remain bleak for too long, said Smits.
Instead, he predicts a great release at the end of the pandemic. "People will go wild. Business travel will not return to where it was but there will be an economic boom, the roaring twenties. Once we can go back to normal, people will want to spend. People will want to sit on a beach in Spain again," he said.
His appeal to policymakers is "not to forget that it was science and innovation that got us out of the crisis and for this reason let's keep on investing in education and research."
One event dominated 2020 and the early part of 2021, but a distant challenge shaping scientific cooperation and educational exchanges is the changing relationship between the big three global research blocs of Europe, the US and China.
Smits, director-general of the European Commission's DG Research and Innovation from 2010 to 2018, says the current go-it-alone tech sovereignty obsession in Brussels came about because, "Certain global parties did not respect Europe's policy of openness."
The protection of research secrets has become a bigger political issue than it was three to five years ago, he noted. "We are extremely careful about the leaking of knowledge at our university," Smits said. 
"China has a clear agenda and is ruthless to realise that agenda. We had the same with [US president Donald] Trump. So Europe hasn't invented tech sovereignty, it was forced to go in this direction, because the two big global players had a different agenda, which was not the agenda of multilateralism," he said. 
Smits sees reason for hope things will improve, saying the change in direction under US President Joe Biden means the world now has an "enormous chance" to restore respect and multilateralism. "Let's now hope that China will reciprocate. The COVID-19 crisis has shown the importance of global cooperation. Let's keep this spirit going to address the other global challenges we are facing," Smits said.