Viewpoint: More EU ministers and commissioners are voicing support for bigger research and innovation funding – but the political argument is a long way from won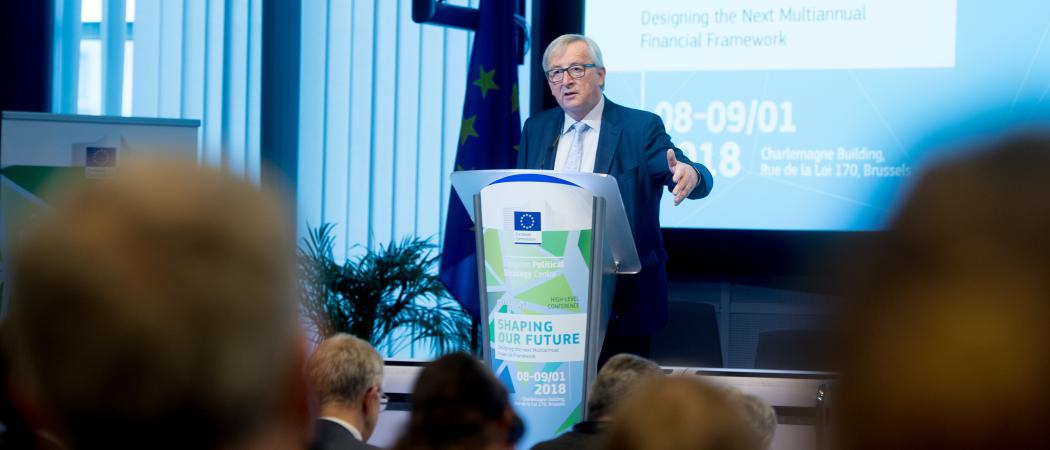 Politics in Brussels moves in small, barely perceptible steps – and for fans of science and technology programmes, the opening this week of debate on the European Union's long term budget counts as a small step forward. But don't bet on it yet.
As the first act of the New Year, a parade of commissioners and member state ministers met on Monday afternoon to open what will be at least 18 months of argument over the EU's multiannual financial framework, the unlovable Brussels term for its 2021 to 2028 budget outline. With 1,100 in attendance and hundreds more watching online, it was the hottest ticket in town. The interest, of course, goes beyond the money alone, the real topic is deciding the future of an EU without the UK, with a politically difficult Poland and Hungary, and beset by internal and external problems from terrorism, to Russia, to Trump.
What the audience heard, as summarised by my colleague Éanna Kelly, was a series of political testimonials from ministers and commissioners that included a surprising number of endorsements for research and innovation spending – currently running at more than €10 billion a year, but still only 8 per cent of the overall EU budget. Two of the commissioners, for budget and the economy, and the chair of the Parliamentary budget committee publicly backed a bigger share of the budget for innovation. Two ministers, for Germany and France, included innovation in their short lists of "added-value" activities to which Europe should give more priority.
The German foreign minister, Sigmar Gabriel, was most direct about the need to invest more in innovation, saying, "We have to become more competitive. The gap between the US and Europe is enormous."
And after the conference, at a meeting Jan. 10, the Commissioners unanimously agreed to try to protect Framework and Erasmus+ funding from any post-Brexit budget cuts.
Not all roses
For those pushing for more innovation money, this was a bit of reality TV they loved watching. But there was also plenty to be glum about.
For starters, some of the ministers made it pretty clear that, while they agreed new problems might require new money, their governments weren't yet ready to bankroll a rise in the overall EU budget. Instead, they implied, new problems have to be funded by taking money away from old problems.  And immediately, familiar timeworn positions began to be staked out, with ministers from Poland, Bulgaria and Hungary defending the big regional development budget, while France appeared to maintain its support for the massive agriculture budget (though the actual French position is still unclear).
Also interesting was what wasn't said. While budget commissioner Gunther Oettinger enthusiastically called for a chapter of the EU budget to be relabelled as "future innovation and youth", he didn't repeat earlier statements explicitly calling for a big jump in actual euros spent on innovation. Commission president Jean-Claude Juncker didn't mention innovation among his priorities for the future (and nor did the Portuguese finance minister Mário Centeno – odd, considering his countryman, research commissioner Carlos Moedas, runs innovation.)
So another stalemate? Not really.
Three takeaways
First thing to note: it's new for research and innovation to be included in many politicians' shortlists of political priorities. That's a surprise, given that when the current Commission took office in November 2014 innovation was barely visible in any of its initial policy documents. And it is testimony to those who have been labouring politically to raise its profile in Brussels.
Second: while all bemoan the loss of the UK's money (though not its caustic politics), some ministers voiced cautious support for a possible manoeuvre to boost EU budgets overall through its "own resources." This is a proposal, gathering political steam since the Brexit vote, to let the EU supplement its budget by direct taxation of certain pan European activities. This could include, for instance, funnelling some cross border VAT revenues directly to Brussels. Hitherto, the EU budget has been fuelled by treasury-to-treasury transfers.
And third: as several observers at the conference remarked, any hope of higher innovation funding depends on how well the EU sells the idea to citizens as being worth the money. It's not too hard to persuade people that to prevent cross border terrorism there needs to be some more cross border coordination of security. Likewise, worries about Russia (and the US under Trump) can be turned to support for more European cooperation on defence. And protecting the environment and climate are popular causes throughout most of Europe.
Out on the street for science?
But research and innovation are more abstract, politically. Not many people are going to march in the street in support of bigger university labs or another paper in Nature – indeed, quite the opposite, given the anti-expert trend of developed world politics.
To win the case for more funding, innovation fans are going to have to talk, not abstractly, but concretely. They will have to argue for more Big Data research to analyse and detect terrorist groups in social media. They will have to argue for more earth observation systems to track pollution, more social research to manage migrant populations, or more biomedical breakthroughs to slow cancer and Alzheimer's disease. They should ban politically meaningless words like Framework, impact, capacities or excellence.
As it happens, this need to popularise research programmes is part of the rationale for some sector specific "missions" that EU officials are now advocating for the next research programme, Framework Programme 9. But so far the idea has been mired in internecine warfare among different parts of the research lobby, and hampered by fuzzy thinking about the details from the Commission itself. Later this month, the economist Mariana Mazzucato is due to make recommendations to the Commission on next steps for missions. She can't resolve all the problems, but she can help set in motion a more rational process for doing so.
The overall goal was outlined at the conference by Mario Monti, a former commissioner and prime minister from Italy. He recounted his last experience, in 2013, in these kind of budget arguments, noting when push came to shove the whole debate was really just about accountancy: ministers focused on how much, in euros, they could each could win back from Brussels. Now, in an age of rising populism, Monti said, "The pressure to bring back one more euro to taxpayers may be very wrong, politically." People want safety, security and prosperity more than they want lower taxes, he argued. It's up to the EU leaders to argue that Brussels is a good way to deliver those.