Influential voices in the commission and national governments want to boost spending on research and innovation from 2021 – 2028. But they are facing competing demands - and must fill a €12B Brexit-shaped hole in the coffers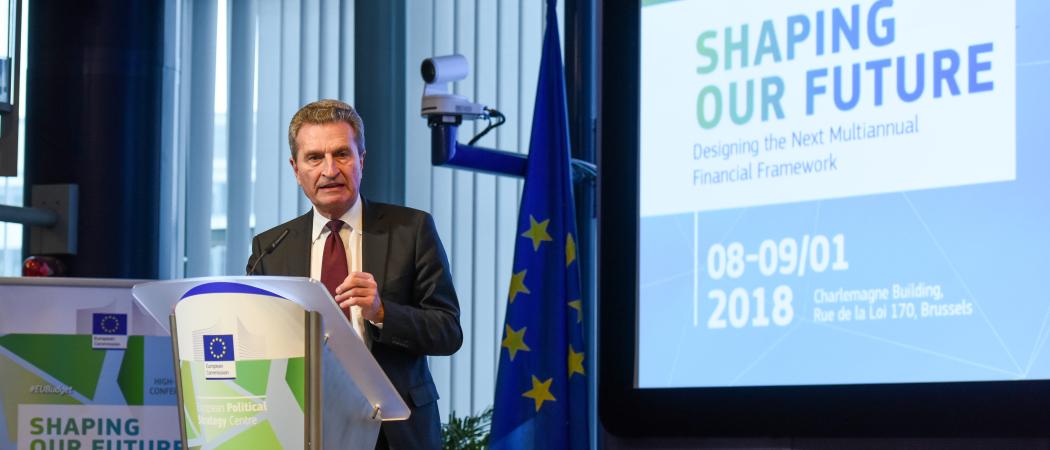 EU leaders are calling for an increase in the budget from 2020 onwards to pay for more spending on research and innovation, defence and controlling migration, in the face of the UK's exit and the loss of its €11.52 billion per annum net contribution.
The European Commission kicked off the debate on the next seven year budget at a meeting on Monday, with Commission president Jean-Claude Juncker urging the remaining 27 member states to pay more.
Leaders speaking at the conference said extra payments would ensure continued high EU investment in research and innovation, with the budget commissioner, Günther Oettinger saying he will fight for higher spending on two programmes in particular: the successor to Horizon 2020, under which the EU is currently spending €77 billion on research, and Erasmus, which funds student exchanges. "These are two objectives I wish to back," Germany's commissioner said.
And after the conference, at a meeting Jan. 10, the Commissioners unanimously agreed to try to protect Framework and Erasmus+ funding from any post-Brexit budget cuts.
With the UK's contribution accounting for 16 per cent of the EU budget, Oettinger wants to fill the Brexit gap with a mixture of cuts and additional contributions from EU members that are net contributors, and from new sources. He suggested it would be reasonable to cut 5 – 10 per cent from the cohesion budget and that a tax on imports of plastics could provide a new source of revenue.
Juncker, notably, did not explicitly back more investment in research and innovation, but did say he is opposed to "drastic" cuts or changes to cohesion funds or the common agriculture policy, which together account for 70 per cent of the EU budget.
There is an obvious EU "added value" in innovation and defence, said EU vice president Jyrki Katainen, who has previously argued for more EU spending on innovation.
Jean Arthuis, chair of European Parliament Budget Committee, argued that at 8 per cent of the overall budget, research and innovation is underfunded. "Nine out of ten applicants today are rejected because of a lack of resources," Arthuis said.
Government representatives from Germany and France, which will be the two biggest net contributors to the EU budget after the UK leaves, also pitched for more money for research and innovation.
Sigmar Gabriel, German minister of foreign affairs, said he would support Germany paying an extra €10 billion a year into EU funds to support these areas. In innovation, "We have to become more competitive. The gap between the US and Europe is enormous," he said.
EU governments will turn in their wish lists over the next few weeks, with priorities for the 2021 - 2028 budget on the agenda at a summit in February, leading up to a formal blueprint in May.
Coping with less money, more work
There are no guarantees that any budget line will be sacrosanct and the horse trading over the next long term EU budget will see many rounds of sparring. With the Brexit negotiations going on in parallel, it is expected the fight will drag on for well over a year – the 2014-2020 budget took 18 months to negotiate.
The EU argues that the post-Brexit budget not only needs more money from the EU27 to cope with the loss of the UK's contribution, but also to fund growing involvement in areas such as defence and climate change. "There are more and more tasks coming up and we really can't know everything we have to cover in the future," said Oettinger.
Nor is the commission hedging its bets on the UK's position. "Don't believe those who say Brexit is not going to happen," Juncker said. "Our working hypothesis is that our friends are leaving us. Between now and then we need to find the means of reacting to the loss of a significant number of billions of euros when a net contributor goes."
Difficult for some to pay more
Juncker and Oettinger made a joint plea for the EU27 to increase their contributions from 1 per cent of total EU gross national income to a little over 1.1 per cent. The current annual EU budget of around €140 billion costs taxpayers the equivalent of "one cup of a coffee a day," Juncker said. "And I think Europe is worth more than one cup of coffee a day."
But with the UK heading for the exit in March 2019 and the extra demands made on European defence spending by US president Donald Trump, some government representatives at the conference argued that Brussels would have to make do with a smaller budget in the future. Net contributors, including Austria and France, are prepared to challenge the EU's call for member states to pay more.
"We cannot ignore the departure of a major economy; it will be difficult in Austria to pay higher contributions," said Gernot Blumel, federal minister for the EU, arts, culture and media in Austria. "Smaller EU implies a smaller budget."
France's minister for European affairs, Nathalie Loiseau, included innovation in a short list of priorities for which the EU members "need to develop more budget", but was generally downbeat about the overall size of the 2021 – 28 budget. "The EU can't pay as 27 what it financed as 28," she said.
There was a mixed view among net recipients of EU funds, with Poland's minister for EU affairs, Konrad Szymanski saying, "We can't expect any new significant payments will be forthcoming because of commitments with the US to pay for more defence."
Hungary, on the other hand, is open to making a bigger contribution. "We are willing to increase our contribution. We would be willing to accept more," said János Lázár, minister of the prime minister's office.