Report of a Science|Business-INESC workshop on innovation networks across Europe – and what they need to help achieve EU climate goals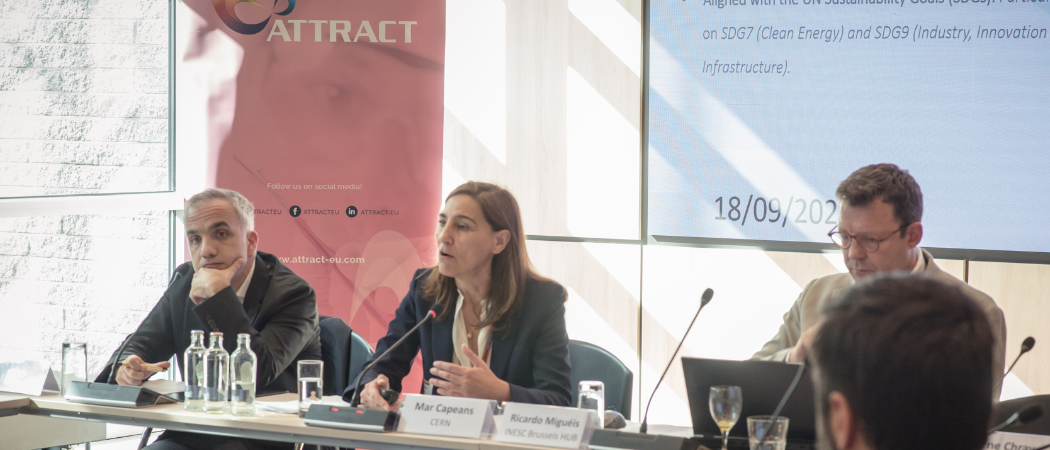 "By 2034, Europe will have a strong and growing web of innovation ecosystems, developing sustainable technologies. They will involve universities, research organisations, big and small companies, and governments – from town and city to nation and continent. They will rapidly move promising green ideas from lab to market, have a global perspective, and focus on what citizens say they want and need rather than what companies or researchers want to deliver. And they will have enough funding, public and private, to make all of this happen."
Well, one can dream. That scenario is what innovation specialists hope Europe's R&D scene will look like a decade from now.
It's a snapshot of a possible future, discussed at a workshop of green tech experts organised by Science|Business and Portuguese research and technology organisation INESC, in Brussels on September 18. The discussion, part of a two-day Science|Business climate-tech conference, aimed to define how Europe can harness its R&D networks to meet the ambitious 2050 goal of net-zero greenhouse gas emissions.
Featured speakers at the workshop:
•    Hélène Chraye, Head of Unit 'Clean Energy Transition', DG RTD, European Commission
•    Doris Schroeker, Head of Unit 'Industrial Research, Innovation and Investment Agendas', DG RTD, European Commission
•    Mar Capeans, Head of the Site and Civil Engineering Department, CERN
•    Muriel Attané, Secretary General, EARTO
•    Andy Kerr, Chief Strategy Officer, Climate-KIC
•    Saija Hollmén, Professor, Humanitarian Architecture, Aalto University
•    Wim de Kinderen, Programme Director European Affairs, Brainport Eindhoven
•    Pedro Rocha, Executive Director, PRODUTECH Cluster and PRODUTECH DIH
•    Marc Mawhinney, Lead Advisor, Innovation and Competitiveness Department, European Investment Bank
•    Francesco Molica, Economic and Policy Analyst, Joint Research Centre, European Commission
•    Louise Drogoul, Advisor, Innovation &ustainability, CESAER
•    Moderator: Ricardo Miguéis, Head of the INESC Brussels HUB
Among the key points and recommendations raised by the speakers:
The whole idea of an innovation ecosystem is important to Europe's green future, workshop participants said. They are catalysts for action, for getting ideas from lab to market and into widespread use across society. Successful ecosystems have a clear sense of purpose, whether promoting regional prosperity, a specific technology, environmental sustainability or any other goal. They have a centre of excellence, often technical. They have dynamic people, from bankers to researchers to citizens. And they have public support to move new ideas into practical application.
There are many examples of successful innovation systems in Europe already. For instance:
There are many other innovation ecosystems across Europe – and more in formation: university alliances through the EU's new European Universities Initiative, its ERA Hubs, huge networks of researchers and companies around Europe's research and technology organisations, and more. One new dimension the European Commission is now considering: A standardised way of identifying and handling policy and funding for industry-focused technology infrastructures. Their cost is enormous: billions of euros for new semiconductor cleanroom facilities, for instance. As-yet unresolved: How will such massive projects get financed, publicly or privately? What will be the role of existing research infrastructure which, as the CERN example suggests, already contribute greatly to Europe's economic success?
Another point raised by several discussants: Successful ecosystems must be diverse – combining public and private sector, citizen and government and company and university, European and international policy makers and markets. To be useful, innovation ecosystems must listen to what citizens want, and they must consider the global implications of their work: it does no good to develop a green technology or process in Europe that ends up merely shifting the emission or waste problem to poorer countries. Europe's green innovation ecosystems aren't about competing with other nations; they should be about collaborating and advancing sustainability goals across the world.
Besides research infrastructure, vital partners in successful ecosystems are universities – for promoting innovation, but also for nurturing talent. Besides initial training in masters' and doctoral programmes, universities feed the companies around them with talented people who, later in their careers, may return to the university to train more workers. For the net-zero goal in particular, they also mobilise the younger generation – the people who will be most affected if Europe and the world fails to meet global emission targets.
But among the many obstacles to successful innovation ecosystems is money. The EU and member states have many funding programmes available, but past research into these programmes suggests some recurring problems. There is an "incumbent effect" by which big grant-winners take the lion's share while inexperienced but promising applicants lose out. Further, many funders prefer to play it safe, rejecting high-risk but high-return applications that could, if successful, really make a difference for global sustainability. And then there's fragmentation among the many possible funding programmes that ecosystems could tap. EU officials have been talking for years about improving "synergies" between all the programmes – but so far, there has not been enough progress.
Key recommendations for net-zero innovation ecosystems:
They should be diverse – public and private actors, regional and global – but have clear objectives

Build on the experience of existing EU ecosystems, of which there are many successes already

Sort out how Europe will manage rising demand for industry-driven infrastructure (the so-called technology infrastructures), while continuing to benefit from research infrastructures

Listen to what citizens and cities want in climate innovations, rather than focusing solely on what technology can offer and companies can sell

Develop purpose and solution-focused innovation culture. Start from the "problem-to-solve" and reverse engineer it to efficiently create the technology that is needed

Think globally: climate is an international problem, and even local systems can benefit from a global perspective and broad collaborations

Solve the funding tangles in Europe: Not enough synergies between programmes, too high a barrier to funding for new ecosystems, and risk-aversion among funders