A small EU grant will set ailing institute on road to recovery and open up opportunities for Ukrainian neuroscientists, amid armed conflict and scarce resources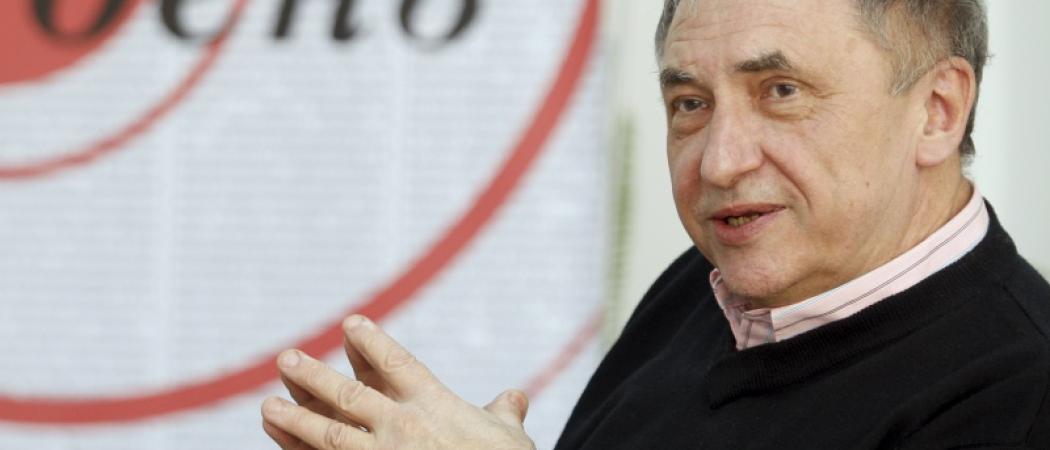 A new Horizon 2020 project is set to help re-establish the Bogomoletz Institute of Physiology in Kiev as an international centre of excellence in cellular and molecular neuroscience, in the midst of difficult circumstances for Ukrainian science as a whole.
The project, named Neurotwin, started on 1 August and is worth nearly €780,000, with more than €380,000 going to the Bogomoletz institute. The money, from Horizon 2020's widening pot, is intended to help the institute keep up with the latest developments in biology and build new know how and approaches to education.
The EU money is the springboard for the institute's plan to recover from decades of unfavourable political changes and bring its scientific research up to a world-class level. "The grant allows us to prepare post graduate students to improve their ability to do modern science by using the facilities of European universities," Oleg Krishtal, Bogomoletz director told Science|Business.
The Bogomoletz institute used to be an important centre of expertise, hosting the world's first intracellular perfusion in 1975. It is also responsible for breakthroughs in neuroreceptor research. But after the collapse of the Soviet Union, the institute and the rest of Ukrainian science went through difficult times, with funding cuts and a brain drain of leading researchers.
Neurotwin will enable Ukrainian scientists to work with colleagues at the Technical University of Munich, University College London, Uppsala University, the Institute for Molecular and Cell Biology in Porto and Austria's Centre for Social Innovation.
Krishtal hopes the exchanges will stimulate the institute's scientific excellence in the field of cellular and molecular neuroscience and strengthen international scientific collaborations.
Ukrainian scientists will also receive training in academic writing and evidence-based policy making, to better communicate with their government on the importance of neuroscience and neurology research in public health.
But while any foreign grant is good, Krishtal warns the EU money will not make up for the loss of world class scientists from Ukraine to universities and research institutes in western Europe in the past decades. "The institute donated to European science many dozens of first-class investigators," he said.
Ukrainian researchers have moved to institutes across Europe, where they find better working conditions and access to state-of-the-art research infrastructures. The brain drain is such serious  problem that widening grants are unlikely to help reverse it. "The money doesn't even cover a single post doc," Krishtal said.
"We are very happy but we consider that in no way we are in debt [to the EU]," Krishtal said.
Wartime science
In Ukraine, science funding remains a low priority for the government. Having barely recovered from the fall of the Soviet Union, the country descended into further uncertainty after Russia invaded the Crimean Peninsula and the eastern regions of Luhansk and Donetsk in 2014. Dozens of universities and research institutes have been displaced in the wake of the conflict, affecting tens of thousands of students, faculty and researchers.
"We are a country at war," said Krishtal. The war effort is putting a lot of strain on the economy, something that Krishtal likens to getting out of a deep well.
Having given up all its nuclear weapons in 1994 in exchange for the promise from the US, UK and Russia to respect its independence and its borders, Ukraine is now focusing on the daunting task of developing its military industry and army from the ground up. Investments in science are of secondary importance. "It's difficult to expect that the country will be able to spend [more money] on science," Krishtal said. 
Yet, the government does understand that Ukraine needs science and innovation. That is why the government "keeps the fire going," according to Kristal. "We are just trying to stay alive until the difficult times end," he said.
EU ambitions
In March 2015 Ukraine was welcomed by EU research commissioner Carlos Moedas as an associated member country in Horizon 2020. "Ukraine's great research and innovation potential offers promising partnerships for Europe," Moedas said back then.
Ukrainian research institutes and companies coordinate a total of 17 Horizon 2020 projects so far, but only a handful are over €1 million.
But according to Krishtal, Ukraine's growing participation in the EU framework programme can be a double-edged sword. "We have a lot of talented people and they are being exposed to conditions in universities in the EU. Partners are getting access to our young generation, fortunately or unfortunately," he said.
Krishtal hopes Ukrainian scientists will get more out of the upcoming research programme Horizon Europe. The new programme is expected to further boost international cooperation in science and innovation, and Ukrainian researchers hope they can play a bigger role than in Horizon 2020. "We appreciate the approach and we are looking forward [to Horizon Europe]," he said.