As EU hangs tough on tying UK association in Horizon Europe to ending the dispute over the Northern Ireland Protocol, the UK government is dangling the funding carrot and says if there is no deal, it has a 'bold' plan B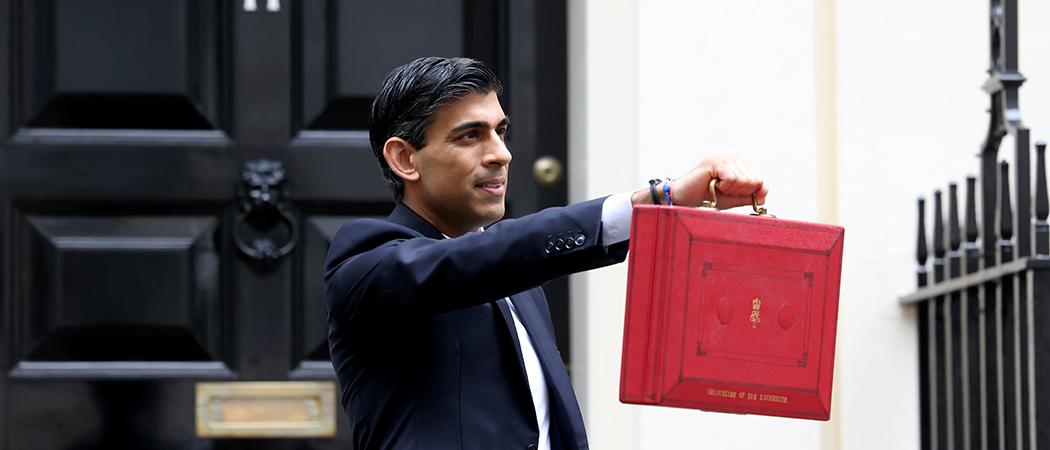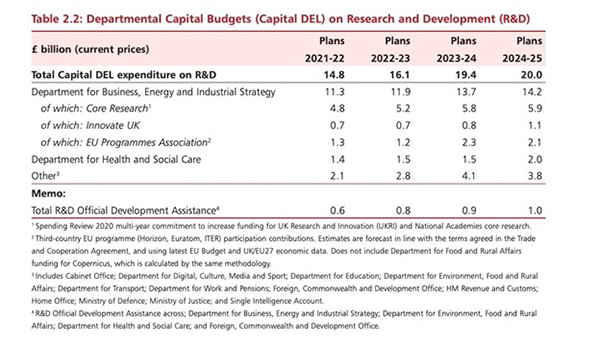 The UK has set aside £6.9 billion for its contribution to Horizon Europe until 2025, but says it is working on a contingency plan, with association talks at an impasse and Brussels adamant it won't clear the UK's access to the €95.5 billion programme until disagreements over the Northern Ireland Protocol are settled.  
The funding for Horizon Europe was announced on Wednesday in the 2021 spending review, detailing the budget plans to 2025. This will see public investment in R&D increase from £14.9 billion to £20 billion by 2024/5. But a previous commitment that the budget will reach £22 billion before the end of this parliament was pushed back by two years, to 2026/7. The increase in public spending on science is part of a stated objective of boosting public and private R&D investment to 2.4% of GDP in 2027.
UK chancellor Rishi Sunak said the increase for R&D will "meet the full costs of associating with Horizon Europe." However, the spending review says the UK will draw up a plan B in case negotiations with the EU fail.
"In the event that the UK is unable to associate to Horizon Europe, the funding allocated to Horizon association will go to UK government R&D programmes, including those to support new international partnerships," the review says.
In response to a Science|Business interview with EU research commissioner Mariya Gabriel earlier this month, where she confirmed the UK can't join Horizon Europe until row over Northern Ireland Protocol is settled, UK science minister George Freeman said the UK's commitment to join Horizon Europe still stands. "But if the EU decide Northern Ireland Protocol politics stops UK joining Horizon Europe we have a bold Plan B," Freeman said on Twitter. But as the spending review indicates, this is a work in progress, not a fully fledged strategy.
Brexit minister David Frost told MPs in the European scrutiny committee on Monday that the EU would breach its post-Brexit trade agreement with the UK if it delays an agreement to the point the UK's participation is no longer worthwhile.
"Perhaps there will come a point where the value-for-money case [for joining Horizon Europe] looks less compelling than it did at the start of the year," said Frost. "We're not at that point yet, and not close to it, but it could happen if there are endless delays."
It is good that the government has listened to scientists and that the full costs of joining Horizon research will be met, said Jeremy Farrar, director of the Wellcome Trust, Europe's largest research funding charity. "I hope that the current impasse in finalising the UK's membership will be resolved quickly to give certainty to researchers," Farrar said.
On the same day as the UK budget, the European Commission announced that Turkey can join Horizon Europe as an associated country. The Commission and Turkey signed three agreements granting association status to EU programmes for the period 2021-2027: Horizon Europe, the EU research and innovation programme, Erasmus+, and the European Solidarity Corps.
The EU has already cleared association negotiations with a slew of countries, including Iceland, Israel, Kosovo, Norway and Ukraine, but is holding off any decision on Switzerland and the UK until broader political issues are settled.
High risk, high reward research
The UK budget also confirmed there will be £800 million in funding for the newly established Advanced Research and Invention Agency, to carry out high-risk, high-reward research, while the innovation agency Innovate UK's annual budget is to be raised to £1 billion.
"We are pleased that the government has confirmed an early and continuing model for increasing public research funding, which will mean public investment rising over 35% by 2024/25," said Nancy Rothwell, chair of the Russell Group of leading research universities and vice chancellor of Manchester University. 
"Increasing funding in a consistent and predictable way like this will help to leverage in more private investment earlier, boost business confidence and ultimately help to set the UK on a course to meet its ambition to invest 2.4% of GDP in R&D by 2027," said Rothwell.
The UK government is also planning to change R&D tax credit laws so that research has to be carried out in the UK to be eligible for financial relief.
"The decision to boost spending on R&D activity in the UK by £22 billion and extend the scope of the R&D tax relief scheme to include investments in cloud computing and data costs, will encourage businesses to invest in improvements that will drive UK productivity," said Michael Jaeger, partner and patent attorney at European intellectual property firm, Withers & Rogers.
There will also be an increase in core funding for universities and research institutions with an extra £1.1 billion every year by 2024-25 compared to 2021-22.
The budget increase is said to also support priorities agreed by the new National Science and Technology Council, such as quantum computing, artificial Intelligence, bioinformatics and space technologies.
The government also wants the UK to become the first country to launch a rocket into orbit from Europe in 2022, with the aim of becoming a leader in commercial small satellites, as set out in the National Space Strategy.