Researchers fear attack on Central European University - and academic independence more widely - will not let up, despite new pressure from Brussels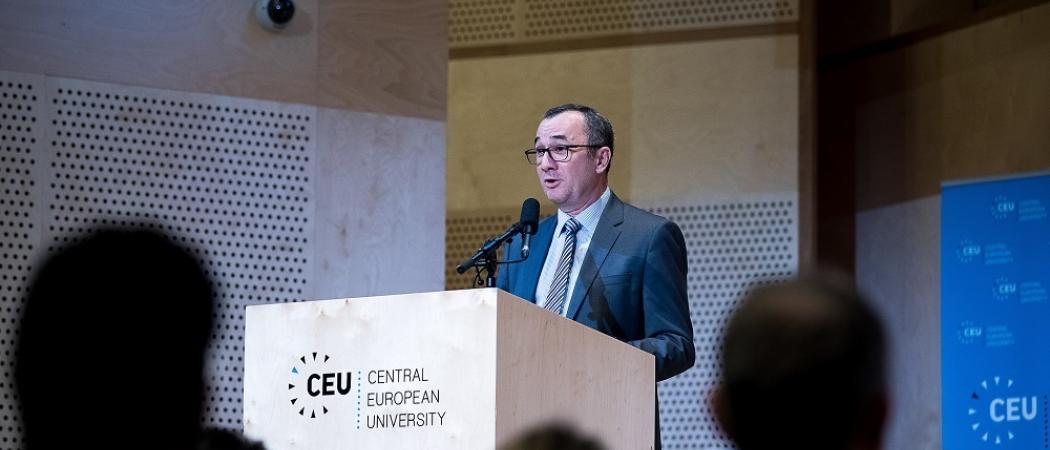 Researchers in Hungary have taken heart from the support of the European Parliament, but are doubtful it will persuade their government to allow the Central European University (CEU) to remain in the country, or to lift measures threatening academic freedom more broadly.
The vote by MEPs last week, condemning the Hungarian government for eroding core democratic values, is very important symbolically. "It sends a clear message unmasking the real nature of Viktor Orbán's regime," said Liviu Matei, provost and pro-rector of CEU. "Will the vote help us practically? Most likely not."
Matei does not believe the Hungarian government will change course. "The day after the vote in the Parliament, the Hungarian foreign minister furiously attacked CEU once again, with blatant old - and new - fabrications," Matei said.
Meanwhile, the battle with the Hungarian government is wearing out CEU faculty and limiting their ability to carry on business as usual. "The distraction from normal work is enormous," CEU political science professor Carsten Schneider told Science|Business.
According to Schneider, "The biggest problem is the insecurity. Nobody knows where we will be in a year and under which conditions we will exist."
More widely, Hungarian academics view the European Parliament vote to pursue sanctions - which could ultimately lead to Budapest losing its right to vote on EU decisions - as meaningful moment that will make life more uncomfortable for prime minister, Viktor Orbán. But they do not think it will persuade him to abandon policies widely viewed as an attack on academic independence.
Academics in Hungary also point out that the vote is only the first step toward potential sanctions. Punishing Orbán would also require a vote from the leaders of the EU's other 27 member states, and approval is far from certain. Poland, a country where many of Orbán's policies have been mirrored, would probably block any censure move.
CEU has been in limbo for over a year since the government passed a law requiring foreign universities to maintain a campus in their home country. The move, widely interpreted as a direct threat to CEU, prompted the university to start education programmes at Bard College in the US and to broker a deal between the State of New York and Hungary, which is yet to be signed off by the Hungarian government. The university also made plans to set up a new campus in Vienna and will be forced to close the Budapest campus and move there, if the US agreement is not acknowledged as settling CEU's status. 
CEU was founded by billionaire financier and liberal philanthropist George Soros, former mentor of Orbán but now a bête noire for his government, which has demonised the various liberal causes Soros' charities promote.
Growing uncertainties
There is hope in some quarters that the US will put more pressure on the Hungarian government to tone down the attacks on CEU. "Maybe the US embassy will have him come to his senses on CEU," said Levente Littvay, another political science professor at CEU.
Any softening of attitudes towards CEU would still leave other institutions vulnerable to government intervention, and beyond CEU, many are unnerved by the government's moves. "My impression is that academics fear reprisals if they speak out publicly," said Zsolt Boldogkői, head of the Department of Medical Biology at the University of Szeged. "A common fear is that certain academic institutes and scientists will continue to be targets, and that officials in the government [will tell] researchers what to study."
Last year, the Hungarian government announced plans to allocate €4.5 million for research into traditional Chinese medicine at Semmelweis University, one of Hungary's biggest medical schools. "I disagree with governmental support of alternative medicine because it's based on pseudoscience," said Boldogkői. "Its presence in universities is especially outrageous."
Researchers at the Hungarian Academy of Sciences meanwhile are also feeling the strong arm of the government and worry Orbán will not back down. "He will only step up the attacks on the remnants of liberal democracy here," said Róza Vajda, a junior research fellow at the Department for methodology and history of research in the Academy. Researchers feel unsafe and "thwarted by the lack of information and transparency," Vajda said.
Defiant Orbán
Speaking in Strasbourg last week, Orbán gave the impression that his government is in no way impeding CEU. He told MEPs to visit the university website and see messages posted to reassure its students that the institution will carry on regardless of its location. Orbán dismissed accusations of restricting academic freedom, arguing that other EU countries also have special legal requirements for foreign universities.
During an upbeat speech to the incoming class of 2018 last week, CEU rector Michael Ignatieff told students "it was great" that Orbán browsed the university website and invited him for a tour of campus to attend classes in gender studies, a discipline which the Hungarian government no longer wishes to accredit and finance.
"I sincerely want the Hungarian government to see the work we do," Ignatieff said.
In the wake of the Strasbourg vote, Hungarian minister for foreign affairs Péter Szijjártó dismissed efforts made by CEU in the past year to comply with the new Hungarian law. One university cannot have privileges and there is no justification for issuing US degrees in Hungary without having a campus [in the US], he said.
CEU's plans for the future
At the opening ceremony of CEU's 28th academic year, Ignatieff told incoming students he cannot predict the outcome of "our little local difficulty with the government." While this academic year looks set to be decisive for the history of CEU, he promised the university "will never back down from any attempt to intimidate us to continue our mission."
Still, Ignatieff hopes that CEU and the Hungarian government "can sit down and resolve any remaining issues so that we can remain in Budapest."
In an attempt to alleviate worries over CEU's ability to recruit new staff, Ignatieff welcomed "ten new newly-minted professors" that have joined CEU this year and invited them to "stand and acknowledge some applause."
CEU will soon release a strategic plan for the next five years under which the university will transform into a tri-campus university, headquartered in Budapest, with bases in Vienna and New York. In 2019, CEU may start undergraduate education on the Vienna campus.
The university wants to "reinvent and renew" its doctoral and masters programmes and boost its research productivity. CEU will continue to carry out research on migration "no matter what anybody else thinks about it," said Ignatieff. However, he failed to explain what will happen to an EU funded research project on migration policy that the university suspended in response to a new 25 per cent tax on any activity related to migration.
In the face of its open conflict with the government, CEU is seeking to broaden its outreach to the Hungarian community, and the ceremony began with a speech in Hungarian by CEU pro-rector Zsolt Enyedi.
"We begin in Hungarian because we are a Hungarian university in Hungary," said Matei. "It will allow our incoming students who are not from Hungary to attune their years to the local language."
Too late?
Some academics fear the vote last week by MEPs may have come too late to limit the damage, and lay much of the blame with the European People's Party (EPP), Orban's conservative alliance in Brussels, which until the vote last week tolerated Hungary's shift toward more extreme positions.
Yet despite its belated arrival, the EU vote "is a serious blow" to Orbán's ambitions for building coalitions across Europe, said Schneider.
If outcast from the EPP, Orbán's party Fidesz may team up with far right parties such as France's Front National and Italy's Lega Nord. "If the radical right gains about 15 per cent [in the 2019 European elections], then what are Orbán's chances of influencing EU politics from margins of the opposition?" Schneider asked.