Almost a year after an amendment to the Hungarian education law undermined its status, faculty say the Budapest-based university is still exposed - but administration sees no drop in applications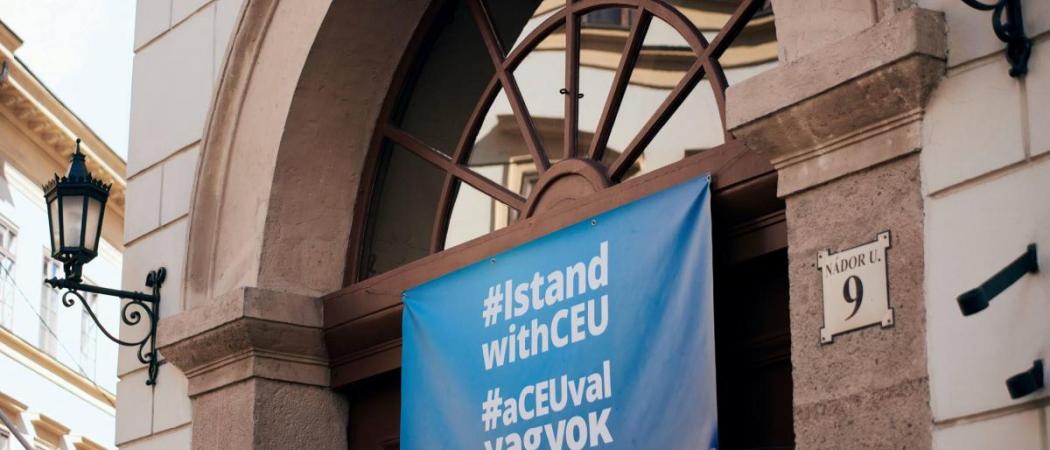 BUDAPEST – Researchers and faculty at the Central European University (CEU) in Budapest are worrying about their futures, as uncertainty about the university's status rolls on.
An amendment to the Hungarian higher education law signed in April last year threatened the ability of CEU to deliver programmes and issue degrees in Hungary.
To comply with the new rules, CEU signed a memorandum of understanding with New York State's Bard College, would validate its courses, a move which would seem to satisfy the requirements of the law.
But the government ignored this and announced the university has yet to comply with the law, giving it a deadline of 1 January 2019 to do so.
The deadline extension allowed CEU to recruit students to the class of 2018 and also guarantees that all CEU students can finish their studies up to 2021-2022. But there is no clarity on what happens after that.
Staff are concerned the prolonged uncertainty will take a toll. "If they drag this out for two to three years, the government will kill us," Levente Littvay, professor of political science at CEU, told Science|Business.
However, a spokeswoman for the university told Science|Business, "We have not had a drop in applications," for graduate courses.
Last December, the director of CEU's doctoral school of political science, Andrés Moles sent a letter to alumni to express his exasperation at the situation. "By continuing asphyxiating CEU, [the government] hopes to diffuse the pressure and use CEU as a political tool," he said.
Faculty and students remain optimistic that CEU can continue to operate in Budapest. But there is some concern the situation will wear colleagues down, undermining their ability to continue doing world-class research.
"Science needs peace and quiet," notes Littvay.
Job openings
The university prides itself on the range of nationalities of students and staff at the university. However, there is concern about the effect the legal limbo is having on the ability to hire international faculty. There are job openings on CEU's notice board but, "we don't know when they will be filled," says Littvay.
John Michael, a European Research Council funded scientist based at CEU, was looking to hire a post-doctoral researcher for his project. However, he decided to hold off until the situation regarding CEU's legal position is resolved.
"There has been uncertainty about whether the university might be forced to move out of Budapest," Michael told Science|Business. In the meantime, he has based most of the project at Warwick University in the UK, reserving a portion of the budget at CEU. That will allow him to retain a "foothold" in its research environment, which he praised for, "the shared expertise and the quality of the people."
While the official position is that there is no problem with staff recruitment and retention, the anecdotal evidence hints that there is. CEU's department of sociology recently interviewed new faculty to teach research methods for the social sciences. Of three candidates offered a job, none accepted.
Littvay believes that partners and spouses, in particular, are worried about CEU's current legal limbo and are discouraged from relocating their families and making a long-term commitment to a new country in uncertain times.
The university wants to keep its international outlook. However, having mainly Hungarians on the roster makes CEU less attractive to prospective overseas faculty and students, Littvay believes. "I make CEU look less international," says Littvay, a native Hungarian who after decades spent in the US returned to Budapest to work at CEU.
The university spokeswoman told Science|Business, "We have had no prospective employees tell us they have rejected an offer due to the ongoing situation." However, there was no response to questions on whether the legal situation is affecting CEU's ability to recruit international faculty and if the position at the department of sociology has been filled.
Incoming students
Last autumn, CEU rector Michael Ignatieff launched a communications campaign to help recruit the class of 2018-19. "Help us find the very best," Ignatieff urged in an email to alumni. "We cannot allow the political pressures we're under to discourage talented students from applying to CEU."
Students, faculty and alumni began sharing testimonials on social media with the hashtag #SeeUatCEU.
CEU relies heavily on its international network of alumni to spread the word and make the case for studying and working at CEU, despite the legal position. "You're still our best ambassador[s]," Ignatieff told alumni.
At the same time, faculty were requested to boost their social media presence and post positive messages on the university's website to encourage prospective students to apply.
On many occasions, Ignatieff has reassured students, faculty and staff that CEU is not in danger and will continue to operate under any circumstances. However, it has not gone into the details of any contingency plans.
"The worst that can happen is we move somewhere else, my guess is Vienna," says Littvay.
This would be a very disruptive for researchers like Michael, who will have to get ethical approvals for their projects all over again.
Despite such upheaval, it is a realistic possibility, Michael believes. "I wouldn't be surprised if they opened a campus in Vienna or in Prague."
But university staff will not take relocating from Budapest lightly, according to Littvay. "I am going to stick with CEU. This is definitely my fight," he says.