In hour-long videoconference, US universities vow to help counterparts in Ukraine with reconstruction and in enabling them to play a wider role in repairing the war-torn economy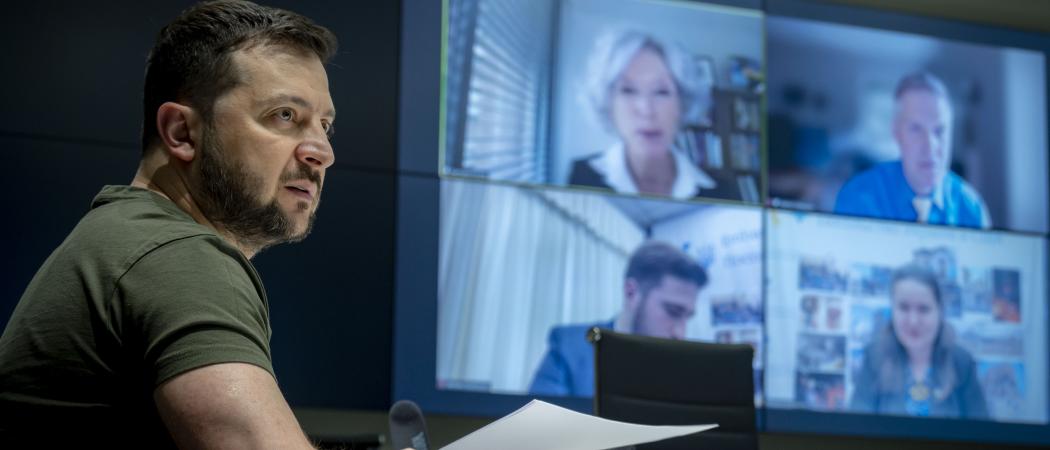 Ukrainian president Volodymyr Zelensky has urged universities in the US to provide the expertise in defence, cybersecurity, aeronautics and healthcare that is needed to rebuild his country's war-torn economy and infrastructure.
Earlier this year, Ukrainian universities were planning a return to on-campus teaching and research after two years of COVID-19 enforced virtual operations. But the Russian invasion has now propelled the higher education system into a much bigger crisis.   
University buildings, including libraries and research centres have been destroyed by Russian bombs and now the government is looking for help abroad, not only for the money to pay for new buildings, but also for experts who can help the education ministry to reform university curricula once the war is over.
"This is not just about money, this is about expertise," Zelensky told a videoconference with representatives of the Association of American Universities (AAU) on Monday, the 82nd day of Russia's invasion of Ukraine.  
American university heads attending the meeting offered help immediately. "Count on us," replied Kristina Johnson, president of Ohio State University.
Barbara Snyder, president of the AAU said, "President Zelensky rightly understands that one of the best ways to guarantee a better, stronger, more prosperous Ukraine is rebuild its higher education system around world class research universities."
"Strong research universities not only educate a nation's populace, they contribute immeasurably to innovation, health care, economic growth and cultural vibrancy, and they help retain domestic talent," Snyder said.
But it is unclear how this aid would be delivered and what the US university sector, which is largely private, could do to help in the long term.
Political bottlenecks
At the federal level, US senator Rand Paul has delayed a final vote on a $40 billion aid package to Ukraine, despite it gathering overwhelming bipartisan support in the House of Representatives. The money would largely cover immediate military and humanitarian needs, including a €8.8 billion in direct economic support.
In the EU, top officials are preparing the ground for another budgetary debate, similar to the six-month haggle member states went through in 2020, when they agreed to allow the Commission to borrow money from the international markets to fund a pandemic recovery plan.
Werner Hoyer, president of the European Investment Bank (EIB) recently told Reuters that rebuilding Ukraine will cost trillions of euros. Meanwhile, the German government has announced it would vote to allow the EIB to issue an EU guarantee to investors and route billions of euros to Ukraine.
The European Commission will soon present a plan for raising the money needed in Ukraine. For the university and research sectors, the EU response has been swift, but it falls short of what is required.
Member states have yet to debate and approve a proposal by the European Parliament to establish a large-scale programme for scholars at risk. After Russia invaded Ukraine, many research organisations in the EU offered to help fleeing academics, while the European Commission came up with some quick financial help, including a €25 million direct aid package of Marie Skłodowska-Curie (MSCA) grants.
However, the measures do not address the full impact of the war on higher education and research in Ukraine. Leading MEP Christian Ehler told Science|Business in an interview last month that the €25 million aid package for researchers is "just a torch in the dark" and called on the Commission to take up and broaden a pilot project he submitted for scholars at risk.
Help from the US
Snyder said American universities are helping Ukrainian students through emergency funding, free tuition and housing, administrative flexibility and visas. Some universities are also hosting displaced Ukrainian students, scholars and researchers.
Johnson said a large number of AAU members focus on research entrepreneurship and technology commercialisation and asked Zelensky how they can partner with Ukrainian universities and companies to help with the postwar recovery.
Zelensky said at the moment, universities in Ukraine are trying to go back to normal, wherever possible. "Students are getting ready for lectures and the exams that they will have, and life must go on regardless of the fact that in some occupied communities, death is reigning," he said.
More financial help is needed to rebuild thousands of kindergartens, schools and universities that have been destroyed. The president said his government's ministry of science and education is also interested in Ukrainian universities setting up twinning arrangements with universities in the US, to get assistance with reforming their curricula and adapting to the needs of a postwar economy. "We will be very grateful if we can do some twinning," Zelensky said.
"All of our institutions are here standing at the ready to help as best we can," said Howard Gilman, chancellor of the University of California Irvine.
Ted Mitchell, president of the American Council on Education echoed that message, and said universities stand ready to offer help beyond the immediate relief that is being offered to scholars. "We want to work with you to make sure that [fleeing academics] all feel that they are a part of the renaissance of Ukraine when they return," said Mitchell.
"I hope that we as a community of scholars in the US can engage our Ukrainian allies who are now with us in that project, imagining what the Ukrainian education system ought to be like when they return to rebuild it," Mitchell said.
When the war cools off, Zelensky said, Ukrainian universities would welcome experts from the US and use their advice on how to build stronger university departments that would produce the knowhow needed to fend off future cyber attacks from Russia. Ukraine also needs to train future professionals who could contribute to the defence, aeronautics and healthcare sectors.
"Life is coming back in Kyiv," said Zelensky. Faculty and staff are slowly returning to campuses. For safety reasons students are still attending online classes, but everyone is, "sick of this idleness," Zelensky said.