Christian Ehler MEP and the Commission are to negotiate on whether researchers based in EU member states or Horizon Europe-associated countries could be eligible to benefit from a pilot scheme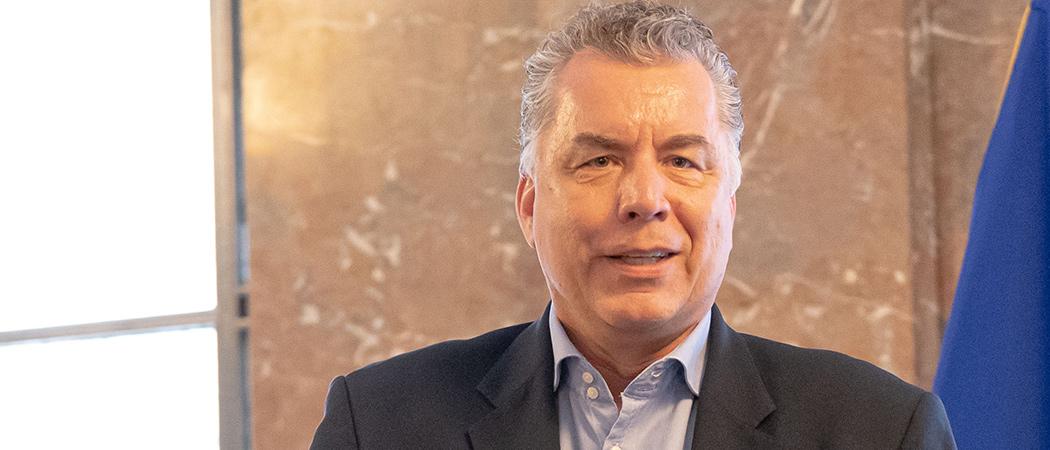 MEP Christian Ehler is pushing for a pilot of an EU programme to support researchers at risk, but the European Parliament and the European Commission currently do not see eye to eye on the criteria for defining "at risk".
After the war broke out in Ukraine, Ehler submitted a proposal for a €6 million pilot scheme to fund 30 emergency placements under the EU's Horizon Europe research programme. But before approving it, the Commission is asking for changes to a provision that would allow researchers based in countries that are part of Horizon Europe to apply for funding.
Ehler is not willing to back down and believes that in the - unlikely - event of suppression, the EU should stand ready to defend academic freedom at a European level. "If we want to protect academic freedom in Europe, and globally, we cannot start from a fear of opposition [to the proposal by member states]," he told Science|Business in a written statement. "We will engage with the Commission and see what can be done."
Ehler insists including member states in the scheme is only intended as a backstop to protect against the "dystopian scenario" in which an EU country threatened any individual researcher.
But, he noted, the problem is evident in the case of some associated countries. Turkey, an associated country in Horizon Europe, for example, has a problematic track record of curtailing academic freedom. "There seems to be not much the EU can do to stop violations of academic freedom in Turkey, according to the Commission, so let's then at least have a programme that can support the victims of those violations," said Ehler.
This is Ehler's second attempt to set up a support scheme for researchers facing danger and prosecution in their home countries. Russia's war in Ukraine and last year's Taliban takeover of the government in Afghanistan have brought momentum to the efforts, with the Commission now on board with the proposal, subject to certain conditions.
Earlier this year, the Commission set up a €25 million fund for Ukrainian researchers fleeing the war, but Ehler and others want to see a long-term structural programme in place to aid researchers from all over the world.
Member states are also on board. The conclusions from an April meeting of EU research ministers say that universities, "should be supported through European and national schemes" to welcome students, researchers and academics whose freedom is under threat.
In a recent interview with Science|Business, EU research commissioner Mariya Gabriel said Europe should establish itself as a home for academic freedom. "This question is serious and deserves reflection. We cannot take it lightly," she said.
But Ehler says the EU should have moved on this sooner, as researchers face threats all around the world every year. "It should have happened earlier, because each year we lack the funding to help out dozens, sometimes hundreds, of researchers at risk. Europe is falling short here on its promise to be the most open, democratic and peaceful continent in the world," said Ehler.
The issue  
The Commission did not confirm whether Ehler's push to include researchers in member states and association countries is the reason behind the 'B' rating that was given to his proposal but the feedback, seen by Science|Business, confirms the claims.
Now, Ehler and the Commission are due to meet at the negotiating table to fine tune the terms of the scheme. This "re-assessment phase" should officially end on 20 August. If both parties are happy, the proposal would then have to be formally signed off by the European Parliament.
Whether an agreement is in sight is unclear. Ehler says the Commission did not give a detailed reasoning behind its thinking, but he believes member states' politics are to blame.
"That is a nice way of saying that the Commission expects resistance from member states who want to be able to violate academic freedom without interference from the Union," said Ehler. "This is from my point of view just utterly destructive for academic freedom in Europe."
The Commission spokesman said the Commission's assessment only judges the legal and implementation details of the proposal.
"The Commission's pre-assessment does not judge in any way the merit in terms of policy of a project or its political priority, it merely analyses whether the proposal may be implemented in compliance with the financial regulation taking into account also other legal and implementation aspects," the spokesman said.
Get the ball rolling
Universities and research organisations have been calling for a European support scheme for researchers at risk for years. The European University Association (EUA) first saw the need in 2015, following the Syrian refugee crisis, but has had little luck in arguing for increased support. Migration is a political issue and many stakeholders are difficult to convince. If Ehler's proposal gets through, it will be a big step in the right direction.
Michael Gaebel, director for higher education policy at the EUA, says the scheme is needed to compliment efforts in member states. While there are some support schemes, in countries such as Germany, UK and France, the services are overwhelmed due to the number of applications and scarcity of resources.
The other issue is that not all countries run such programmes and researchers at risk go to the few countries with available support.
Gaebel has not seen Ehler's proposal but calls for a pragmatic approach. While there has been a need for support for researchers at risk in Horizon countries in the past, it's important to get the ball rolling first.
Gaebel also notes including researchers from within the EU might be unnecessary thanks to free movement. "While I wouldn't exclude that this could be part of such a scheme, our emphasis would be on supporting researchers from outside the EU," he told Science|Business.
Science Europe, an association that bring together major public funding agencies and publicly-funded performing research organisations, has also been a long-time proponent of a European support programme for researchers at risk.
Its secretary general Lidia Borrell-Damián welcomes the push for a programme but says it should have clear definitions of risk. Some researchers are fleeing prosecution, others are fleeing war. While there are many legitimate reasons to seek help, the ability to provide support is limited and the EU must prioritise.
"Some scholars are facing death threats, some scholars are facing expulsion," said Borrell-Damián. "At European level, it would be very good to focus on political prosecution. We are defending what we call the European values of democracy, freedom, dialogue and knowledge."
But when it comes to location, Borrell-Damián notes the safety of researchers all over the world should be ensured. "For us, we can say that we do want to protect all scholars, and when a scholar is researching an issue from a scientific point of view, that should be allowed, it should not be restricted by any government," she said.