As she prepares to launch a new innovation agenda, EU research commissioner tells Science|Business that Russia's invasion is forcing the EU to take a more strategic approach to R&D in fields such as health, green energy and semiconductors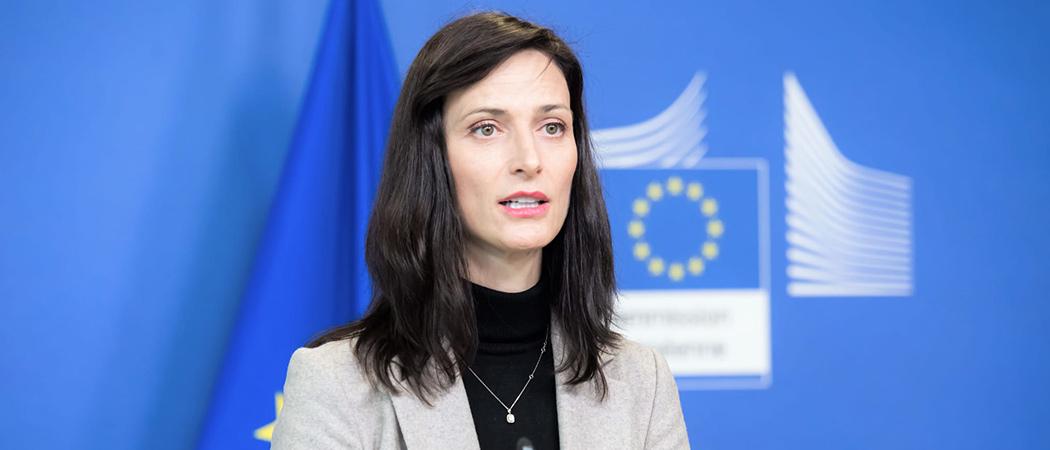 Russia's invasion in Ukraine has upended long-held dogmas on international cooperation, including in science and technology. The European Commission is now using that momentum to speed up the development of innovation and promote self-sufficiency in critical areas, such as green energy, semiconductors and health, EU research and innovation commissioner told Science|Business.   
"The war forces us to change the pace and to think strategically, and to also have allies that share our principles and values and can link words to actions," Mariya Gabriel said.
The EU's dependence on energy imports from Russia means the war and the sanctions that followed have resulted in rising prices and lower supplies of natural gas and oil, fuelling inflation and prompting some governments to ask citizens to reduce their energy consumption. The EU has been wanting to shift to greener energy sources for years, but the war is now forcing decision makers to accelerate the process.
Gabriel admits that certain technologies needed for the transition to green energy are not there yet and the EU needs to "speed up and change rhythm".
Similarly, the supply chain crisis in the aftermath of the COVID-19 pandemic has hit EU industry, causing a shortage of semiconductors, for example. In the face of these disruptions, the logical step is for the EU to end its dependency on imports in the energy and digital sectors.
To promote the move to self-sufficiency, the European Commission is next month due to launch five major initiatives to make the EU a global innovation leader in strategic fields. Gabriel says the bloc has a strong science base, but it needs to attract more private investment, invest in talent, adapt regulations to the needs of innovators, and close the innovation gap between new and old member states.
The new innovation agenda will also include a plan for pilot partnerships for regional innovation, in a bid to make Europe a powerhouse for deep tech start-ups, close the east-west innovation gap and speed up the development of technologies needed for the green transition.
Data published by the Commission, shows 2021 was a good year for the start-ups, with a record €100 billion invested. The EU also doubled the number of start-up companies valued at more than €1 billion from 44 to 89.
Now, Gabriel says, this progress needs to be backed by support mechanisms that help these small companies scale up and become champions and market leaders. "We have a really good chance to transform this new wave of innovation," and to "make Europe a leader in strategic domains like energy, agriculture, health," she said.
Further investments at a national level are also needed. Member states and the Commission are about to agree on taking forward the first round of a total of 20 policy actions laid out in the European Research Area (ERA) policy agenda.
It is up to the member states to decide which actions they want to implement, but Gabriel hopes decision makers will focus on a joint roadmap for low carbon technology that is linked to investments in deep tech, education and talent. "We also need to continue to look more closely at the question of research careers," said Gabriel. "ERA, and all the actions that we have, cannot work if we do not take an interest in this question."
In another initiative, Gabriel wants to build a clear overview of all technology infrastructures in member states. The EU has been mapping research infrastructures for a long time, allowing scientists from around Europe to choose the best labs for their experiments. A similar roadmap is needed for technology infrastructures, where companies can test and scale-up new technologies, such as road traffic safety measures or multi-material 3D printing.
"Where exactly are these infrastructures, how to allow access to these infrastructures and also connect regions that need to have this access," Gabriel said. "These are questions that I think we cannot leave unanswered if we want to advance."
Like-minded partners
Shifts in political priorities in the US under president Donald Trump, the 2016 UK referendum vote to leave the EU, and deteriorating relations with China, were followed by the pandemic and the war in Ukraine.
Collectively, these events brought an end to the vision of open science espoused by Gabriel's predecessor, Carlos Moedas, and to restriction-free international cooperation in science. But Gabriel says working with like-minded partners is still a prerequisite for achieving the EU's ambitions in research and innovation. "No single person can today offer a solution to energy dependence, no single person can accelerate [use of] hydrogen [as an energy source]," said Gabriel.
The Commissioner says in the current geopolitical context, cooperation in research and innovation offers as many risks as opportunities. "But if we are open internationally, it doesn't mean that we are naïve," Gabriel said.
The EU has recently made some progress in starting negotiations for a number of countries to become associated to the Horizon Europe research and innovation programme. Gabriel welcomed "positive signals" from Canada, New Zealand, Japan and South Korea, and hopes decisions will be made (at least in the cases of Canada and New Zealand) in early 2023.
However, despite progress with other countries, Gabriel admits UK and Switzerland will have to wait until broader political issues are settled.
The UK is planning to unilaterally change post-Brexit trade rules in Northern Ireland, while Switzerland has unilaterally pulled the plug on a long-term negotiation with the EU.
Gabriel says researchers and universities in the UK are an important partner to the EU and she wants "positive and stable" relations with the UK. "But that means to respect engagements, and not to take unilateral decisions," said Gabriel.
The case of Switzerland is different, but the same rule applies. Association is off the table until the two parties settle issues related to Switzerland's future contribution to the EU cohesion policy budget, access to the EU single market and the free circulation of people. "Then we can tackle association," said Gabriel.
"Honestly I prefer to keep a positive tone because I think we need to be creative, we need to find a real way to continue working together with these people," added Gabriel.