Commissioners sign off on experimental 'matrix' design for DG Research that also retains international division, ending months of speculation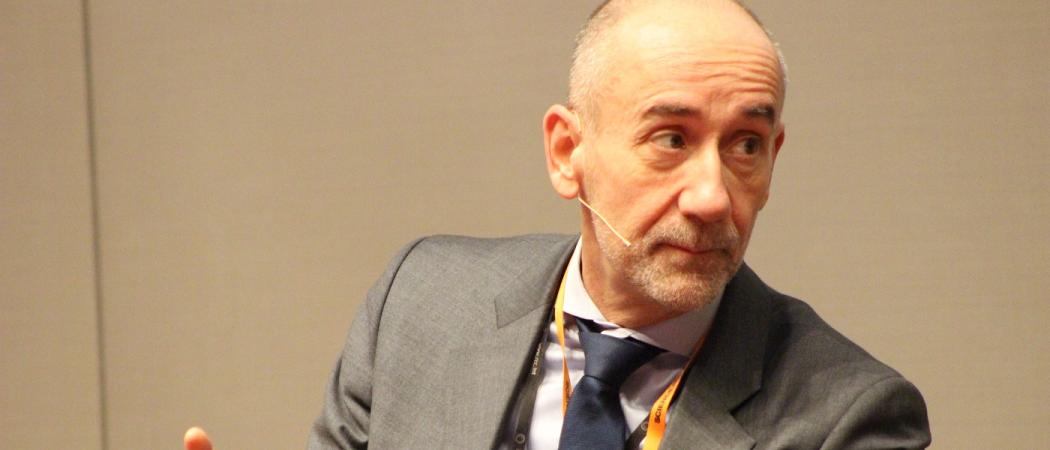 EU Commissioners approved on 30 April details of an experimental new "matrix" design for their research policy department, which its chief says will force staff to work together across bureaucratic lines.
"This is really about establishing an agile, modern, cross-cutting administration, which really can elaborate policies and projects differently," said Jean-Eric Paquet, director-general of DG Research and Innovation, known as DG RTD.
News of the shakeup first broke in January, but the details of how it would work and who would get which job weren't confirmed publicly until today. The reorganisation, effective 1 June, entails more than a third of the department's 1,463-member staff changing jobs internally, new reporting lines and planning systems, and new relationships with other parts of the Commission.
That sweeping a change – a first for the Commission with such a structure – will ripple in coming months through the wider world of universities, companies and ministries that deal the DG, forcing thousands to re-calculate who their key contacts are inside the bureaucracy. The DG administers the Framework Programme, currently called Horizon 2020 – with a seven-year budget of €77 billion, the third-largest funding programme in Brussels after agriculture and regional development. Many grantees and their representatives have spent years building relationships inside the DG.
The organigram released 30 April also confirms that DG RTD will retain its directorate for international cooperation, which in a draft leaked in January was slated for break-up. Instead, that group, though reorganised, will continue under Italian Director Maria-Cristina Russo. And Paquet confirmed that a new task force, under French Director Jean-David Malo, will be created to run the EU's new small-business technology programme, the European Innovation Council.
Paquet, a French official who came to the DG last year from the Commission's core administrative body, the Secretary-General's office, has been working on the reorganisation for more than nine months with EU Research Commissioner Carlos Moedas. In an interview, Paquet said the Commission intends with this reorganisation to break down silos within RTD itself and between different DGs. "After 10 years of a relatively stable structure it's also important to renovate a structure which also allows people and ideas to reorganise themselves a little bit differently – to open the windows, so to speak."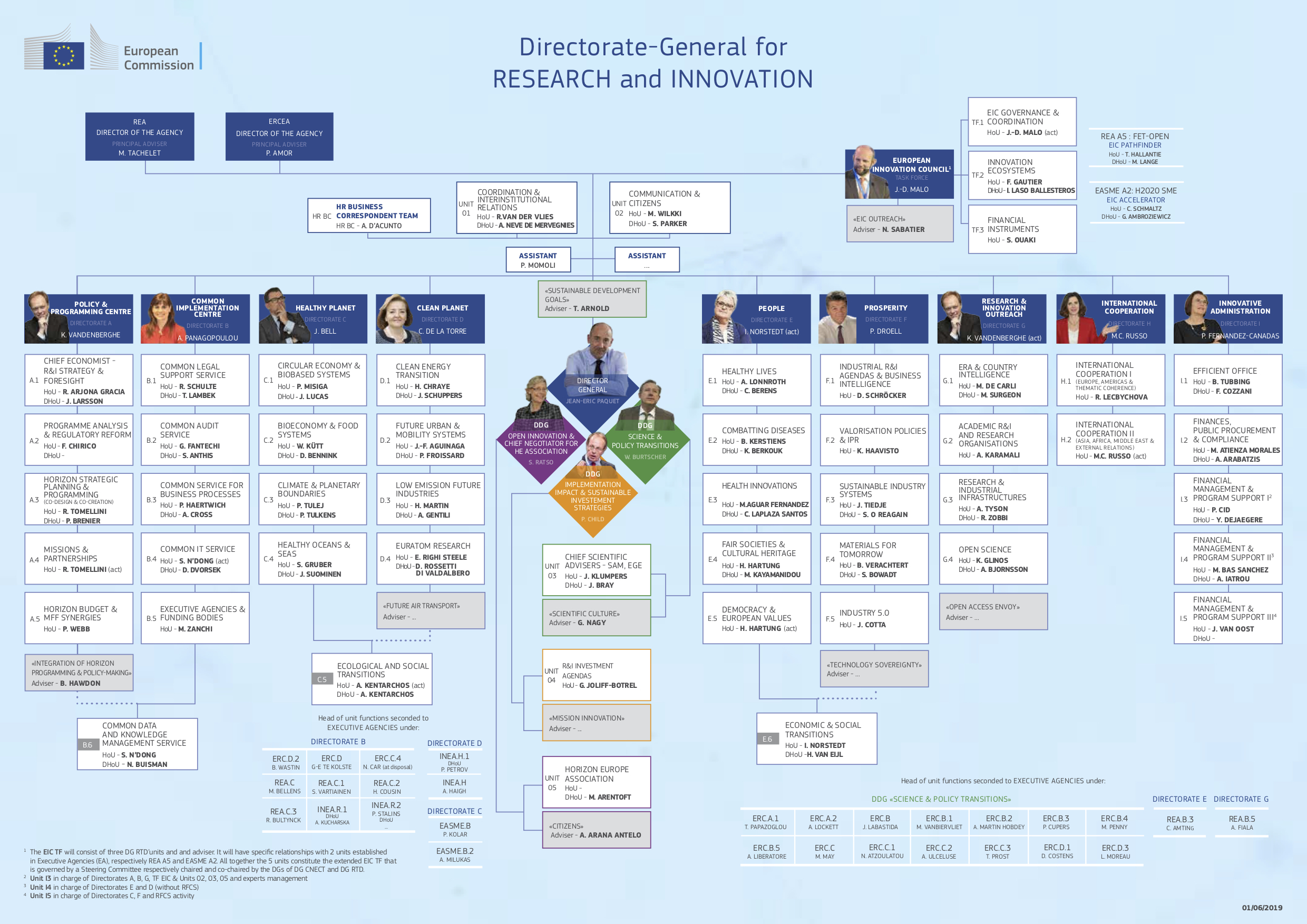 Collective responsibility for Horizon Europe
In an unprecedented move for Brussels, the reorganisation is intended to share responsibility for development of the main parts of the Framework Programme – hitherto run mainly by RTD - with other Commission directorates-general.  Instead, senior officials from the various DGs will meet regularly to plan the programme together, and senior officials will intervene in case of disputes. That, if it succeeds, would be a radical change from the current system – in which, for instance, RTD is often seen to be quarrelling with other DGs over budget and policy control.  
 Paquet said that "the [Horizon] budget is now to be implemented across Commission services. So we have had to reorganise the governance of the preparation of Horizon Europe accordingly." Paquet said the change is unique in the Commission to Horizon Europe – indeed, he agreed when asked if it would be, for the Commission, a kind of experiment. "Horizon Europe has really moved the boundaries of a modern implementation."
The watchword for Paquet is "co-creation." Rather than aligning responsibilities with how the budget is carved up, Paquet said staff will have to focus on shared objectives. He said the changes help Commission officials "to work across sectors - not just to say we do it, but to have to do it."
'No-one holds the pen'
In the new set-up for Horizon Europe, Paquet said that "around the table, you don't only have those DGs which used to have money [invested in the programme]; you will also now have all the others," such as industry department DG GROW and financial affairs department DG ECFIN, as well as RTD and Connect. He said that "no-one holds the pen" when it comes to signing off on priorities for Horizon Europe's main themes, known as clusters. "It's not a consultation, it's a joint co-creation effort."
The EIC "task force" will officially be part of DG RTD, but its steering committee will be chaired by Connect Director-General Roberto Viola and co-chaired by Paquet. It could be spun off into a separate executive agency, if the next Commission to take office late this year approves.
Fewer directorates will have broader remits
Another feature of the reorganisation is the internal matrix structure. Rather than continue the normal Commission pattern of at least five layers of management, the new organisation eliminates one layer and has his three deputies primarily managing broad policy areas across the DG: Estonian Signe Ratso for open innovation and international association, Austrian Wolfgang Burtscher for "science and policy transitions", and British Patrick Child for "implementation impact and sustainable investment strategies." They will each have a small staff unit reporting to them, but mainly work across the entire DG. Together with Paquet, the executives will be referred to as the RTD Board.
This kind of matrix structure isn't unusual in the world of multinational companies, but is rare inside any hierarchical government agency.
To handle specific policy areas, Paquet said that the new-look RTD will have "four main thematic areas," which are "healthy planet, clean planet, people and prosperity." These correspond to the names of four of the new department's nine directorates, down from the current 11.
Those four directorates have broad remits that overlap considerably, in contrast to the current division of responsibilities according to distinct themes, such as health, bioeconomy, and industrial technologies. The new design mixes things up by having each directorate work on a greater diversity of topics ­– for instance, "people" covers both health and cultural heritage – that are often closely related to similar matters covered by other teams.
Paquet said the organigram is "meant to show the contribution of European research policy to Europe's public policies generally and the challenges which our economies and societies are facing."
The other five directorates cover "policy and programming" for Horizon Europe, "common implementation," outreach to stakeholders in academia and industry, international cooperation, and "innovative administration," which will do the admin jobs.
A conjuring trick
While this reorganisation does not cut any staff, DG RTD has downsized over the years, which Paquet said was itself a reason to shake things up. "When you shrink, you have very few vacant positions open. So it's quite difficult for people to really move outside their immediate remit. So this really has allowed all staff to revisit what they are doing and find their place in the new system."
Paquet said that each of RTD's 1,463 employees – none of whom is being laid-off – was given three choices about what job he or she will do in the redesigned DG. Fifteen are still to be placed due to mismatches between their preferences and staffing priorities.
In a remarkable bureaucratic conjuring trick, Paquet has managed to cut the number of directorates without stepping on any of the current directors' toes. Deputy Director-General Patrick Child currently doubles as energy director and will relinquish his secondary role, while Jean-David Malo, Director for Open Innovation and Open Science, will lead the new EIC task force.
A few vacancies are still open. The current plan has Commission veteran Kurt Vandenberghe running two directorates at the same time – the "policy & programming centre" and "research and innovation outreach – in the latter case as acting director, pending recruitment of a permanent director. The current director for health, Irene Norstedt, is pencilled in as acting director for "people," but will have to apply and compete with other candidates to hold on to the job in the long-run.
Besides Russo, Vandenberghe and Norstedt, the remaining five directors are Anna Panagopoulou for the "common Implementation Centre;" John Bell for "healthy planet;" Clara de la Torre for "clean planet;" Peter Droell for "prosperity;" and Priscilla Fernandez-Canadas for "innovative administration."
The Commission will also appoint advisors on particular topics, including "technology sovereignty" in the "prosperity" directorate and "future air transport" in the "clean planet" directorate.
Paquet took the helm of DG RTD in April 2018 and began planning the reorganisation with the Commission's leadership in July. On 15 January this year, he presented the draft organigram to RTD's entire staff at a live-streamed event in the Charlemagne building in Brussels.