A complex compromise fashioned by the new Council president runs into political opposition as budget summit approaches. It's time to end the 'liar's poker', says MEP Ehler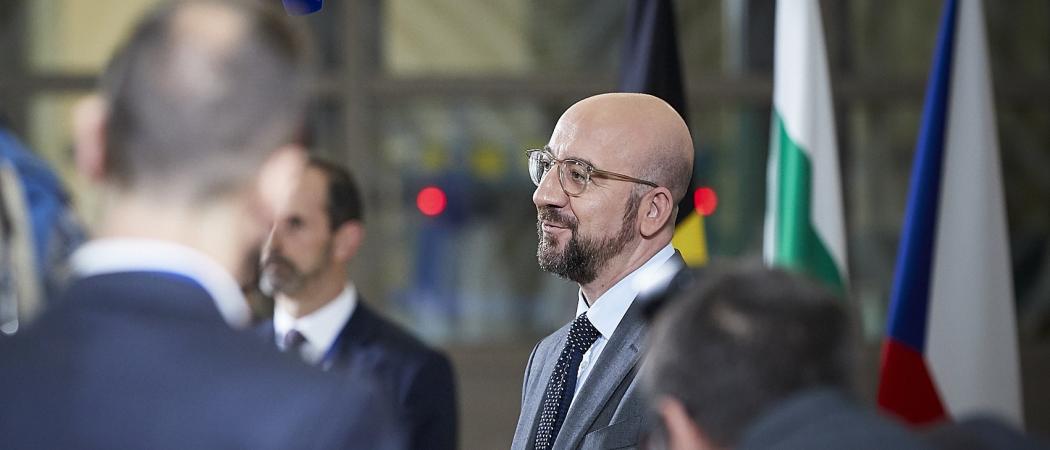 As European Union leaders gather Thursday for budget negotiations, Council President Charles Michel offered a compromise plan that would include limiting cuts to research funding to under €3 billion – but the odds of agreement appear long.
Michel's budget plan, developed after a round of visits to EU capitals by the new president,  is the latest attempt to break a deadlock between richer member states that want to spend less on the EU, and poorer countries determined to prevent cuts to cohesion funds, which are designed to help their economies catch up. Pleasing both sides means cutting other parts of the budget – like research. But advocates of research funding have been trying to cushion the blow.
A cut of this size, nearly €3 billion from the Commission's original proposal of a €94.1 billion, seven-year research  budget,  has been on the cards since December.
But as this week's  summit meeting approached, a parade of politicians – in both member-state capitals and the European Parliament – criticised his plan. For instance, in a statement today, the European People's Party, the centre-right and biggest voting bloc in the Parliament, said Michel's plan "lacks ambition." EU leaders. It said, "are constantly calling on the EU to do more to fight climate change, to better support Research and Innovation, to provide more scholarships to our students and to adequately protect our borders; in order to do that, we need a more ambitious budget, not a smaller one. This proposal endangers the implementation of all the Union's objectives." Likewise, two MEPs working on education legislation issued a statement decrying proposed cuts in the Erasmus+ budget for student study-abroad grants.
To some degree, the flurry of press releases is political theatre – putting down public markers for budget negotiations expected to drag on well into the Autumn. But it didn't help Michel's credibility as a deal-maker in his first few months in office. He became president of the Council, the body representing member-state governments, on 1 November, and arrived with a reputation in Belgium, where he was formerly prime minister, as a savvy operator.
But it is still too early to predict the outcome later this year of the budget talks. As a fudge to limit individual member state contributions, Michel is proposing to raise additional funds from the EU's carbon emissions trading scheme and a new tax on single-use plastics. He would also give national governments more control over how agricultural funds are spent, and divert a larger share of the cohesion budget to the poorest countries and those with declining populations.
In what looks like an attempt to win over Poland and Hungary, Michel's draft would also strengthen checks on the European Commission's power to withhold money from member states accused of undermining the rule of law.
The new budget plan was presented to EU countries' ambassadors on Friday, ahead of summit talks among prime ministers and presidents this Thursday. Over the weekend, French President Emmanuel Macron said the budget is being held up by "small differences" that are "not worth fighting over."
'A huge disappointment'
The proposed cut would leave Horizon Europe smaller than planned, but still larger than its predecessor, Horizon 2020, which draws to a close at the end of this year. It would also be a smaller cut than some feared: in November, German MEP and Horizon Europe rapporteur Christian Ehler warned the research programme could be cut by as much as €12 billion.
"If you go back to the original commission proposal and then look this, you can say ok, the damage is limited," said Kurt Deketelaere, secretary-general of the League of European Research Universities. "But we all agree that the commission proposal was far from enough."
The Commission proposal "is already much lower than needed to meet our priorities," said Ehler, "we should now end the liar's poker."
The European Commission published the original €94.1 billion proposal for Horizon Europe in May 2018. In addition to expanding on the work of Horizon 2020, the new programme includes ambitious plans for 'moonshot' research missions that would try to cure cancer and get to grips with climate change.
The European Parliament said the budget should be €120 billion, while researchers pushed for €160 billion. Given this, even a modest cut would be "a huge disappointment for the whole research and innovation community in Europe," said Deketelaere.
If the commission's inflation predictions are correct, Michel's deal would ultimately allocate €91.2 billion to Horizon Europe over 2021-2027, €2.9 billion less than planned.
Some observers have misread the cut as much larger, mainly because unlike the commission, the European Council does not add estimates of future inflation to its figures. Another source of confusion is that some budget documents add to Horizon Europe part of a loan guarantee fund for research and innovation investments under the InvestEU scheme, whereas others list it separately because it won't be spent on the research programme.
If Horizon Europe's budget is reduced, the axe could fall evenly across the entire research programme, or some parts could be cut more than others.
Deketelaere said funding for European Research Council grants and Marie Skłodowska-Curie scholarships – which are awarded to researchers in any field solely on the basis of merit – should be "untouchable." If there must be cuts, the new European Innovation Council, which will invest in helping high tech start-ups get off the ground, should be the "first victim," he said.
"The member states supporting this proposal should now clearly state which of the Programme's ambitions they would like to cut," said Ehler, "will it be artificial intelligence, our digital transition, the green deal or research on cancer?" 
The UK gave and the UK hath taken away
As one of the EU's biggest contributors, the UK's departure from the EU at the end of last month will blow a large hole in the bloc's future finances. Rather than meet the shortfall, some of the remaining net contributors have been calling for the budget to be cut. But countries that are net beneficiaries don't want to lose out on cohesion funds. Since every country as a veto, each has to be placated.
Unless there's a deal this week, haggling could continue over the coming months. That would mean Horizon Europe remaining under pressure of further cuts, until Michel is able to offer each side something they can live with: less national money to be paid in on the one hand, and less taken away from cohesion spending on the other.
Germany, the Netherlands, Austria, Denmark and Sweden have for some time been insisting on a budget of no more than 1 per cent of combined gross national income, though there are reports that the German position is now softening. In December, the commission's former research chief, Robert-Jan Smits, who played a key role in designing Horizon Europe, predicted that Germany may be willing to "pick up the bill" for the sake of securing a deal in good time.
Before Brexit, EU spending was 1.03 per cent of GNI; the commission's proposed post-Brexit budget would absorb 1.11 per cent. Finland's unsuccessful attempt at compromise, proposed in December when it held the rotating presidency of the EU Council, was for 1.07 per cent.
Michel is proposing 1.074 per cent, but his deal would raise more money from the EU's emissions trading system. Alongside a new tax on single-use plastics, officials say that would be enough to plug the hole left by Brexit.  
Similarly, while Hungary, Romania, and over a dozen other countries are resisting commission plans to cut cohesion spending and have called for current levels to be maintained, Michel's deal would cut €13.9 billion more than the commission, though less than Finland proposed to cut.
Michel's draft budget also contains various changes that look like attempts to win-over those countries angry about cuts – even if it doesn't allocate as much money to cohesion as they might like.
For example, another sticking point in the negotiations has been commission plans to cut the EU's massive agricultural budget. Michel would spend about €6 billion more on the Common Agricultural Policy (CAP) than the commission, member states would have more flexibility in how they spend the money, and a larger share of it would be available for direct payments to farmers.
The cohesion budget would also be distributed differently. The poorest parts of Europe would get a larger share of the funds available from cohesion, with less money available for better-off regions. Countries that saw a population decline of more than 1 per cent during 2007-2009 and 2016-2018 would also receive up €300-€500 multiplied by the total population drop during those years, plus inflation.
Michel's draft would require that a qualified majority of countries vote in favour before the commission could dock payments to countries it believes are undermining the rule of law, which looks like a concession to Hungary and Poland. The two countries are vocal advocates for the cohesion budget, and both have been the subject of European Parliament resolutions accusing them of flouting the rule of law. The earlier proposal had been to allow the commission to act as long there wasn't a majority vote against it.
This article was updated 18 February to reflect further developments. Nicholas Wallace contributed to this story.