Academy president hopes new round of negotiations with government will end 'unhappy situation' at Hungary's largest research network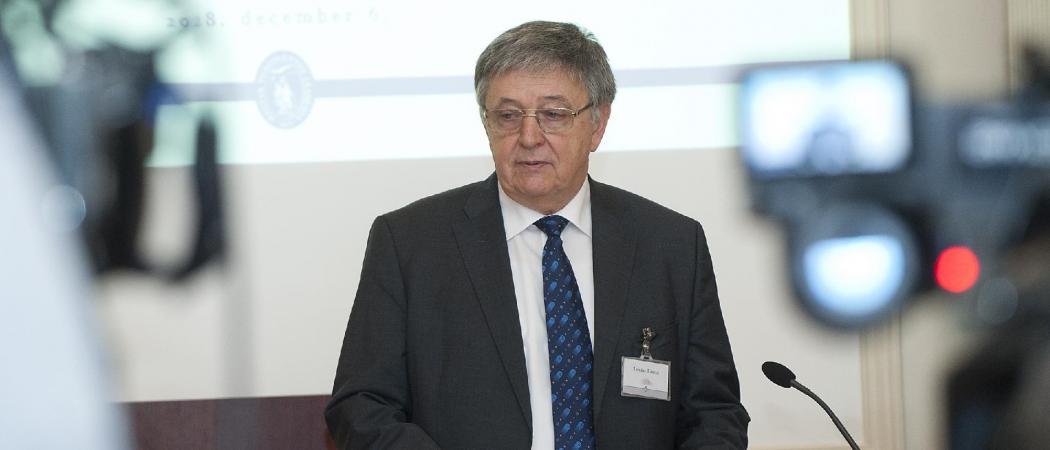 The Hungarian Academy of Sciences is to enter a round of high-level negotiations with the government, with its president Laszlo Lovász hoping to broker a deal that would safeguard the budget and the academic freedom of the academy's research institutes.
At the moment, the academy is "surviving by postponing programmes and scholarships," Lovász told Science|Business. "We are spending money earmarked for other purposes."
At the end of January, Hungary's national office for research, development, and innovation, a government agency under the control of the innovation and technology ministry, launched an "excellence programme" and invited the academy's research institutes to apply for funding to cover basic costs such as salaries and maintenance. In an open letter, the academy's researchers have criticised the plan for having unclear evaluation principles which could enable "arbitrary, politically motivated decisions."
However, at a meeting on Tuesday, the academy's board agreed to allow research institutes to apply for funding from the "excellence programme", provided that the government restores the academy's full 2019 budget. Lovász acknowledges that the competition in the scheme is "biased and unjust", as the academy's institutes that apply with proposals for basic maintenance costs will compete against research proposals from other institutions in Hungary. However, he hopes this will only be a temporary situation until the academy's budget is fully restored.  Applications, "will only be submitted if there is a guarantee that we get the basic support [to which] we are entitled by the budget law," said Lovász.
An amendment introduced by Hungarian minister for innovation and technology László Palkovics to the 2019 budget took 40 per cent of the academy's budget and put it under the government's direct control, a move which researchers see as an attempt to limit their freedom to study topics that clash with the government's proscriptive agenda. The academy is now fighting to regain control over its budget and negotiate an agreement with the government.
Previous negotiation attempts have not been successful, as the government is keen to plough ahead with its plan, which it says is intended to "modernise" Hungary's research and innovation system, by restructuring the academy's network of research institutes to support more applied research and boost innovation.
If no compromise on the academy's budget is found during the negotiations, EU research grants could also be affected. Usually, institutions that win European Research Council (ERC) grants make contractual commitments to offer basic support for projects, such as office space and basic infrastructure. If the academy's institutes can no longer afford to cover the basics, the ERC could consider it as a violation of the research agreement. "I hope it will not come to this," said Lovász.
ERC grantees are also free to take their projects and move to another EU country. Some may find the idea appealing, while universities and research institutes in neighbouring countries "would be happy to give ERC grantees a job," Lovász said.
In a letter to researchers, prime minister Viktor Orbán tried to soothe worried scientists and said the changes to the academy's institutes will move Hungary up EU innovation rankings. "It seems clear to us that increasing the added value of Hungarian industry is possible if our research institutes focus their resources on the areas of both basic research and innovation," Orbán said.
"I sincerely hope that a constructive dialogue on the new operating principles will begin as soon as possible," he added.
Applied research up, social sciences down
For the academy, any deal with the government would have to ensure the allocation of the promised budget and the independence and integrity of social sciences research institutes.
As things stand, Lovász believes there are "two points where freedom of research is threatened" by the government's plan. The first is the government's insistence on putting more emphasis on commercialisation and the financial rewards of research. The second is the claim that social scientists of the academy are spending public money on research that is critical of the government's right-wing agenda.
Lovász agrees that Hungary's innovation performance could be bolstered, but says this should not be at the expense of the academy's current infrastructure. "Our network [of institutes] is one of the strongest in Europe, but involvement in innovation could be better," he said. One suggestion to achieve this is for the academy to agree a plan with the government to set up a network in applied sciences, similar to Germany's Max Planck institutes. "The proposal has been made and it's worth starting a discussion to close this unhappy situation as fast as possible," Lovász said.
However, such a research network should have clear rules on who sets and control its budget and who appoints directors and governance bodies.  "The devil is in the details," said Lovász. 
In parallel with its goal of boosting applied research and innovation, the government has also taken a swipe at the academy's social scientists.
Last year, an article published by pro-government magazine Figyelo, entitled, "Immigration, homosexual rights and gender science – these topics occupy the researchers of the academy", claimed the research topics of the Centre for Social Sciences of the Hungarian Academy of Sciences are politically suspicious, and that the government should have a "greater insight" into the academy's work.
More recently, says Lovász, "there have been suggestions and rumours that our research institutes in economics, sociology and law might be closed down or moved to other institutes elsewhere, where they will not have appropriate possibilities to do independent research."
Lovász says it's normal that social sciences produce results which may be supportive or critical of government policies, but those research projects are "important and they should not be interpreted as political attacks."  
Instead of trying to suppress social sciences, the government should be asking social scientists for policy advice. "We would like to again negotiate some kind of direct channels to convey results to the government," said Lovász, suggesting that researchers should then be able to continue working on research projects which the government may not like.
"Scientific freedom means that people have to be able to choose their own research agenda," said Lovász." I have lived in an era where the goal of social sciences was to support the Marxist-Leninist view of the world and this made social sciences non-existent."