Science|Business is publishing all the newest – unapproved - versions of Horizon Europe work programmes for 2023 and 2024. Researchers across Europe can now get an early glimpse of what R&I projects could win funding in the next two years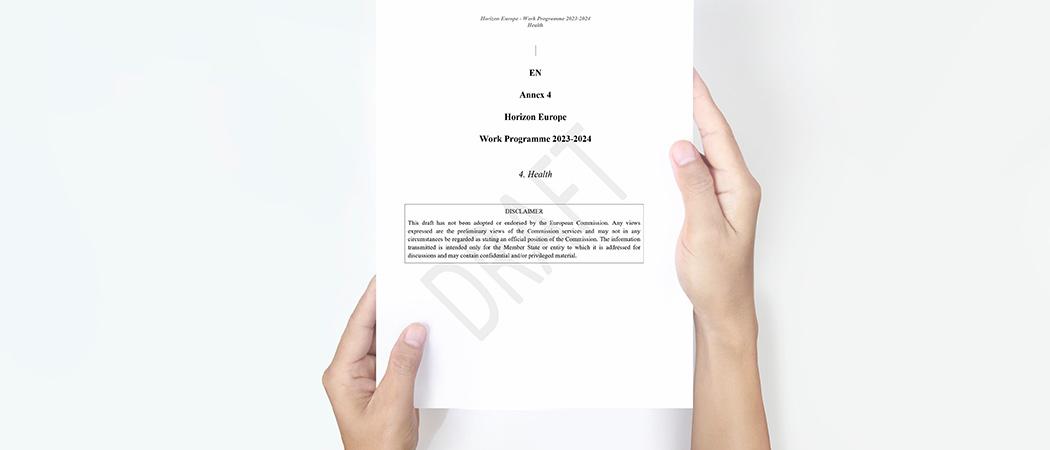 It's all here. The draft work programmes for the next two years of the EU's Horizon Europe research programme, which the European Commission has been keeping under wraps – for the most part – have been leaked.
Science|Business has published several earlier versions of the work programmes over the past ten months, as well as in previous years, in a bid to boost transparency. During the drafting stage the programmes are shared with member states and some selected stakeholders for their advice and approval. Depending in whose hands they land, they are often passed on to select research organisations.
Getting such early access allows some researchers to start preparing their proposals earlier than others, giving them an unfair advantage. Here's the full explanation why we believe the Commission should pre-publish these drafts – and why we are doing it instead.
These latest versions of the work programmes, published today, have been approved by member states and are now going through the Commission's internal approval process. They are still subject to change, and researchers should be aware if they start planning their projects around them any call could still be removed. Reportedly, most drafts won't change much, except for digital and security clusters, where some changes could be expected.
The formal work programmes for 2023 and 2024 are expected before the end of the year, with the first calls opening within a few days of adoption. One date floating around for the release has been 25 November, but Commission insiders say it is likely to be later than that. There are also reportedly no plans to pre-publish the work programmes, although this has been done in previous years and has been requested by most member states, according to insiders.
Here are the links and the breakdown of what you can find in the near-final versions of the documents.
More than €1 billion will be spent on health research next year and around €500 million in 2024. The largest chunk of funding, €551 million, will go to projects tackling diseases including cancer and other non-communicable diseases, as well as preparedness and response to health threats.
There's also significant funding for prevention, looking into environmental factors that have an impact on health, health care system transformation, including accelerating the development of personalised medicine, boosting the competitiveness of the health industry and creating digital health tools. The budget will also support the EU's cancer mission, aiming to save three million lives by the end of the decade, which will receive €116 million.
Cluster 2: Culture, Creativity & Inclusive Society
This cluster will get €291 million in 2023 and €260 million in 2024, for research into democracy and governance, cultural heritage and creative industries, and social and economic transformations.
Cluster 3: Civil Security for Society
The smallest of the six clusters for big collaborative projects will have a budget of €171 million next year and €161 million in 2024.
There's €69 million for projects helping fight crime and terrorism, €48 million for the management of external borders, €26 million for protecting infrastructures, €101.6 for cybersecurity, €51.5 million for increasing Europe's resilience to disasters, and €20.5 million for increasing the uptake of security innovation.
Cluster 4: Digital, Industry & Space
This cluster is all about boosting the EU's strategic autonomy, and there's a strong focus on the green transition. It's one of the biggest in the pack with €1.67 billion in 2023 and €1.12 billion in 2024.
The three biggest slices of this budget will go to environmentally sustainable and digitised production (€635 million), increasing autonomy in key strategic value chains (€560 million), and creating technologies for the Green Deal (€461.5 million).
There is also funding for data and computing projects, space-based infrastructures, services application and data, and to ensure human-centred and ethical development of new technologies.
Cluster 5: Climate, Energy & Mobility
As the EU's 2050 carbon neutrality deadline nears, the Commission wants to pump money into Green Deal-related research. There's €1.655 billion for climate energy and mobility projects in next year's calls and €1.112 billion the year after.
Energy will dominate the work programme, with over €1 billion for energy supply-related projects in the next two years. There's also  €208 million for energy efficiency.
Transport is another big theme, with €420 million to be invested in clean and competitive transport research and €231.5 million in smart and resilient transport and mobility. There's also funding for climate science and responses to it, and cross-sector Green Deal research.
Cluster 6: Food, Bioeconomy, Natural Resources, Agriculture & Environment
This cluster also has significant funding for sustainability-related projects. Its total budget for next year is €1.056 billion and €903.9 million for 2024, including funding for Green Deal-oriented research missions.
Research in biodiversity and ecosystem services (€326 million), food systems (€453 million) and circular economy and bioeconomy sectors (€326 million) dominate the work programmes.
There's also significant money to tackle pollution, reduce emissions, support for rural, coastal and urban communities, and governance for the EU's Green Deal.
The Commission will invest €614 million in the five missions in 2023. There'll be an update to the work programme next year, but thus far the budget appears to be lower than the €1.9 billion initially invested in 2021 and 2022.
There's funding to support implementation and demonstrators for all five missions, that are aiming to tackle cancer, help regions adapt to climate change, lead cities to climate neutrality, and improve Europe's waters and soils.
This time around, there will also be three joint calls demonstrating solutions for several of the missions at the same time. There's also a separate document on the climate adaptation mission.
Budgets and deadlines are still undefined but Acceleration, Pathfinder and Transition innovation programmes will continue. The work programme covers only 2023, as the EIC's programming is re-evaluated annually rather than every two years.
Marie Skłodowska-Curie Actions
The MSCA researcher mobility and training schemes will continue over the next two years. There's €885.95million  for doctoral training programmes, €531.22 million for postdoctoral fellowships, €159 million for staff exchanges, and €195.85 million for co-financing existing and new doctoral and postdoctoral schemes.
Widening participation and strengthening the European Research Area
The EU will invest €910.52 million in making its research ecosystem more equitable. It's enshrined in the Horizon Europe legislation that 3.3% of the budget must go into projects aiming to boost participation of regions that tend to underperform in the programme, most of which lie in central and eastern Europe.
Mirroring the calls from previous years, the Commission will continue investing in Teaming, Twinning, ERA Chair, ERA Fellowships and other calls.
The funding pillar for big science labs will get €320.26 million in 2023 and €333.80 million in 2024 from Horizon Europe.
The Commission has set aside funding to improve Europe's research infrastructures and maintain their global leadership, the European Open Science Cloud, and enabling the EU's green and digital transitions.
European Innovation Ecosystems
This part of the work programme funds projects to accelerate and strengthen innovation across the bloc as well as supporting the EU's partnership with the Eureka network, which provides financing for cross-border projects involving innovative SMEs. Its total budget for the next two years is €142.6 million.
This work programme has been officially published by the Commission.