EU needs an overarching body to coordinate policies and funding for academics affected by war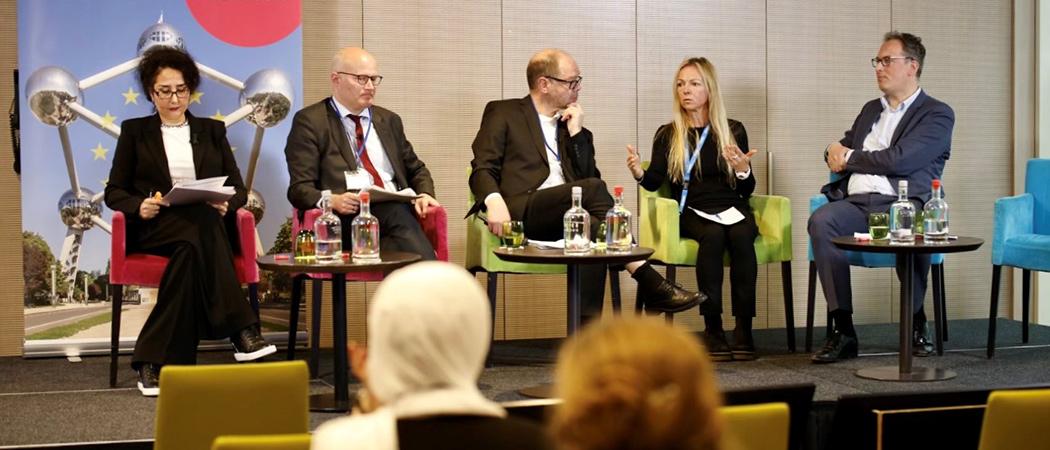 The German government is adding its weight to calls for the EU to come up with a coordinated plan to help students and academics from Ukraine and other countries going through war or other crises.
Michael Vorländer, head of the education and research unit at Germany's permanent representation of to the EU, said the number of Ukrainian refugees is high and the demand for inclusion in higher education and research institutions is growing rapidly. "We need to think big," Vorländer told a conference organised by the German academic exchange programme DAAD on Thursday.
"We get very positive signals from the European Parliament, from several members who are very supportive of establishing such a coordination mechanism or expert group," he said.
The comments were made just days after a group of academic cooperation organisations and university associations in Europe (including DAAD) sent a letter to the European Commission calling for the establishment of an expert group on students and researchers at risk and the scale up of existing initiatives that provide help Ukrainian students and academics.
The expert group would ensure EU institutions, member states and university associations can work together on coordinating funding schemes for Ukrainian refugees. "The EU should be a haven for international students and researchers that face the risk of persecution or that were forced to flee due to armed conflict," the letter says.
It's not the first time the EU has been asked to coordinate support for Ukrainian scientists. MEP Christian Ehler is planning to re-submit a proposal developed last year with fellow MEPs to set up a pilot for a scholars at risk fellowship scheme. The Guild of European research-intensive universities has called on the EU to simplify rules for the Erasmus+ education mobility programme and to set up a fund for researchers at risk.
The Commission has launched ERA4Ukraine, a portal with information and support services for researchers in Ukraine and those fleeing the war. But critics say the EU needs an overarching body that coordinates policies and funding for academics affected by war.
According to estimates by the United Nations' refugee agency UNHCR, eight million people have been displaced to Ukrainian territories less affected by war, while another four million have left the country. About 25% are of "college-going age," UNHCR education officer Manal Stulgaitis told the conference on Thursday.
Europe has not experienced a refugee crisis of this magnitude since the 1940s and handling it requires sustained funding for the medium- and long-term. An expert group of coordinators is needed to come up with funding and programmes to help Ukrainian academics.
What the Commission has done so far
Fernando Fonseca, policy officer at the Commission's directorate general for neighbourhood said policymakers in Brussels first focused on ensuring the safety of Erasmus+ grantees who were in Ukraine when the war started, then the Commission encouraged universities to think of ways to extend the stay of Ukrainian recipients of Erasmus+ fellowships.
The Commission's education and culture directorate general is now working on new actions to be added to the 2023 work programme for Erasmus+. "This may take some time, but we are looking at all flexibilities under the 2022 programme," said Fonseca.
The neighbourhood directorate general has €300 million available to help Ukraine, but not all will be going to students and academics. "There are many competing needs," Fonseca added. Given the limited budget and the expanding list of needs, the Commission is trying to adapt existing schemes. EU universities could route unused Erasmus+ money to Ukrainian students over the next 12 months. EU president Ursula von der Leyen has also asked the neighbourhood directorate general to look into the possibility of creating an online university for Ukraine.
The EU and its member states have rushed to help those who fled Ukraine, but many students and academics are still in the country.
According to Kyryl Naumenko, the chief of foreign affairs at the Ukrainian association of students, universities in the country initially focused on evacuating and relocating students and staff to safer cities, but now need to answer more complex questions about how universities can carry on with exams and dissertations, as well as preparing to recruit cohorts for the next academic year. "We need to keep the institutions going, but for that to happen we need enrolment," Naumenko said through a video link to the Brussels conference.