Research and education commissioners say they wish Central European University could stay in Budapest, while academics hit out at limp response from Brussels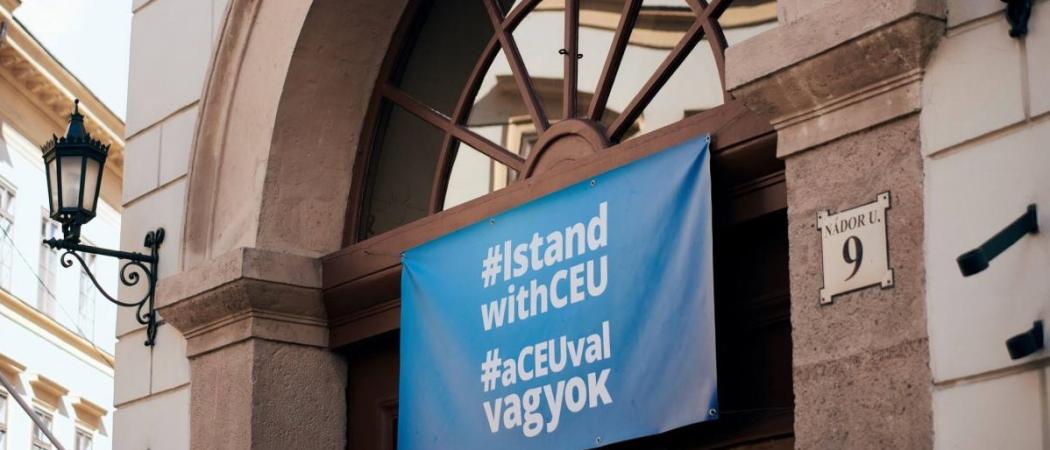 Academics are echoing Central European University's disappointment with the lack of tougher response from Brussels after the Budapest-based university was forced by the Hungarian government to move 80 per cent of its courses to Vienna.
In an open letter to EU presidents Jean-Claude Juncker, Antonio Tajani and Donald Tusk, a group of university professors says Hungary is to blame for the university's eviction but EU's "inaction in the face of the Hungarian government's attacks on CEU has also contributed to making [it] possible."
CEU decided to move all of its US-accredited courses to Vienna after an amendment to the Hungarian higher education law made it impossible for the university to issue US degrees in Hungary.
The professors, who all hold EU-funded Jean Monnet chairs, say this could have been avoided if the EU had imposed "meaningful sanctions" on the Hungarian government. They also decry the decision of the European People's Party, a group to which all three EU presidents belong, to keep Hungarian prime minister Viktor Orban and his party Fidesz, as members.
"We call on all three of you – and the institutions that you lead – to issue strong denunciations of the Hungarian government's expulsion of the CEU ahead of the next European Parliament elections," the letter says.
Supporters of CEU have repeatedly called upon the European People's Party and its leader Manfred Weber to oust Viktor Orban and his party from the group, but Weber has refused to do so.
CEU rector Michael Ignatieff said last week that despite many declarations of support, "no leverage has been exerted on the Hungarian government from the outside."
Mild response from Brussels
EU commissioner Tibor Navracsics, a Hungarian national and member of Fidesz, thinks a way can be found to allow the embattled university to stay in Budapest. "I would like Central European University to be able to continue to operate in Budapest, and I still believe that it is possible to find a solution," said Navracsics in a statement emailed to Science|Business. However, Navracsics did not say how that could be achieved.
In contrast, EU research commissioner Carlos Moedas suggested that the move to Vienna is unlikely to be reversed.  "I am deeply troubled about this, but also respect CEU's decision," Moedas said in a statement emailed to Science|Business. "The Commission understands the fundamental values at stake and we have taken all legal means available to ensure the university could continue uninterrupted," said Moedas.
In December 2017, the European Commission referred Hungary's new higher education law to the European Court of Justice on the grounds that, "it disproportionately restricts EU and non-EU universities in their operations and needs to be brought back in line with EU law," said a Commission spokesman. "We are deeply concerned that CEU had to move to Vienna," he said. Although the case was referred a year ago, the court has yet to meet and discuss the case.
The European Parliament has also voted to pursue action against Hungary, after a damning report from Dutch Green MEP Judith Sargentini, outlining concerns about threats to academic freedom, the judiciary, free speech, and minority and refugee rights in Hungary. That vote has not budged the Hungarian government.
EU research grants are safe
CEU is a beacon of academic and research excellence in central and eastern Europe. It is the most successful applicant for EU research grants in the region, winning more than €19 million for the 2018-2026 period.
As yet, it is unclear how the university will split the research grants between its Budapest and Vienna campuses, but the Commission says that a change of name or address of a beneficiary does not affect the eligibility for funding. The decision to move CEU's grants to Vienna could only have an impact on eligibility if the location of the projects is specified as an additional eligibility condition.
For other universities in Europe, the case of CEU should be used as a reminder "about what has taken place and that this must not happen again," Lesley Wilson, secretary general of the European University Association (EUA) told Science|Business. "It's a terrible blow for everybody."
Despite having 850 member universities, the EUA feels it only has "a soft force against a political leader" and cannot exercise more pressure on EU institutions. "I feel rather impotent," Wilson said.
CEU leadership is still dismayed at the lack of tougher response from EU institutions. "I can't deal with the world I would like. I have to deal with the world that I've got," said Ignatieff. "Welcome to 2018."