MEPs exercise rarely used powers in bid to force Hungary to reverse violations of EU law, including a lingering threat to shut the Central European University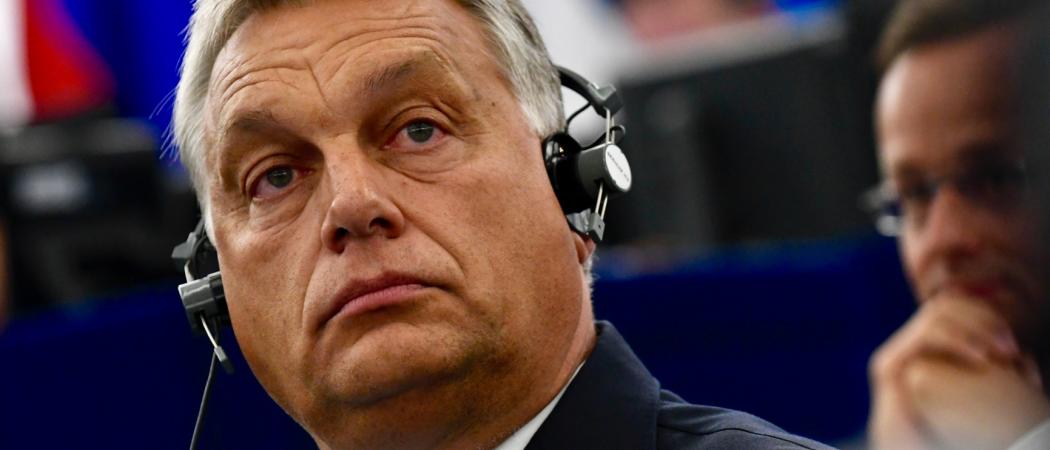 The European Parliament has voted to pursue action against Hungary on a charge of eroding core democratic values and the rule of law, triggering article 7, the strongest possible sanction against a member state, which could ultimately lead to Budapest losing its right to vote on EU decisions.
In a highly charged vote in Strasbourg on Wednesday, MEPs voted 448-197 vote in favour of the action. For a long time, the vote looked unlikely to pass, because the largest faction in Parliament is the centre-right European People's Party (EPP), which includes Hungarian prime minister Viktor Orbán's national conservative Fidesz party in its ranks. However, a large majority of Orbán's allies abandoned him.
The vote followed publication of a damning report from Dutch Green MEP Judith Sargentini, outlining concerns about threats to academic freedom, the judiciary, free speech, and minority and refugee rights in Hungary. There is a "clear risk of a serious breach" to the EU's democratic values, the report says.
One particular concern of MEPs is the way in which the Hungarian government has imposed restrictions on the Central European University (CEU) that may force the closure of its Budapest campus. That issue was enough to shift the loyalties of a former Orbán ally, German MEP Manfred Weber, president of EPP, who said the CEU is "in a critical situation".
Weber, a candidate to become the next European Commission president, voted against Orbán, saying, "Freedom of science is a fundamental value in the EU."
Not willing to compromise
Orbán, who flew to Strasbourg on Tuesday to take part in the debate, dismissed the report in a fiery speech, saying it was undemocratic and an "insult" to the Hungarian people. At a press conference in Budapest on Monday, foreign affairs minister Péter Szijjártó called the report, "a collection of qualified lies."
Orbán's allies in Strasbourg deserted him when it became clear he did not intend to back down or offer any compromises. "I don't have to compromise; these decisions have been decided by the Hungarian electorate. We could [compromise], but it wouldn't pass in the Hungarian parliament. This has been settled," Orbán said.
Hungary faces separate legal action by the EU on matters ranging from the treatment of civil groups to its threat to censure CEU.
No certainties on CEU
In response to criticism over his treatment of CEU, Orbán told MEPs to visit the university website and see messages posted to reassure its students that the institution will carry on regardless of its location.
"It says that CEU is guaranteed to be open in the future as well," said Orbán. However, the Hungarian leader failed to address the university's contingency plan to move out of Budapest if it cannot continue to issue both US and Hungarian diplomas.
In a written response to the Sargentini report, the Hungarian government dismissed accusations it is restricting academic freedom, arguing that other EU countries also have special legal requirements for foreign universities.
"Sweden, the Czech Republic, Poland, the Netherlands and Greece, or multiple states of Germany have much stricter rules in many aspects than the new Hungarian law," the government said.
In the Parliament on Tuesday, Orbán accused Weber of a "double standard" over the CEU, claiming academic restrictions were stricter in Weber's native Bavaria.
Hungary now joins Poland in being subject to article 7. Orbán has said he will use his voting right to block the article 7 procedure against Poland, and it can be expected that the Polish government would be willing to return the favour.
Academic freedom under threat – a brief history
In April 2017, a new law requiring foreign universities to maintain a campus in their home country was widely interpreted as a direct move against CEU.
In a bid to satisfy this requirement, CEU signed an agreement with New York State's Bard College in September 2017. However, the Hungarian government is yet to confirm whether this arrangement complies with its education law. Thrust into a period of prolonged legal limbo, CEU opened talks with the city of Vienna to set up an alternative campus there.
In another move seen as threatening academic freedom, the Hungarian government this year proposed changes to its research funding system, putting the newly formed Ministry for Innovation and Technology in charge of decisions over what research topics can be funded or not.
The government sparked further international backlash when a minister in the Prime Minister's office, Gergely Gulyás, announced that as of September 2019 the government would not finance or accredit gender studies courses, saying, "The state does not wish to finance [these] educational activities."
Universities and academic associations across Europe and the US have hit back against the various attacks, arguing that the government should keep universities independent from political, religious and ideological interests, and leave students and researchers to decide what and where to study.
In the most recent threat to academic freedom, CEU was forced to "temporarily suspend" an EU-funded research project on migration worth €134,000. This followed a new law that came into effect on August 24, which puts a 25 per cent tax on any activities related to immigration.
It is unclear whether the EU vote will force Orbán to sign the agreement that allows CEU to continue in Budapest. The future of gender studies is also uncertain.
In a meeting with Orbán on Monday, US Ambassador to Hungary David Cornstein emphasised the "shared interests" of the two countries "on a range of issues, including security cooperation, Russia's aggression in Ukraine, energy security, and Central European University."