A year after announcing its ambition to ensure secure internet connections from space, the European Commission says it will provide industry with €2.4B to spur development of Europe's own ultra-secure quantum-encrypted broadband system to do this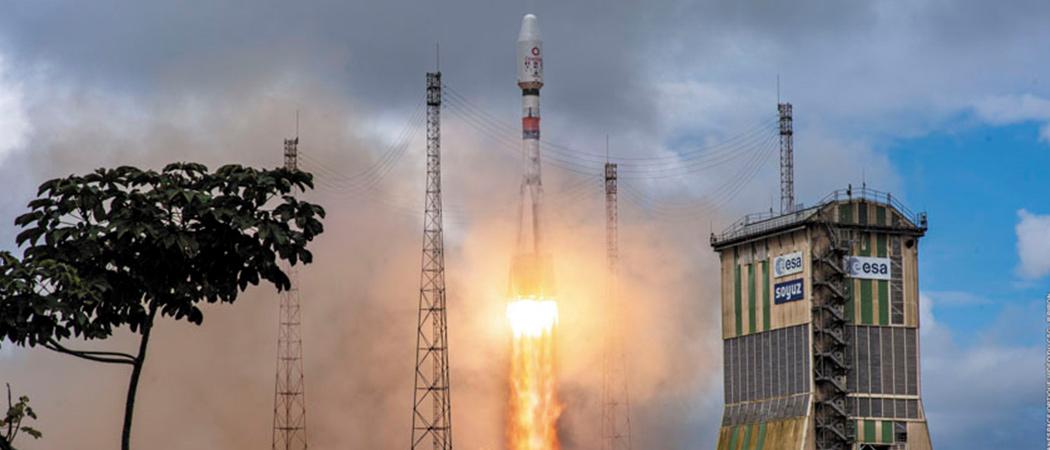 The EU is to set up its own low-earth orbit quantum-encrypted satellite communications system, with the European Commission pushing industry and member states to get to work on the €6 billion project as early as next year.
The new broadband system will provide government and commercial internet services, over-riding the shortcomings of earth-based systems and enabling quantum-secured internet connections throughout Europe and Africa. It's one more plank in moves towards securing the EU's strategic autonomy, with Starlink in the US and OneWeb in the UK already building advanced, low orbit satellite internet constellations.
Secure satellite-based broadband, offering high download speeds and low latency, is seen as critical for technologies now reaching the market such as driverless vehicles and telemedicine, and for increased security and connectivity for governments, public services and the military.
"Europe needs to be in the constellation business for our sovereignty and for efficiency purposes," French president Emmanuel Macron told the European Space Agency's Space Summit this week.
Relying on foreign technologies is out of the questions, Macron said. "Industrially but also democratically it would not be acceptable."
The Commission is proposing to invest €2.4 billion, including €430 million from the Horizon Europe research programme, to get the project going.
Most of the balance will funded through a new EU fund, Union Secure Connectivity.
Industry has welcomed the plan, which is still hanging on EU policymakers hashing out the final terms before it can come to life.
Olivier Lemaitre, secretary general of the industry association Eurospace, believes the proposal is relevant and timely, but said, "The approach of having a budget coming one third from the Commission, one third from member states and one third from industry is certainly very innovative but might prove difficult to implement."
SMEs want to be involved in developing the satellite system and hope to see small scale projects funded under the programme. "We want to see SMEs playing an important role there," said Hans Bracquené, director of the industry body SME4Space.
"We think that here SMEs can play not only [the traditional role of] subcontractor, but themselves bring innovation solutions, technologies. That's why we plead for small programming," Bracquené said.
Quantum-secured and autonomous
Operating in low earth orbit, the satellite network is designed to provide low-latency broadband across Europe and Africa, and to provide redundancy in case of faults with terrestrial networks.
The system will be used by governments and European institutions, and be open to the private sector to develop commercial services.
Ensuring the security of the system is a critical requirement, to stop the threat of cyberattacks. Lemaitre said the use of quantum encryption is what differentiates European ambition from broadband mega constellations that are currently being developed elsewhere.
"Today, what you might call competition would rise if private companies would actually be able to offer secure connection in Europe, and this simply does not exist for the moment. The competition is simply not there," said Lemaitre.
Following its departure from the EU, the UK government struck out on its own, acquiring a majority stake in OneWeb in July 2020, and putting in $500 million to complete construction of the company's satellite constellation. OneWeb announced its latest successful launch last week and now has 428 satellites in orbit, with a further 214 to launch to complete the global network.  
The European Commission's proposal builds on the European Union governmental satellite communications (GOVSATCOM) programme, which has a mission to ensure secure communication for critical government uses. Its development phase started last year.
But with the need for secure and widely available broadband now evident in non-government sectors, the Commission wants to see an enhanced network meeting both government and civilian needs. 
EU internal market commissioner Thierry Breton, who put forward the initiative a year ago, said it is, "Our Galileo moment in terms of connectivity," a reference to the EU's independent global satellite navigation system.
Industry too, hopes this success can be replicated in the EU's third space system. "We know the Galileo and Copernicus [earth observation system] set up, which has proven its validity, so I hope that the same method of working can be found here as well," said Bracquené. "But there are a lot of stakeholders, parties involved that will need to align further to come to a workable solution."
Further progress is now in the hands of member states and the European Parliament, which will have to negotiate the final details of the plan before work can start. EU space ministers held the first informal meeting to discuss the proposal this week.
If it gets the go-ahead, development will start next year, with initial services opening at the end of 2024 and the system expected to be fully operational from mid-2027.