'We need to be more offensive and aggressive,' says EU Internal Market commissioner Thierry Breton, as he outlines a plan to put hundreds of communications satellites into space to run the internet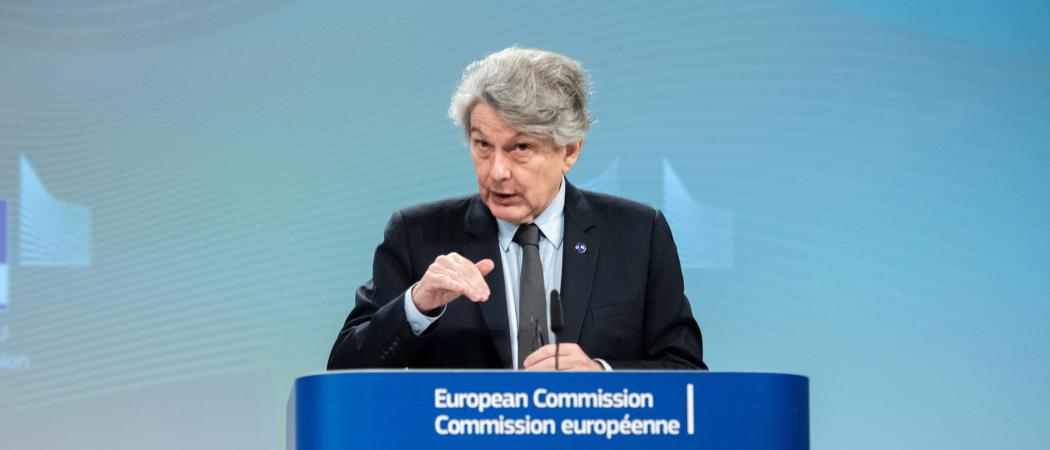 The EU is pledging big investment in a new era of space commercialisation, joining a queue of companies and governments aiming to provide internet service from space.
The idea is to send a constellation of hundreds of internet-beaming satellites into orbit. EU Internal Market Commissioner Thierry Breton this week said he wanted to get going as soon as possible.
"My objective is to go fast," he told the 13th European Space Conference on Tuesday. "And therefore it would be appropriate that the Commission puts forward this year a proposal to the European Parliament and the Council so we can move concretely."
Breton said he has commissioned a study to determine the scope of the system, with feedback due by April.
The EU initiative coincides with the booming private sector push into space, promoted by extremely rich backers like Elon Musk, Jeff Bezos and Richard Branson.
"SpaceX changed the market and we need to catch up with them," Hugo André Costa, a member of the board of the Portuguese Space Agency, told the conference.
The proposed EU internet system is similar to Starlink, a mega constellation of tens of thousands of orbiting transmitters being sent into orbit by Musk's SpaceX.
A similar constellation is underway at online retailer Amazon, while the UK government has paid £500 million to acquire 45 percent of a satellite operator OneWeb, with the aim of providing blanket internet coverage.
"Mastering the digital flow is key for the future," said Hervé Derrey, CEO of Thales Alenia Space, the French-Italian aerospace manufacturer.
Derrey, whose company is to provide hardware for the Lunar Gateway, a US-led mission to build a space station around the moon, said Europe is trailing efforts from companies like Microsoft to expand cloud computing into space. Cloud providers have seen a surge in demand since the COVID-19 outbreak, as more businesses use their services to support working from home.
"We have to do better than that," Derrey said. "We can't let the GAFA [Google-Apple-Facebook-Amazon] go alone in this race."
'Offensive, aggressive push'
To rise to the occasion, the EU's space spend is being bumped up, with Breton promising "the largest ever EU-level budget for space" of €13.2 billion in the next seven years, to cover a range of satellite launches.
Over the past decades, Brussels has backed big space efforts like GPS-rival satnav Galileo and climate mapping Copernicus, but officials now recognise they have catching up to do in other areas.
There is heightened awareness of the need to create more home grown space infrastructure and avoid reliance on rivals. A new urgency is visible, as the EU tries to catch up with the huge private space sector push in the US, and keep pace with China's rapid advances, which include the first ever landing on the far side of the Moon in 2019.
Breton, who is a former head of the IT company Atos, called for "a more offensive and aggressive strategy" to ensure Europe remains in the game for launcher technology, and keeps independent access to space.
"The standards for launchers are currently being redefined outside of Europe. We must ask ourselves: will our current approach successfully get us to 2050, considering the disruptions in the sector that we all observe? I strongly doubt it," Breton said.
He called for a "European Launcher alliance" to set a course for the next generation of technologies to "ensure an autonomous access to space".
Ignoring the opportunities and threats posed by next-grade space technology is simply not an option, officials and company heads said.
"There is a limit to what we can do with optical fibres [on earth] – we don't have that limitation in free space, which is the reason why quantum works [so well] there," Derrey said. "The bad news is that the quantum technologies will increase the level of security risk. This is why we need to raise the bar."
A giant leap for EU?
In the shadow of the continent's giant aeronautics companies, there's a small but growing space industry in Europe, competing to send satellites and other hardware into orbit faster and cheaper than ever before.
A host of young companies are breaking onto the scene, such as Pangea, which is aiming to make reusable rockets; Exotrail, which makes propulsion systems for small satellites; Anywaves, which builds satellite-mounted antennas; and AerospaceLab, which builds satellite platforms.
Advances in technology and computer chips have enabled smaller satellites to perform the same tasks as their predecessors, bringing space into wider reach for companies.
To support space-related start-ups, the EU is pledging €300 million via its first ever investment fund for the sector, the InnovFin space equity pilot. According to Breton, the fund, launched last year, will eventually swell to €1 billion.
The money will target activity in what has been dubbed "new space", a more commercial push in an industry historically dominated by governments and the military.
While this sector is getting off the ground in Europe, "the big valuations are still American," said Bogdan Gogulan, CEO of private equity firm Newspace Capital in Luxembourg. Finnish space start-up ICEYE is an exception, with the company raising over €100 million to date, Gogulan said.
Over two-thirds of all space investment in the last 15 years happened in the US, even as it makes up only 40 per cent of the global market. "Europe is significantly underinvested in space," said Gogulan. It is not enough for space companies to show a record of winning research grants, they need "sticky" funding, meaning a reliable flow of money, he said.
Fears for space collisions
The quickening space race leaves the world more open to large unknowns and risks, officials say.  
"There's a disaster waiting to happen," said Ekaterini Kavvada, director of development and innovation at the Commission's directorate for Defence Industry and Space. She warned of a "drifting island of debris" that's ready to cause havoc to European space assets. "I'm afraid this is a reality, one that poses a threat for the safety of orbit traffic," she said.
There are an estimated 5,000 satellites in space, only 2,000 of which are functioning. Kavvada counts over 500 collisions and explosions in recent years.
Any collision could leave the EU's Galileo or Copernicus satellites "severally compromised", she said. "Think of the impact on our security, safety and economy." Growing space clutter could also ruin scientific research by blocking our view of the stars, scientists warn.
The European Space Agency (ESA) is planning a clean-up operation, preparing a small spacecraft with robotic arms to start removing debris by 2025, said Rolf Densing, the agency's director of operations. He is challenging industry to come up with ideas to make it happen.
"We are 'hands-off' as much as we can. This is the way to go about it: to give more responsibility to the private sector," he said.
As space becomes more accessible to companies, Densing estimates there will be 10,000 satellites in orbit by the end of the decade.
"We are [already] getting hundreds of collision warnings a day. We have to fly a collision avoidance manoeuvre [on agency assets] every two weeks or so," he said.
He spoke about a Sentinel-1 satellite that was struck two years ago, resulting in a pierced solar array. "It's one of the few satellites that has a selfie camera, so we were able to take a very nice picture of it," he said.
'Shockingly-pink elephant'
Densing has hopes for advanced machine learning and artificial intelligence tools to help manage all the space traffic, but ultimately politicians will have to do something about it, he said. "We need to act. It calls for more regulation. It reminds me of the traffic on a German autobahn. There's a speed limit but almost everyone drives a bit faster than permitted."
Only half of all satellites are decommissioned, Densing said.
GMV Aerospace is a Spanish company that runs 24-hour collision avoidance for 10 satellite operators. "This is becoming a bigger issue," said Jorge Potti, the company's general manager.
"It's an elephant in the room that is painted in shocking pink," said Luca Rossettini, CEO of D-Orbit, an Italian space firm. "Because we cannot stop the growth of satellites."