MEPs warn the European Commission's ambitious agenda in artificial intelligence and greening the economy are stretching limited resources thin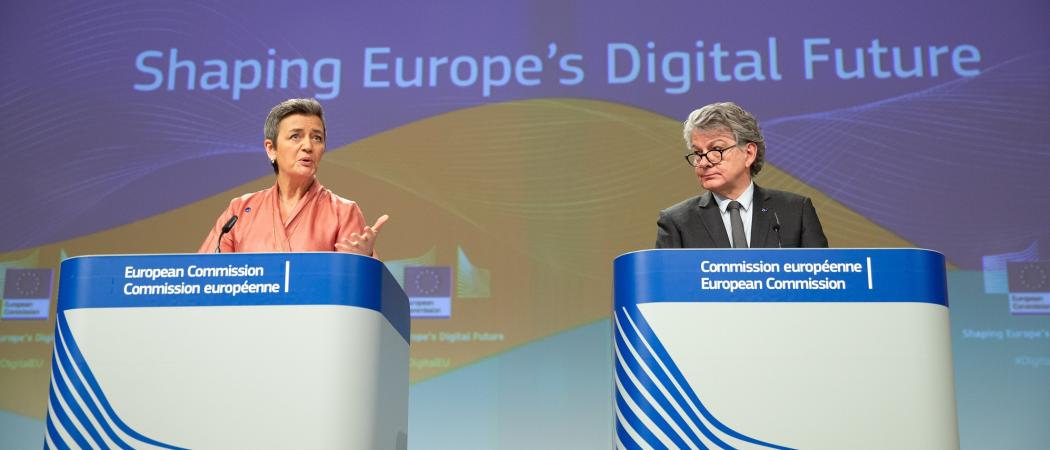 The European Commission's newly unveiled plan to build "a lighthouse centre of research, innovation and expertise" in artificial intelligence (AI) has hit an immediate hurdle: a looming budget crisis.
The AI lighthouse is part of broader ambitions to pull in up to €20 billion every year for the next decade from private and public funds for AI research. To stimulate the private investments, the commission wants to pool money from the Digital Europe programme, Horizon Europe and the European Structural and Investment Fund.
Just a few hours after the launch of its white paper on AI, together with a broader strategy for harnessing the power of EU industrial and public data, the commission got its first warning from the European Parliament. MEPs are not pleased with president Ursula von der Leyen piggybacking the innovation agenda onto an already constrained budget for 2021 – 2027.
The commission is coming up with "a lot of new plans but there's no new money" to pay for them, German MEP and Horizon Europe rapporteur Christian Ehler warned EU commissioner for internal market Thierry Breton, in a meeting of the industry committee on Wednesday. "A lot of commissioners want the same budget to spend several times," Ehler said.
As Ehler noted, commission executive vice president Frans Timmermans has also been pleading with the parliament for more money in the next EU multiannual budget, in this case for a €100 billion programme to make Europe the first climate neutral continent. "[Timmermans] wants [money] for the Green Deal, you need it for the digital strategy," Ehler said. Both these requests are on top of the "given negotiated programme" for Horizon Europe.
Reshaping to support AI
Over the past two years, EU funding in AI has gone up by €1.5 billion. In 2016, Europe spent €3.2 billion on AI research and development, way below the whopping €12 billion that was spent in North America, or the €6.5 billion in Asia.
Experts say the discussion should not be so strongly focused on the budget, but on reshaping existing EU programmes to increase support for AI. "All budget items in the [next EU budget] have to be AI intensive," said Andrea Renda, senior research fellow for digital innovation at the Centre for European Policy Studies, a think tank. "I am not passionate about money going directly to AI," Renda said.
On Wednesday, von der Leyen said the EU should "encourage businesses, researchers and innovators to develop AI," but did not give any hints as to how the ambition will be funded. She has previously told MEPs her agendas in AI and climate need more money, and that the new multiannual budget should, "anchor Europe's position as world leading research region."
EU leaders are meeting tonight to discuss a budget proposal by EU Council president Charles Michel that would see cuts to the Horizon Europe R&D programme of just under €3 billion, as part of attempts to reach agreement on the multiannual financial framework, which has to be approved by member states and voted through by the European Parliament by the end of the year.
Early reactions to Michel's proposals indicate member states do not foresee a final deal on the budget just yet, with leaders still bickering over how much money their countries should contribute to the budget and whether the new innovation agenda should carve out funding from programmes traditionally reserved for agriculture and cohesion policies.
Winning the new digital war
In the AI white paper the commission sets out plans to capitalise on the potential of EU industrial data generated by companies and public data collected by governments, local authorities and healthcare systems, and to take a different approach to AI than China and the US.
Both are way ahead of the EU. China has invested massively in AI research, including in the development of facial recognition technologies that are being applied for government surveillance. Meanwhile, US tech companies are using their unhindered access to personal data of billions of people on social media to feed the machine learning research that underpins the development of new products and services.
Europe has not managed yet to challenge their dominance and come up with alternatives to US and Chinese models.
Breton said the EU is generating a huge wave of industrial and public data. "I want European businesses and our many SMEs to access this data and create value for Europeans, including by developing AI applications. Europe has everything it takes to lead the big data race," he said.
"We recognise that we missed the first wave battle on personal data," said Breton. The US platforms did require "not rocket science." Rather, the likes of Google and Facebook "won" because, for better or worse, they had a "coherent" data strategy, he said.
With the benefit of hindsight, the EU now understands this, and Breton said the commission's new data strategy and plans for the development of AI will help the EU to lead its own digital revolution in "human-centric" AI, based on Europe's large amounts of underexploited industrial and public data.
"The battle for industrial data starts now," said Breton. "We have everything in Europe to win this battle."
Marcello Ienca, an AI researcher at ETH Zurich, agreed the EU can win the digital battle, "through better governance and [a] human centric approach". Europe's new approach has long-term advantages, Ienca said. "It will reduce the risk of technological backlash and foster the development of AI and data infrastructures for public good."
Making sense of industrial data
Introducing the new digital strategy, EU executive vice-president Margrethe Vestager said AI is about data management. "The more data we have, the smarter our algorithms," she said. But as things stand, a "majority of data collected today [in the EU] is never used." The commission's goal is to give companies and researchers better access to data.
Breton will be in charge of building a single market for data, to support development of new AI applications in fields where the EU can take the lead.
The proposed "European data space", will unlock unused data, allowing it to flow freely within the EU and across sectors. Citizens, businesses and organisations will be empowered to make better decisions based on insights gleaned from non-personal data. That data should be available to all, whether public or private, start-up or tech giant, the whitepaper says.
To enable this, the commission will establish a regulatory framework for data governance, access and reuse, creating incentives for data sharing and establishing practical, fair and clear rules, which comply with personal data protection, consumer protection and competition laws. It will make public sector data more widely available by opening up high-value datasets across the EU and allowing their reuse.
Massimo Craglia, an AI expert at the commission's Joint Research Centre (JRC) told MEPs on Monday that Europe should focus on its strength in business-to-business applications, robotics and connected vehicles.
While digital competitiveness in the US and China relies on large, centralised data stores, the commission argues that model will become less relevant as 5G networks become the new standard in telecommunications and start to power Internet of Things applications. That way, most of the computing will move to connected devices at the edge of networks, away from the large computing facilities of today.
"The US is strong on platforms, China on facial recognition, but Europe is trying to find its own space," Craglia said.