Europe needs technology proving grounds where industry can test and scale up new products. Christian Ehler MEP says this will lower the cost of bringing innovation to market and help Europe reach its green energy goals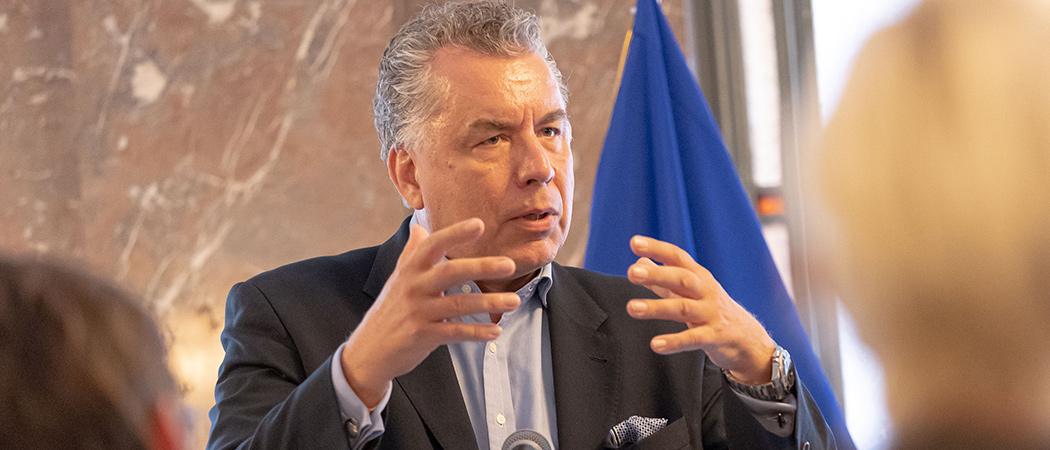 The EU should have a strategy for technology infrastructures in place by the time it launches the next research and innovation framework programme, says Horizon Europe co-rapporteur Christian Ehler MEP.
"I want to see this come off the ground in the coming years," he told the European Association of Research and Technology Organisations today. "At the latest, in the next framework programme, we should have a matured programme for technology infrastructures in Europe," Ehler said.
Earlier this week, EU research and innovation commissioner Mariya Gabriel confirmed the European Commission is interested creating a clear overview of all technology infrastructures in member states.
This would mirror the effort the EU has been putting into mapping research infrastructures for the past 20 years as part of ESFRI, the European Strategy Forum on Research Infrastructures, a body involving representatives of member states and associated countries together with the Commission. The map then feeds into decisions about the construction of shared research infrastructures and supports competitive and open access to use these facilities.
The ESFRI roadmap enables scientists from around Europe to choose the best labs for their experiments.
A similar roadmap is needed for technology infrastructures, providing information on facilities, equipment, capabilities and support services where industrial players can find support to commercialise new products, processes and services, in full compliance with EU regulations.
In common with research infrastructures, technology infrastructures require high investment both in setting up, and in keeping up, with the state-of-the-art. Currently, there are large regional differences across Europe in terms of financial support, fragmentation and transnational accessibility to existing facilities.
Gabriel said the EU needs a clearer picture of where these infrastructures are and how to open them up to companies and innovators.
Making the green economy a reality
The move to formulate a more ambitious and shared vision to support industry scale-up and technology diffusion at EU level is in part prompted by the EU's realisation that it lacks the technologies needed to transition to green energy and to develop its own semiconductors.
On Wednesday, MEPs adopted their position on three draft EU laws aimed at combating climate change and reducing greenhouse gas emissions by 55% by 2030. MEPs say the package will help the EU transition away more quickly from fossil fuels and free itself of expensive and polluting energy imports from Russia.
However, Ehler said that while the legislation is laying the foundation for the "the biggest investment programme" in science and technology, the EU needs to help the private sector become less risk averse if the grand plans for a green economy are to become a reality.
"From my point of view, Europe is world leading in engineering and in science. That combination makes Europe the perfect place for deep tech innovation, however, our risk averse nature makes it difficult to get this off the ground," said Ehler.
A decades-old mantra paints Europe as a great scientific powerhouse that is not always backed by enough risk takers in the private sector. Ehler said a wider use of technology infrastructures could lower the cost of development because they are usually run by excellent researchers, which means that companies could use external know-how and expertise to advance new innovations.
The Commission says technology infrastructures will complement large research labs, focusing on moving technologies from lab to market.
To get things moving, the Commission will launch a call to establish an advisory board that is expected to identify pilot areas and scope out the needs of the industry. "The Commission is in a position to launch this call before the summer break," said Anna Panagopoulou, director for European Research Area and innovation at the Commission's research directorate.