In her speech to MEPs, Ursula von der Leyen also called for an equivalent body to the Intergovernmental Panel on Climate Change, with a brief to 'set minimum global standards" for safe and ethical use of AI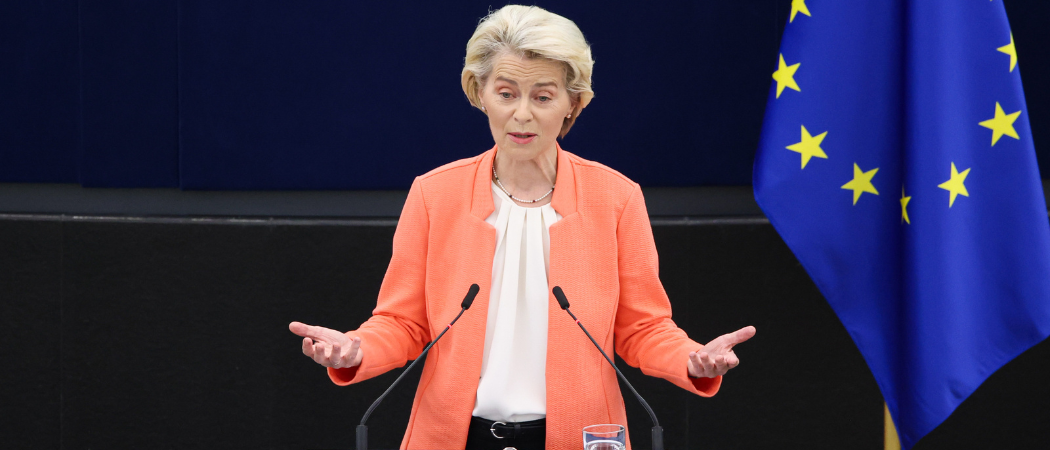 European Commission President Ursula von der Leyen announced a new initiative to fast track access for artificial intelligence start-ups to Europe's high-performance computers to train their models, as she called for a global approach to understanding the impact of AI, modelled on the Intergovernmental Panel on Climate Change (IPCC).
"Europe has now become a leader in supercomputing, with three out of the five most powerful supercomputers in the world. We need to capitalise on that," she told MEPs in Strasbourg on Wednesday, in the last state of the union address before EU elections next June.
"But this will only be part of our work to guide innovation," von der Leyen said. "We need an open dialogue with those that develop and deploy AI."
IPCC makes an invaluable contribution in providing the latest science on climate change to policymakers. "I believe we need a similar body for AI – on the risks and its benefits for humanity, with scientists, tech companies and independent experts all around the table," von der Leyen said. "This will allow us to develop a fast and globally coordinated response."
This body would be built on the three pillars of "guardrails, governance and guiding innovation," said von der Leyen, as she also stressed the need for open dialogue with AI developers. "This dialogue happens already in the US, where seven major tech companies have agreed to voluntary rules around safety, security, and trust."
The Commission will work with AI companies, so that they "voluntarily commit" to the principles of the EU's proposed AI Act "before it comes into force," said von der Leyen.
With negotiations ongoing, the AI Act could be adopted early next year, but von der Leyen warned, "We have a narrowing window of opportunity to guide this technology responsibly."
Earlier this year the G7 agreed to develop a joint code of conduct in AI and von der Leyen stressed the importance of working towards global standards with the EU's partners.
While the focus is on managing the risks associated with AI, she also pointed to the benefits. "It will improve without any question healthcare, boost productivity, address climate change. We need it."
Moving to net zero
As she approaches the end of her term in office, von der Leyen talked up how one of her central policy initiatives, the European Green Deal, has shaped the focus on addressing climate change into an economic agenda. This has, "given a clear sense of direction for investment and innovation," she said.
"In the last five years, the number of clean steel factories in the EU has grown from zero to 38. We are now attracting more investment in clean hydrogen than the US and China combined," she noted.
Starting this month the Commission will launch a series of 'clean transition dialogues' with industry, with the aim of supporting each sector in drawing up a business model for their decarbonisation.
But the subtext of the speech reflected how the EU is in danger of losing out on the development of its clean tech industries. As a case in point, wind power – once one of Europe's biggest success stories – is now feeling the strains of reduced investment, high inflation, project delays and the lure of huge subsidies being offered in the US Inflation Reduction Act.
In response to these pressures, von der Leyen announced the launch of a 'European Wind Power package', saying, "We will fast-track permitting even more. We will improve the auction systems across the EU. We will focus on skills, access to finance and stable supply chains."
Another example of where Europe took a lead and then faltered is in solar power. Here, von der Leyen pointed a finger of blame at China. "We have not forgotten how China's unfair trade practices affected our solar industry," she said. "Many young businesses were pushed out by heavily subsidised Chinese competitors."
To head off a similar situation in electric vehicles there will be an anti-subsidy investigation into cheap electric vehicles from China, with von der Leyen saying "their price is kept artificially low by huge state subsidies".
Strategic autonomy
All of this echoes the theme of strategic autonomy, which has been central to her mandate. The EU proved it could pull together to jointly fund the development of novel COVID-19 vaccines. There needs to be similar EU level support for other key technologies, through common European funding, von der Leyen said, urging the parliament and member states to come to a "quick agreement" on the Commission's proposal for the new Strategic Technologies for Europe Platform (STEP).
"With STEP we can boost, leverage and steer EU funds to invest in everything from microelectronics to quantum computing and AI," von der Leyen told MEPs.
Europe's strategic autonomy has also come under threat because of lack of access to essential raw materials. "Just think about China's export restrictions on gallium and germanium, which are essential for goods like semiconductors and solar panels," said von der Leyen.
She announced the first meeting of the Critical Raw Materials Club, a global network of partners keen to develop their own critical raw materials industries, will be held later this year.
Access to supercomputers
The initiative on access to the EU's supercomputers to train AI models will facilitate access for "ethical and responsible" AI companies, a European Commission spokesperson told Science|Business. It "will be fine-tuned with the aim to have a dedicated and swifter access track for SMEs and AI start-ups."
Kimmo Koski, CEO of CSC – IT Centre for Science in Finland and coordinator of the consortium which manages the LUMI supercomputer in Kajaani, welcomed the announcement, but stressed access is not the main issue.
Europe's supercomputers are already available for AI research. "The largest projects in Finland are AI, and some of the EU projects also have an AI flavour," he said.
"For start-ups or companies in general, if they don't have a tradition of using high performance computing, they need people to help them adapt their code to the system, and education [in using] the tools, for example. I think the important thing in addition to resources is to find ways to fund support services for start-ups."
Similarly, Andrea Renda, senior research fellow at the Centre for European Policy Studies, said the initiative is "a good idea, and a necessary condition for creating a better environment for our researchers and start-ups to develop powerful AI solutions for the future. But it's not sufficient."
Issues around data access, cloud storage and processing, and skills would still remain, with Europe exposed by its reliance on US-based cloud providers, a lack of data availability and a shortage of data curation expertise.
"This computer infrastructure will be competing with the ever-growing infrastructure of the large tech giants, which do not only have unbelievable computer infrastructure one can use, but they also provide the cloud-based environment where you can have a full stack of services to customise your solutions, mostly starting from foundational AI models," Renda said.