European Commission President Ursula von der Leyen's visit to the US results in agreement to a 'transparency dialogue' over incentives given to the clean tech industry, in a move to prevent huge US subsidies luring companies from Europe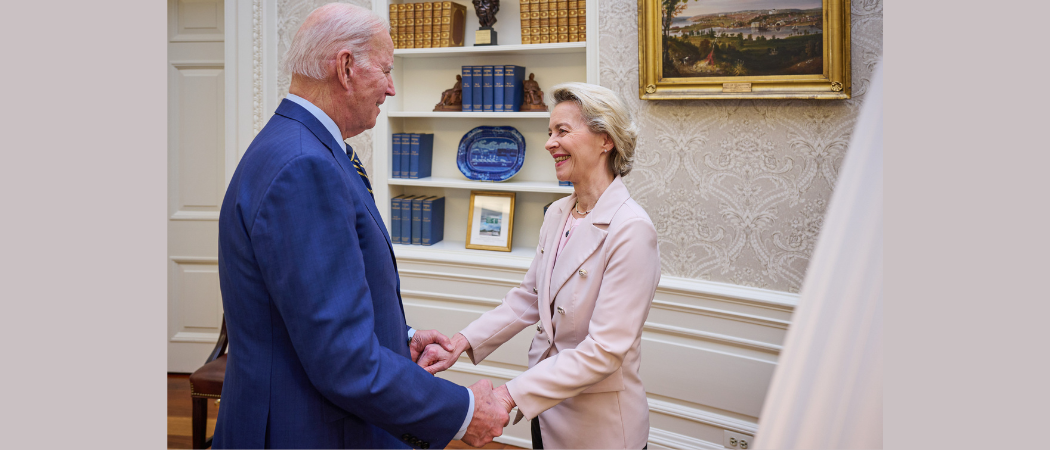 EU President Ursula von der Leyen and US President Joe Biden have moved to defuse the tension over the massive subsidies the US is pumping into green technologies in the Inflation Reduction Act (IRA), saying they will coordinate their respective incentive programmes so they are mutually reinforcing.
In a joint statement last Friday, von der Leyen and Biden committed to address the climate crisis and to building resilient, secure, and diversified clean energy supply chains.
The rapprochement came after the EU reacted to the IRA by relaxing its state aid rules to give greater firepower to the EU Green Deal Industrial plan. The move will allow member states to give subsidies to batteries, solar panels, wind turbines, heat pumps, electrolysers and carbon capture technology, in a bid to persuade European green tech companies not to relocate to the US to pick up more generous subsidies there.  
The IRA, a sweeping $700 billion bill that promises millions of dollars alone for offshore wind development, including a 30% tax credit for certain projects, has caused consternation in the EU because of the vast sums and tax breaks being promised to develop clean energy.
European hydrogen producers and researchers, for example, fear that the subsidies to US industries could decimate EU efforts to become a world leader in the technology. The bill could make the US a far more attractive place to set up shop for hydrogen producers, giving them a $3 tax credit per kilogram of clean hydrogen produced.
Speaking following her meeting with Biden, von der Leyen said it is great that there is such massive investment in wind and clean technologies with the IRA, but she wants to make sure the EU remains competitive.
"Indeed, we want to match it with the Green Deal Industrial Plan," she said.
The meeting between the two presidents aimed to soften competitive fears and deepen their cooperation, including a plan to diversify the mineral and battery supply chains critical to developing clean technologies with "trusted partners" and reducing "unwanted strategic dependencies."
That includes immediately starting negotiations on a targeted critical minerals agreement that would count such minerals extracted or processed in the EU toward requirements for clean vehicles in the IRA.
The two sides said they would set up a Clean Energy Incentives Dialogue, to coordinate their respective incentive programmes and avoid disruptions in transatlantic trade and investment flows.
"We are working against zero-sum competition so that our incentives maximise clean energy deployment and jobs—and do not lead to windfalls for private interests," they said.
The dialogue will become a part of the EU-US Trade and Technology Council. It will also boost information sharing on non-market policies and practices of third parties, such as those used by China, providing the basis for joint or parallel action and coordinated advocacy.
There was also a commitment to prevent the leakage of sensitive emerging technologies, to "destinations of concern." Existing EU and US controls relating to exports, inbound investment, and research cooperation now need to be upgraded to correspond to the changing geostrategic environment.
"We have a common interest in preventing our companies' capital, expertise, and knowledge from fueling technological advances that will enhance the military and intelligence capabilities of our strategic rivals, including through outbound investment," the statement says.
Canada association to Horizon Europe edges forward
Earlier in the week, Von der Leyen talked to Canada's Prime Minister Justin Trudeau about accelerating clean energy innovation, during a two day visit. The two leaders said they would establish a bilateral Green Alliance to grow economies that are climate neutral in the coming decades. They also discussed how to improve collaboration to advance low-carbon manufacturing.
The leaders committed to further digital cooperation through an EU-Canada Digital Partnership focused on objectives for artificial intelligence, research and innovation on next-generation networks, international connectivity and cyber security. No details of any specific collaborations were available. 
They also moved forward negotiations that started last November for Canada to become an associate member of the EU Horizon Europe research programme.
"Association to Horizon Europe is the strongest form of collaboration offered by the EU in the area of research and innovation," an EU spokeswoman said. "It will enable researchers and organisations in Canada to collaborate on equal terms with entities from the EU Member states."
The negotiations are ongoing, and she couldn't comment further, but the goal is to come to an agreement in the spring and have Canada formally associated with Horizon Europe this year.