Blanket subsidies to generate hydrogen in the US are already tempting European producers to set up manufacturing sites across the Atlantic. The issue became a flashpoint in recent negotiations between Washington and Brussels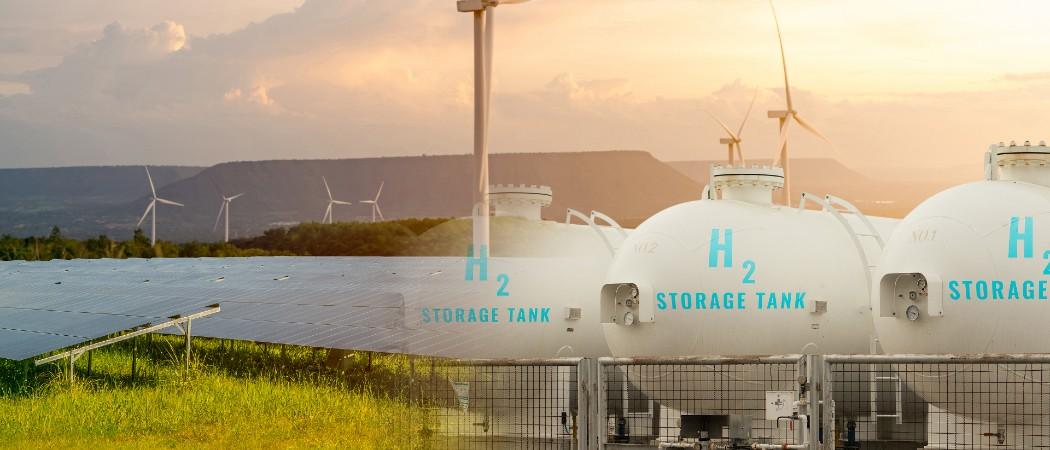 European hydrogen producers and researchers fear that vast new subsidies to US industry could decimate EU efforts to become a world leader in the technology, with conflict over the issue overshadowing a meeting between negotiators earlier this month.
Brussels has launched multiple initiatives to prime green hydrogen production in the EU, with a goal to produce 10 million tonnes of the renewable fuel by 2030, and import 10 million more. "We want to maintain our European trailblazer's position," said Commission president Ursula von der Leyen in a speech last week.
But the Inflation Reduction Act (IRA), a sweeping $700 billion bill that offers support to a wide range of green technologies, is set to make the US a far more attractive place to set up shop for hydrogen producers. It will give them $3 tax credit per kilogram of clean hydrogen produced, at a stroke making it competitive with hydrogen made from natural gas (methane).
"The IRA is not good news for the EU," said a statement from the board of Hydrogen Europe Research, a consortium of research institutions. "Europe's competitiveness is already hampered due to soaring energy prices and the IRA comes as an additional challenge to face."
"This is huge," said Daniel Fraile, chief policy officer of Hydrogen Europe. "It's making it very, very competitive."
The question for Hydrogen Europe members is whether the EU would launch a similarly attractive scheme, he said, or whether they would be lured to produce hydrogen in the US. "In Europe, we don't see that that supporting environment coming at the speed required," Fraile said.
The IRA has caused consternation in Brussels, as policymakers fear it will make European green technologies uncompetitive. The issue loomed over the recent Trade and Technology Council (TTC) where EU and US leaders met in early December.
Attention has focused on US credits for domestically manufactured electric vehicles. EU leaders are concerned these subsidies will mean their own car manufacturers get undercut in the race for the electric market, and also that European car battery companies will be attracted to set up US manufacturing facilities.
Domestic content requirements
But Brussels' concerns are much broader. EU policymakers involved in the TTC negotiations believe that credits designed to reward US-made parts across a range of green technologies including hydrogen – so-called domestic content requirements – dwarf the value of subsidies going to electric vehicles.
European negotiators believe some of these domestic content requirements are illegal under World Trade Organisation rules. 
They also fear that US hydrogen subsidies are so big, the price for renewable hydrogen could even end up being negative. This could make it risky for the EU to import such cheap hydrogen from the US, with the possibility that Brussels is forced to put up trade barriers to protect its own industry.
In November, during the lead up to the TTC meeting this month, the EU sent the US a litany of complaints against nine of the IRA's tax credit provisions, critiquing schemes to support everything from clean aviation fuel to green electricity production.
The IRA could result in a "significant diversion of future investment and production, threatening jobs and economic growth in Europe and elsewhere," it said.
Specifically on hydrogen, Brussels warned that US subsidies will create "negative effects for the EU in terms of investment decisions in the hydrogen industry and a risk of adverse effects to the EU's interests".
"What really unites [provisions in the IRA] is this idea that you have local content requirements," said Tobias Gehrke, a senior policy fellow at the European Council on Foreign Relations. "The whole idea is to bring manufacturing jobs to America. That's definitely a sticking point. Hydrogen is the EU's dream."
In theory, the US $3 hydrogen subsidy is uncapped, and should last for 10 years. But there is some scepticism that this support will last if the costs of it balloon, or the political wind changes. "It's so open ended, but I don't believe it won't come with some eventual limitations," said Fraile.
Still, hydrogen producers in Europe aren't unhappy with the IRA, Fraile stressed. "They will go and invest in the US as an attractive new market," he said.
"It's great that the US finally woke up and said, we're going to do something with hydrogen, but they are a lot faster than in Europe," Fraile said.
European hydrogen support
The EU is putting significant sums behind green hydrogen production, but in a way that producers say is more limited and bureaucratic than what is proposed in the US.
In the autumn, von der Leyen mooted a €3 billion so-called hydrogen bank to guarantee purchases of renewable hydrogen to support demand.
It has also set up a special fund to back hydrogen projects, known as an Important Project of Common European Interest, which gets around normal state aid rules. Last summer, the Commission announced €5.4 billion of funding under this vehicle.
The problem is that this support is project based, rather than a guaranteed return on hydrogen produced, as is being offered by the IRA, say industry representatives.
"This is a very cumbersome process, which took over two years for certain projects and most of the money has not yet been awarded," said Fraile.
"The issue is that most actions today are supporting project-based initiatives, whereas the EU needs a market framework for hydrogen," said the board of Hydrogen Europe Research.
The Commission is now mulling a wider response to the IRA. In a speech on December 4, von der Leyen said the act "should make us reflect on how we can improve our state aid frameworks" to give business more "simple and predictable" rules.
She also again floated the idea of an EU "sovereignty fund", which would channel more money into upstream R&D in areas like hydrogen, semiconductors and artificial intelligence. "The new assertive industrial policy of our competitors requires a structural answer," she said.
But so far, details are scant. A Commission spokesman said that there are currently no details on the sovereignty fund, which is an "initiative in the making". It was first mentioned in von der Leyen's State of the Union address in September this year.
"The big question is where you get the money from," said Gehrke. "Whether the politics are there, I doubt it." One alternative option would be to use the money left in the EU's vast pandemic recovery fund to back green technologies. "Perhaps we could renegotiate the purpose of that funding," he said.
Meanwhile in Washington, last week lawmakers introduced a trio of bills to the House of Representatives that would further bolster US green energy R&D.
One would advance research into airborne wind energy - essentially turbines floating in the sky without towers. Another would pour more funds into hydrogen and fuel cell research. And a third would create a testbed for new processing techniques for critical minerals, which are essential for battery production.