At the third transatlantic Trade and Technology Council, Brussels and Washington agreed to draw up shared AI terminology and technical standards. But the two are still a way apart on how to regulate the technology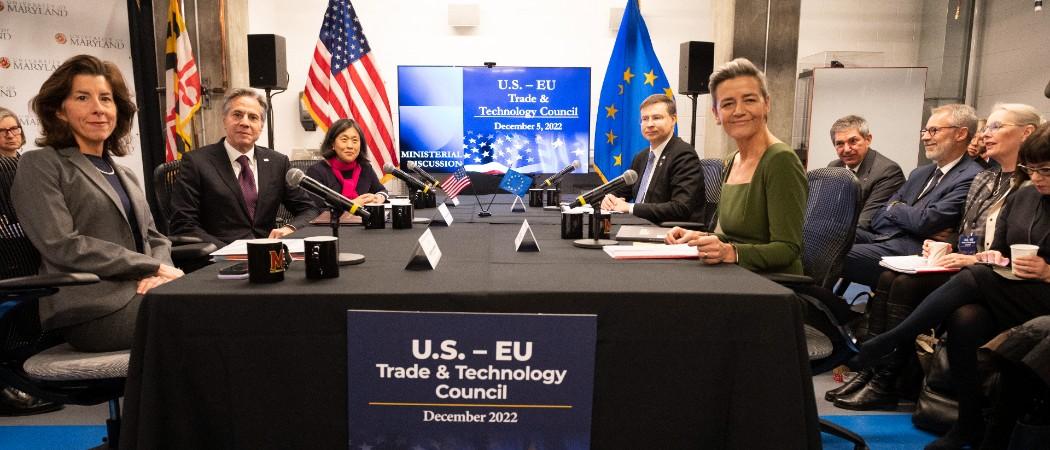 The EU and US have set out a joint roadmap to find common ways to define and evaluate artificial intelligence (AI), though critics say they are still not going far enough to make sure AI protects democracy and human rights.
At the third Trade and Technology Council, (TTC) held outside Washington DC on 5 December, EU and US leaders announced joint initiatives on AI, digital infrastructure and manufacturing standards, although Brussels remains unhappy at what it sees as unfair subsidies for US electric vehicles.
They issued a first AI roadmap, which will "enable trustworthy AI systems that enhance innovation, lower barriers to trade, bolster market competition, operationalise common values, and protect the universal human rights and dignity of our citizens."
Despite the talk of human rights, the roadmap is largely focused on getting the EU and US on the same page when it comes to the technical side of AI, and setting global technological standards, rather than banning certain worrisome uses like facial recognition in public spaces.
A working group will be set up try to pin down common definitions of key AI terms like trustworthy, risk, harm, bias, robustness, safety and so on.
The EU and US also want to provide "leadership" in setting international technical standards for AI, globally shaping rules on what counts as a reliable or accurate AI system, for example. They will also cooperate on "pre-standardisation" R&D to "advance the technical and scientific foundation for international standards development".
Although China is not explicitly mentioned, their cooperation is likely to be seen as an attempt not to cede a standards setting role to Beijing.
There will also be a "knowledge-sharing mechanism" between the EU and US to give advance warning of the potential risks inherent in cutting-edge AI. And they will build a shared repository of metrics and methodologies for assessing whether an AI system is trustworthy or risky.
The AI roadmap "confirms our intention to set global standards for emerging technologies jointly" said Bernd Lange MEP, chair of the European Parliament's trade committee, reacting to the announcement.
"As there are very different views on AI globally, it is crucial for the EU and the US to spell out clearly that all AI should be fully in line with human rights and democratic principles," he said in a statement.
The joint roadmap is a "welcome initiative despite the differences between the AI governance approaches of the EU and the US," said Risto Uuk, a policy researcher at the Future of Life Institute, which tries to steer potentially risky technologies.
But, he said, the roadmap's objectives to set AI standards "lack concreteness" and the next steps "need to be made much more concrete and meaningful."
No regulatory alignment, yet
Competition commissioner Margrethe Vestager said in late November that she wanted the TTC to "pave the way for a transatlantic sort of space for trustworthy AI" and that the US and EU had "very aligned approaches" when it comes to regulating the technology. Ultimately, companies on both sides of the Atlantic should end up being able to comply with both regulatory regimes using a "single set of tools," she said.
But the latest TTC announcement leaves a long way to go before companies have anything like a level playing field in the EU and US when deploying AI systems. The roadmap is peppered with reminders that this joint work "does not constrain or prejudge the regulatory activities of the two parties."
The EU's AI Act is currently working its way through various levels of scrutiny by EU institutions, and should impose a legally binding framework on AI, outlawing some uses altogether.
There is no binding legislation in train in the US for now. And the US has reportedly suggested narrowing the scope of the EU's AI Act, for example, warning against placing too much responsibility for compliance on the owners of general purpose AI systems. These massively powerful systems can be turned to almost any AI task, and are largely in the hands of US and Chinese tech companies.
The TTC has made too little progress on making sure AI cannot be turned to unethical ends, according to the Center for AI and Digital Policy, a Washington DC-based think tank. While the announcement of a roadmap is important, it "does not by itself advance democratic values or protect universal human rights."
Among other things, the center wants the EU and US to implement AI principles set out by the Organisation for Economic Cooperation and Development, seen as one of the first in a crowded field of AI recommendations, it said in an open letter released ahead of the council meeting.
US firms are also lobbying for transatlantic convergence over AI to reduce regulatory friction. "Common standards for testing or validating systems that embed responsible AI should ultimately lead to mutual recognition to attain regional regulatory requirements," said the American Chamber of Commerce to the EU in its wishlist for this latest TTC meeting.
Aside from AI, the TTC agreement also agreed to smooth R&D cooperation on quantum technologies, and consider "export control-related issues as appropriate." The US and EU also pledged to fund internet connections for schools in Jamaica and Kenya, part of the EU's Global Gateway initiative to provide an alternative to Chinese infrastructure projects across the developing world.
Industrial policy arms race
This meeting of the TTC was held amid European anger at the US's recently passed Inflation Reduction Act, which, among other things, would subsidise US-manufactured electric vehicles. That has EU leaders worried that it would put their own carmakers at a disadvantage in the race for the electric market.
At the meeting on December 5, there were pledges to work together on setting standards for electric vehicle charging, additive manufacturing, plastic recycling, post-quantum encryption and the Internet of Things.
However, there were no signs of a substantive breakthrough over EU objections to US subsidies.
"At the TTC working lunch, we discussed the Inflation Reduction Act," tweeted US secretary of state Antony Blinken. "The United States and Europe can create good paying jobs and tackle the climate crisis — and not at each other's expense."
But Lange said the trade outcomes from the meeting are "somewhat limited."
Brussels' newfound need to compete with US largesse in subsidising green tech raises the prospect of a new wave of spending in Europe, including in R&D.
In response to the Inflation Reduction Act, the EU would mull how to "improve" its state aid framework, said Commission president Ursula von der Leyen in a speech yesterday.
"We will […] take a fresh look at how we support the whole value chain, down to the mass production of the most strategic green tech solutions and clean end  products, including through public investment," she said.
She again floated the idea of an EU "sovereignty fund" which would plough more money into European green industry.
"This means over the mid term beefing up the resources available for upstream research, innovation and strategic projects at the EU level," she said.
There's still little detail about what this fund would mean, but in September, internal market commissioner Thierry Breton said that it should be "granted with the right budgetary means to be credible" and allow for "direct, fast and flexible budgetary support to well-identified projects of interest for EU sovereignty across any sector of our industrial spectrum."