Mirroring a change in sentiment across the EU, Germany's 'future strategy' demands more reciprocity from Beijing on access to research data. A separate China strategy, currently debated in government, could also shift German policy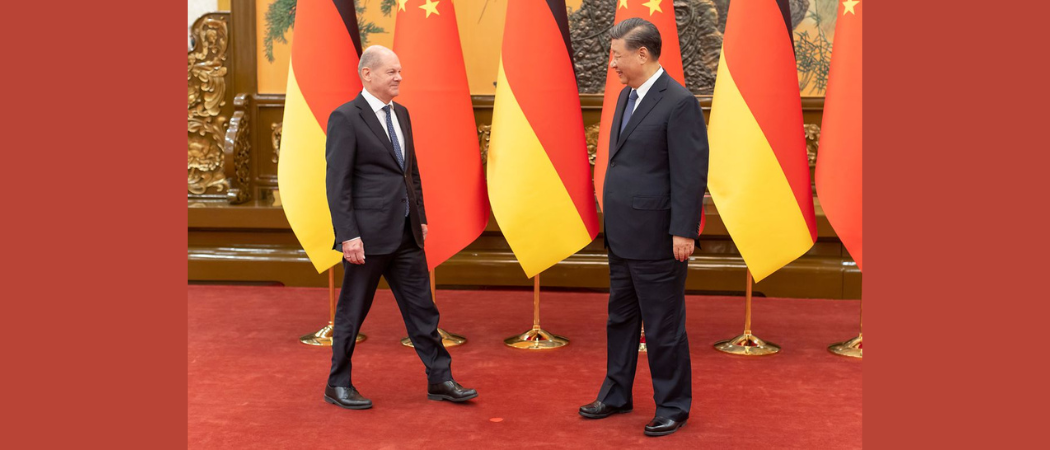 Germany universities should carry out risk assessments when collaborating with China on sensitive technologies, a new strategy has proposed, after a string of investigations revealed that German researchers have been working on projects useful to the Chinese military.
The research ministry's Future Strategy for Research and Innovation, released earlier this month, strikes a wary tone, warning of German technological dependency in a new era of geopolitical competition.
As Germany's ruling parties bicker over whether to take a more confrontational line with Beijing, the new strategy sounds several notes of caution on research collaborations with China in particular.
"In the relationship with China, there must be an evidence-based benefit and risk assessment," it warns. "This includes both whether research content includes sensitive technologies, as well as the question of whether access to research resources and information is reciprocal."
The new German strategy also aims to strengthen ties with the US and Canada, and "like-minded" states in the Asia-Pacific region.
This aligns with a shift in EU policy from 2021. The Commission has stressed the EU needs more reciprocity from China in joint research, with policymakers worried that Chinese researchers are adept at tapping knowledge from leading EU scientific groups, but the reverse is made difficult.  
Meanwhile, cooperation with Washington has improved, with regular Trade and Technology Councils coordinating technological standards. 
Growing German wariness about working with China comes after a series of investigations revealed that European scientists have helped the country become a leading military power.   
Last month, Jeffrey Stoff, a US-based expert on Chinese technological ambitions, released a report that found researchers based in Germany and other allied countries had worked on more than 800 papers since 2016 with collaborators from Chinese military institutions. Some of these were with China's main hypersonic missile facility.
An investigation by a consortium of European journalists last summer also found thousands of joint papers with the Chinese military since 2000 covering areas ranging from drones to positioning systems.
Technological sovereignty
More broadly, Germany's new research strategy also echoes EU language on the need to maintain so-called "technological sovereignty" – that is, avoiding dangerous dependencies on others for things like semiconductors, communications or satellites.
"We must recognise critical dependencies in key technology fields in good time and counteract them," the strategy warns.
"We will strengthen Germany's and Europe's technological sovereignty in this decade by catching up in the central key technologies," the strategy says.
Germany needs new methods – both qualitative and quantitative – to detect trends in new, early stage technologies, it suggests.
Along with the country's Council for Technological Sovereignty, set up in 2021, "we will initiate a process for early identification of possible future key technologies", the strategy says.
Aside from these geopolitical considerations, the strategy also includes a long shopping list of areas where it would like German and European research to excel.
These include semiconductor design; secure IT; quantum computing and sensing; artificial intelligence; and exascale supercomputing.
China strategy
The research ministry's new strategy comes as the German government, in the wake of the Russian invasion of Ukraine, attempts to define a new geopolitical position for the country in an era of superpower competition between the US and China.
Federal ministries are currently negotiating the content of a long-awaited – and long-delayed -  national security strategy, the first in the country's history.
In addition, a specific China strategy is in the works, but is subject to a tussle between the ruling parties. The Greens and Free Democrats tend to take a more hawkish, wary view of Beijing, whereas the Social Democratic Party hopes to minimise conflict, wanting to avoid sliding into a new Cold War and disrupting German industrial supply chains. It is expected to contain significant recommendations for the country's universities and research institutions.
A first draft, drawn up last November, states that China is an "important partner" but the risks of cooperation in research are growing.
"This is especially true in view of growing political control, ideological penetration and strategic control of education and science by the Chinese government," it says.
China's policy of civil-military fusion, whereby civilian R&D is integrated to support the defence industry, "sets limits to our cooperation" in research, the draft adds, saying, Chinese technological advances also "threatens new dependencies."
Read our viewpoint on how a year of war has changed German science and higher education policy