A joint statement with 18 signatories urges prompt action on UK association to the framework programme, saying 'time is of the essence'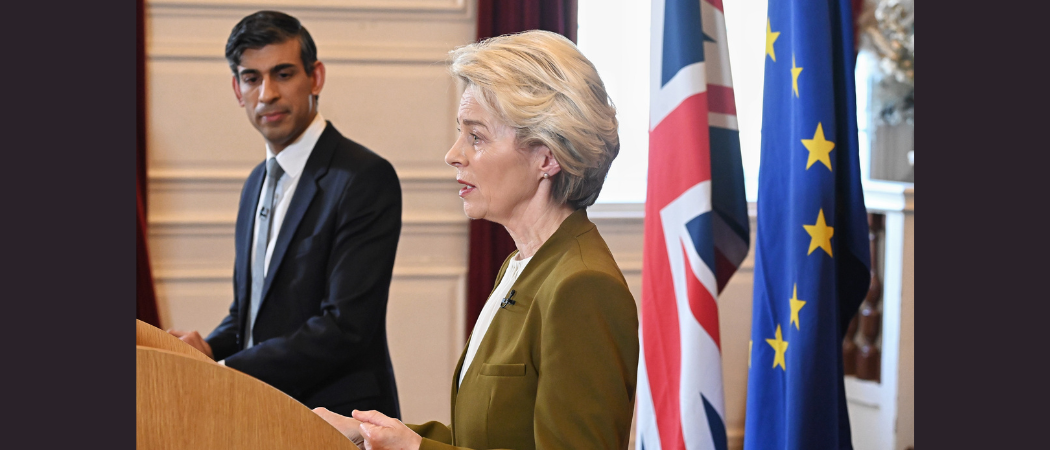 Europe and the UK's research and development community is calling for the UK's association to Horizon Europe, Copernicus and Euratom to be as swift as possible following the agreement on a post-Brexit trade deal for Northern Ireland. 
A group of 18 signatories released a joint statement in which they call on the EU and the UK to work together to make association "happen as soon as possible". 
Among the signatories are UK research charities such as the British Heart Foundation and Cancer Research UK, European university alliances including LERU and The Guild. 
The deal in principle between the EU and the UK aimed at resolving the Northern Ireland trade question, dubbed the Windsor framework, was announced on Monday, when EU president Ursula von der Leyen said she was "happy to start immediately, right now, the work on an association agreement which is the precondition to join Horizon Europe". 
This marks a "major step" said Kurt Deketelaere, secretary general of LERU. "Von der Leyen being outspoken and explicit about UK association is the most important thing," he told Science|Business. "I think over the past two years everyone in Brussels is aware that the obstacles were coming from the top floor of Berlaymont, so this is major progress." 
His hopes are matched by others who are anxious to see UK association over the line. Owen Jackson, director of policy at Cancer Research UK, said Horizon Europe association is "overwhelmingly in the best interests of cancer researchers and patients globally". 
He warned, though, that association could take a long time and urged the EU and the UK to work together so as not to leave researchers in limbo for any longer. 
However, it is not certain as yet that Rishi Sunak will get the backing he needs for the agreement. He is committed to a vote in the House of Commons, which will pass because there is backing from the opposition Labour party, but Sunak could be undermined by more staunchly Brexit-backing members of his party. Meanwhile, the Democratic Unionist Party in Northern Ireland has stated its intention to examine the deal closely. 
Further delays could come on the EU side as lawmakers will have to make sure it conforms to regulations. On top of that, there have been reports that the UK wants to renegotiate downwards the fee it will pay for Horizon Europe association, given the fact it has essentially missed out on participating in the first half of the seven-year programme. If fee renegotiation talks end up on the table, it could add further delays to proceedings. 
UK science minister George Freeman has warned that it could take up to a year for association to be finalised. He said that money put aside for the UK's own self-styled version of Horizon Europe, called Plan B, should be used in the meantime. 
But Deketelaere is hopeful of a much more expedited process. "Unlike what Freeman says, let's hope that it can be much faster. Sunak was able to solve the Northern Ireland problem in a few months, I can't imagine just updating the association agreement will take another full year," he said.
"I hope that on both sides of the table there will be enough enthusiasm and flexibility to get association done. Let's hope it is a question of just a few months."
European research commissioner Mariya Gabriel did not want to comment on the UK-EU deal or what it will mean for UK association when asked by Science|Business. 
While talks continue, Jan Palmowski, secretary general of university network The Guild, called on UK researchers to start applying for Horizon Europe funding. 
"If UK colleagues had given up hope to apply for funding […] now is the time to re-engage," he said. "We must now all act, with immediate effect, to ensure we make a success of the UK Association so that the added value of UK-EU science collaboration can never be undermined again."
The UK's looming association also reignited calls, particularly from Deketelaere, for Switzerland to renew talks with Brussels about its association. 
Switzerland, like the UK, has also been blocked from associating because of a wider political impasse relating to the country's relationship with the EU. Because of the lack of association, Switzerland was this year expelled from the European Strategy Forum on Research Infrastructures, the body that coordinates scientific infrastructure across the continent. 
"We hope the UK's progress gives an important signal to Switzerland and its government," Deketelaere said. 
"While the UK government was vocal in pushing for association and the Swiss academic and business community there has been similar, the Swiss government has been pretty much silent."
He said it was likely now that Swiss association talks would have to wait until after the country's federal elections, which will take place in October this year. 
"The political class is not going to show a lot of enthusiasm for the EU until after the elections. Probably we will have to pick up the discussion then," he said.