The land of morning calm is the latest country to announce it is getting closer to becoming an associated member of the research programme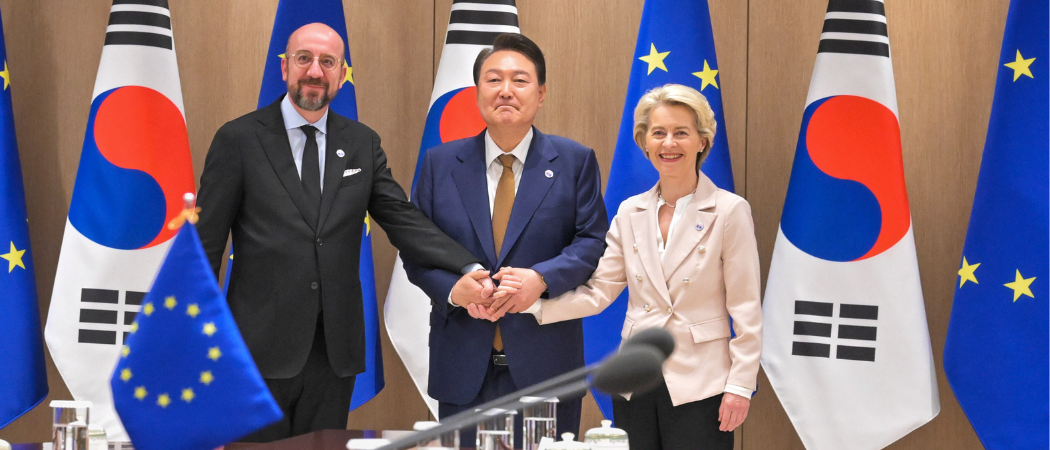 The European Commission and South Korea have agreed to move forward with formal negotiations on association to Horizon Europe, the EU's €95.5 billion multiannual research and innovation programme.
If successful, the talks could pave the way for Korean scientists and innovators to apply for EU grants. The announcement was made on Monday in Seoul at a meeting between South Korean president Yoon Suk Yeol, Commission president Ursula von der Leyen and president of the European Council Charles Michel.
"We will get our brilliant minds to work together on the technologies of tomorrow," said von der Leyen.
The news of advancing Horizon Europe talks is part of a broader cooperation package that includes new deals in artificial intelligence, microelectronics and semiconductors, as well as energy and the bioeconomy.
The two parties also agreed to launch a green partnership aimed at tackling climate change. "We agree to strengthen collaborative efforts on safe and sustainable low carbon technologies," they said in a statement on Monday.
They will also work together on common rules for handling the misuse of emerging and disruptive technologies, including setting ground rules for the use of artificial intelligence in the military.
The EU and South Korea will explore developing a common mechanism to underpin the resilience of supply chains in the semiconductor industry, including joint research projects on cutting edge chips.
Topping this off is an agreement to boost cooperation in higher education and strengthen links between universities and research institutes through Erasmus+ and other programmes.
Horizon association
The EU wants to strengthen international cooperation in science and innovation with like-minded partners and has opened Horizon Europe to countries from around the world. South Korea is the latest to announce it is getting closer to become an associated member.
However, despite some successful negotiations, the association process has moved slower than initially intended, partly due to shifting grounds in international relations since Donald Trump's presidency in the US, the UK's departure from the EU, the COVID-19 pandemic and Russia's invasion of Ukraine. 
The Commission wants its global partners to take part in the programme to help advance science and tackle global challenges, such as climate change. But pulling against this, new geopolitical realities mean the EU also wants to develop its own critical technologies, and put Europe first.
As a result, the EU will not let third countries join grant calls in sensitive areas, such as space and quantum.
Earlier in 2023, the Commission announced a deal with New Zealand, while formal negotiations with Canada are due to be concluded this year. Signe Ratso, Commission's chief negotiator for Horizon Europe association told a Science|Business meeting in March that Canada could become an associated country by 2024. Japan could also announce the start of formal negotiations this year.
The US is not particularly interested in joining Horizon Europe as an associated country, but other forms of transatlantic cooperation in science and technology are going on.
The UK is still negotiating the final financial details of its association agreement, while Switzerland will continue to be stuck outside Horizon Europe until after federal elections, when a new government in Bern could restart broader bilateral talks with Brussels.