---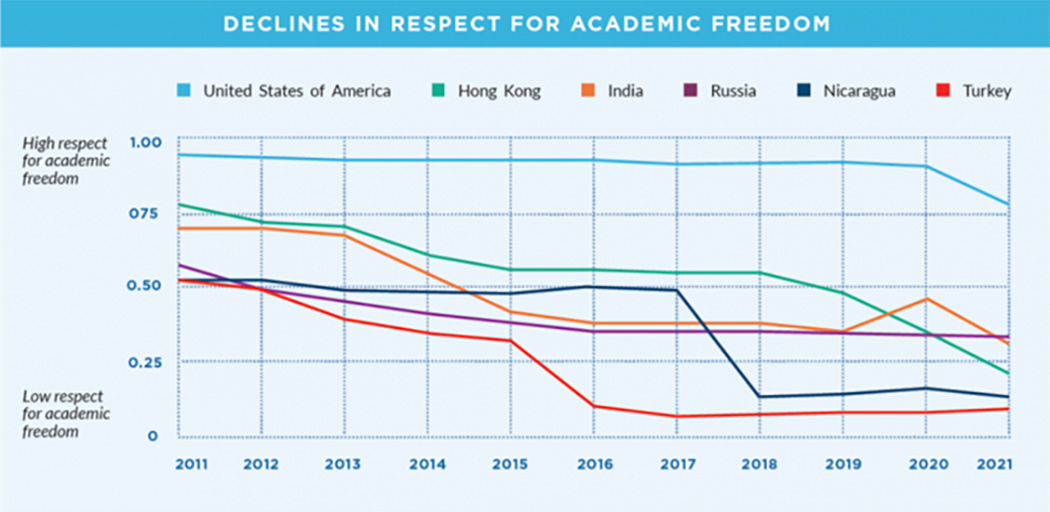 Respect for academic freedom around the globe is in danger, according to this year's Free to Think report by Scholars at Risk in its Academic Freedom Monitoring Project.
Last year, India, Hong Kong and the US all experienced particularly sharp declines in academic freedom.
The report records a total of 391 attacks on higher education communities in 65 countries and territories, in both democratic and non-democratic societies, between September 2021 to August 2022.
In India, for example, a university cancelled a webinar about gender resistance in Kashmir, while Indian authorities decided degrees from Pakistani higher education institutions will no longer be recognised in the country to deter Pakistani students.
In the US, bills were enacted restricting universities from teaching 'divisive concepts' which often include race, gender and sexuality, while historically black colleges and universities received targeted bomb threats throughout 2022.
In Hong Kong, a Beijing-imposed national security law now means undergraduate students must attend "national security" courses.
In Europe, Russia's attack on Ukraine had "disastrous consequences" for academic communities in both countries, according to the report. Many scholars were forced to flee war and persecution, while Ukrainian academic and scientific infrastructures were badly damaged.
In Afghanistan, the Taliban's takeover denied women their rights to education and academic freedom, while the new regime dismissed academic and administrative personnel, often on ethnic ground, and detained scholars critical of the new government.