CSC – IT CENTER FOR SCIENCE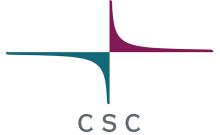 CSC – IT Center for Science is an integral part of the Finnish national research system. Its mission is to develop, integrate and offer high quality IT services for research, education, culture, public administration and industry.
With roots dating back to the early 1970s, CSC has an important role as an instrument for steering and developing the Ministry of Education and Culture's education, science and culture policy. We are owned by the Finnish state (70% shareholding) and higher education institutions (30% shareholding).
Our owners determine the purpose of the enterprise and thus a majority of our services are aimed at meeting our owners' needs. Our primary customers are the Ministry of Education and Culture and organizations in the field, higher education institutions (universities and universities of applied sciences), research institutes and public administration.
CSC keeps to strong values. We are experts in tackling digitalization challenges and are committed to promote our customers' success. The company's operation is not based on gaining financial profit but focusing on broad societal impact and competitiveness of research and education. Our strategy is built around four complementary targets and pillars of activity:
To enable world-class data management and computing

To maximize the value of data

To leverage artificial intelligence

To pave the way for lifelong learning
CSC finds it essential to develop services, products and solutions collaboratively in an international context, with opportunities for scalability, interoperability and knowledge transfer. Currently CSC participates in more than 25 EU projects and is actively involved in defining and developing common standards and policies at European and global level. A recent successful collaboration endeavor is the decision by EuroHPC JU to locate one of the pan-European high-performance supercomputers, LUMI, in CSC's datacenter in Kajaani, Finland. LUMI will be one of the world's best-known scientific instruments for the lifespan of 2021–2026, and will be hosted by a consortium of nine European countries.
Learn More
---
CSC – IT CENTER FOR SCIENCE News