---
Bruker today announces that its world-leading 1 GHz nuclear magnetic resonance (NMR) spectrometer has been delivered to the UK's National Research Facility for High-Field Solid-State NMR at the University of Warwick.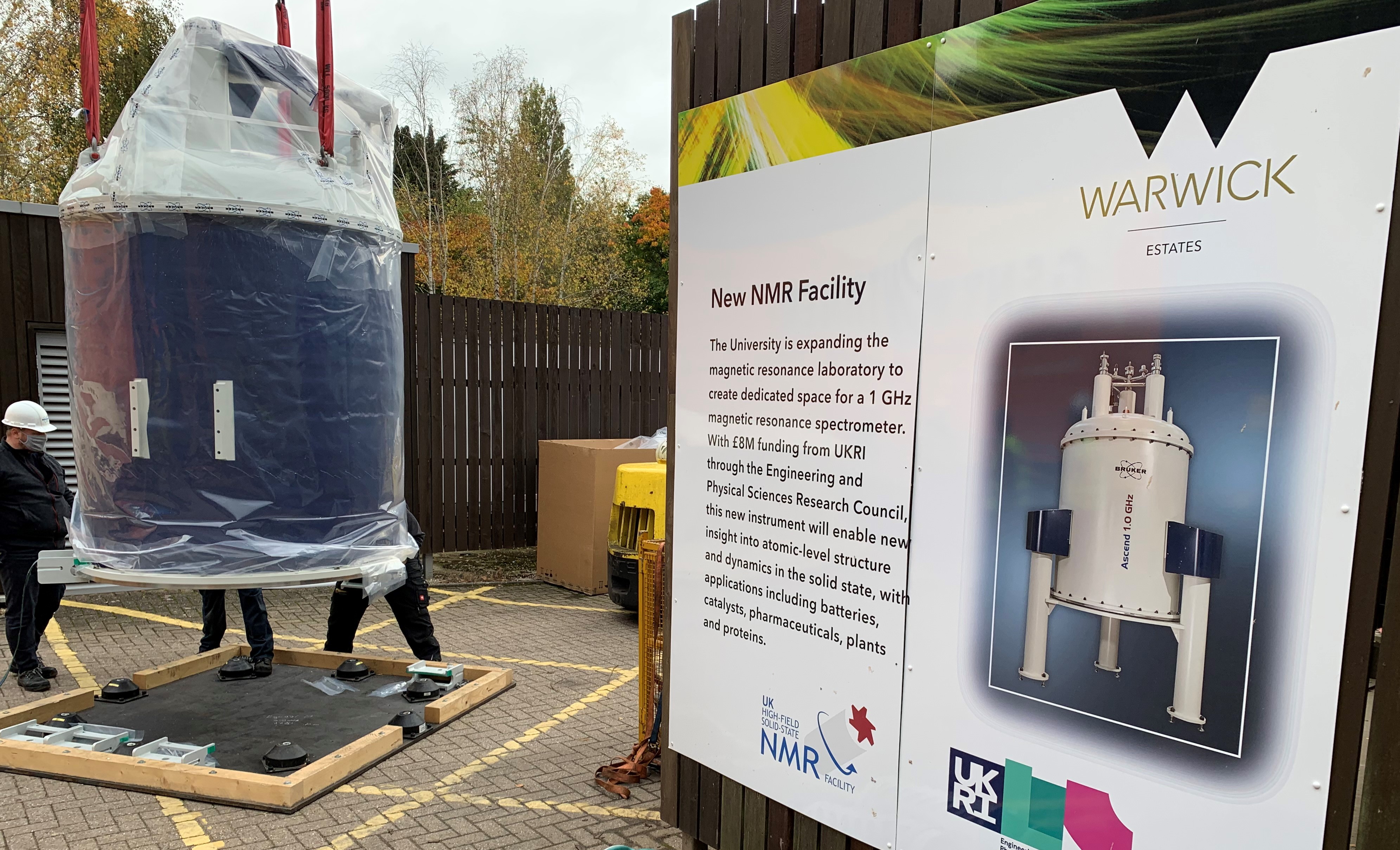 Part of a national drive to further advance the UK's life science and materials science research capabilities, the Bruker high-field, solid-state NMR spectrometer will accelerate scientific development on a significant scale. This move follows a successful grant application to a call by the Engineering and Physical Sciences Research Council (EPSRC) in partnership with the Biotechnology and Biosciences Research Council (BBSRC), the Medical Research Council (MRC) and the Natural Environment Research Council (NERC).
Professor Steven Brown, Director of the National Research Facility for High-Field Solid-State NMR, who is renowned for his work in the development of advanced solid-state NMR techniques, comments, "NMR is a very powerful technology that has driven scientific advances in a diverse range of applications. As a national facility we welcome researchers from UK universities to further their understanding of physical sciences, including pharmaceutical formulation and drug delivery, and energy and materials science, as well as life sciences, such as protein interactions and plant biomass.
"Here at Warwick, we house the largest solid-state NMR facility in the UK, equipped with Bruker technology ranging from 100 to 700 MHz, as well as the National Research Facility's 850 MHz spectrometer. The addition to the National Research Facility of the high-field 1 GHz NMR spectrometer will significantly boost capacity for the scientific community. We are delighted that UK researchers will be able to benefit from this leading edge NMR technology, which will stimulate new research in many different fields of application.
"I have had a long-standing relationship with Bruker throughout my academic career. This started with my PhD at Oxford using a Bruker MSL-400 NMR spectrometer then, as a post-doctoral researcher at the Max-Planck Institute for Polymer Research in Mainz, Germany, I was fortunate enough to work with the world's first 2.5 mm spinning rotors, which allowed a then revolutionary 30 kHz spinning frequency. I've seen Bruker drive NMR technology forward over the past couple of decades, and we are all excited to discover the potential of the 1 GHz instrument.
"In my own research, I work with large global pharmaceutical organizations. Particularly interesting in these collaborations is to identify how the active ingredient of a sample degrades (such as how a tablet in the solid state degrades), or how a particular active ingredient can change by adopting different solid-state forms, known as polymorphs. The higher sensitivity and improved resolution of the new high-field instrument will allow even greater understanding of drug development and delivery.
"Other ongoing research carried out by users from the UK research community at the National Research Facility involves prolonging battery life to enable innovation in mobile phone technology and electric vehicles. NMR analyzes the material structure and dynamics at atomic level, furthering our understanding of the chemical reactions involved and helping improve battery technology."
Andrew Gibbs, Sales Manager, Magnetic Resonance at Bruker UK Ltd adds, "We are proud to partner with leading institutions like the EPSRC National Research Facility at the University of Warwick, to support open collaboration between academia and industry.  It is testament to the work and commitment of the Bruker and University teams that the installation can continue safely at this time, to drive vital research into life-changing drug development, technology advances and environmental change."
For more information visit https://warwick.ac.uk/fac/sci/physics/research/condensedmatt/nmr/850/.